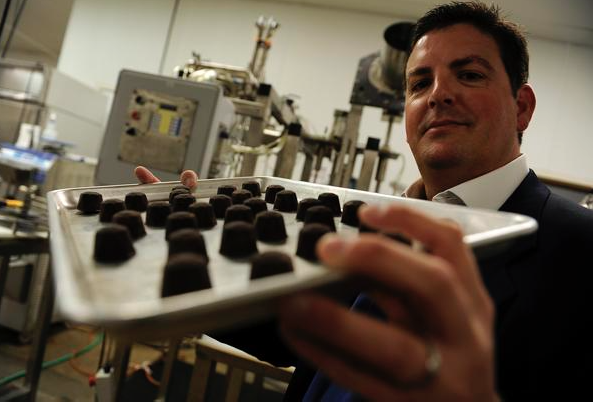 In recent years, the cannabis market has gone through a dramatic makeover - from murky, illicit market to a surging that's brimming with innovation and potential. One reason for that change is the growth of the infused product sector, which has served to make cannabis much more marketable through consumer-friendly products like elixirs, chocolates and topicals.
Since 2010, Dixie has been one company at the forefront of the infused-product sector thanks to their focus on easily marketable products and consistent, lab-tested cannabis.Recently, Equities.com had the chance to sit down with Dixie CEO Tripp Keber to discuss the role of infused-products in growing the cannabis user base, taking cannabis into the mainstream, and the daunting challenges that must be faced before that happens.
EQ: Particularly in legalized states right now, the cannabis market has become very different than what's still portrayed in the mainstream. How far would you say the industry has come in the past few years?
Tripp Keber: Well, the reality is that the industry is moving in a warp speed just in the last 24 months since basically we legalized marijuana for adult use, or as many call recreationally, cannabis has gone mainstream and with that we've seen all segments of society taking a close, hard look at what was previously considered a dangerous narcotic and now at what is really a medicinal plant. We're seeing widespread acceptance in all categories and certainly Dixie Brands as a leading manufacturer is really conducting what we call day-to-day, hand-to-hand combat. And so we're really focused on providing transparency to our facility as well as exposing this industry to various different industry groups. So we're starting to see that really pay off in a big way.
EQ: As I'm sure are well aware, the cannabis industry right now is a major growth market and there really aren't any clearly dominant players. What would you say it would take to become a household name in the cannabis industry as the market continues to mature?
Tripp Keber: As we wrap up 2015, you're starting to see massive consumer adoption. The reality is that in 2014, many of these markets, including Colorado and Washington State, just didn't have enough cannabis to support really the demand. In 2015, we fixed that. And so, what you're starting to see is brands like Dixie starting to really become household names. The good news is, whether it's a 2 billion, 5 billion or ultimately, a 10 billion-dollar industry in the next two to four years, no one single brand is probably going to be the dominant player.
And as we use as a reference, where there's Coke, there's Pepsi, or where there's Coors Light, there's Budweiser. I think you're going to start to see that. So, companies like Dixie Brands and many, many other powerful brands are really going to start to accelerate and prosper from what we're seeing now in the market here in Colorado, and then in the other states where we're distributing it.
EQ: One of the concerns around wider use right now of cannabis of course is consumer safety, proper consumption levels, and transparency. So in terms of Dixie specifically, and in the industry more broadly, what steps are being taken to address these concerns?
Tripp Keber: Well, 2015 has clearly been the year of the infused products, or what's more commonly known as the edible. There has been more regulatory focus and legislation passed in the last 12 months on infused products than probably any other sector of the cannabis industry. With that comes great opportunity, but with that also comes great expense. I can tell you that Dixie Brands is certainly considered a leader in the industry and really is at the forefront of really creating a responsible packaging that is childproof, tamper resistant, and re-sealable, responsible dosing, which is incredibly important. As we broaden the consumer base, there's a lot of individuals that don't have a strong familiarity with medical marijuana, now are morphing into the adult use markets, so lower doses is becoming something that is very, very prevalent.
EQ: From our perspective, one of the most significant catalysts in the industry is expansion of legalization from state to state. What's your take on momentum right now as each new state legalizes cannabis?
Tripp Keber: Well, I can tell you as an individual that sits on no less than a dozen boards, about half of those associated with marijuana reform, you're seeing a tremendous amount of momentum, whether it be my position on Marijuana Policy Project's board, which is one of the preeminent marijuana reform organizations in the world, or even National Cannabis Industry Association, which is a true business lobby focusing on federal laws rules and regulations, you're seeing incredible momentum.
Currently, today, we have about 52% to maybe 54% of the U.S. population that lives in states that offer some form of access to marijuana, whether it be adult use in five states, or medical marijuana in the 24 other states, but in 2016, which is traditionally, when you see things make major movement within the cannabis industry, we're going to mobilize the young vote. And with the next federal election, you'll probably see conservatively no less than four, maybe as many as six additional states that will legalize marijuana for adult use.
These are heavy, heaving concentrations of demographics, including California, Nevada, Arizona, potentially even Massachusetts, Maine, etc. And so, it is likely that at the end of the day in November of 2016, you'll see closer to upwards of 70% of the US population that will have access to medical marijuana or adult use. I would say that we're coming very, very close to that tipping point, which I think our country has long been awaiting.
EQ: So let's talk a bit about the federal legalization challenge. How do you think the inability so far for legalization to occur federally is impacting the industry's growth and the ability to meet market demand?
Tripp Keber: Well, at the end of the day, you have the 800-pound gorilla that is sleeping in the corner that is the federal government. Let's not make any mistake that what we are doing, as cannabis business owners or would-be cannabis entrepreneurs, is illegal. Marijuana, whether it be adult use or medical is considered a controlled substance, a Schedule number 1, which makes it more dangerous than heroin or more dangerous than cocaine.
These seem incredibly silly to me, but at the end of the day, the federal government is keeping a close, hard look as to what's taking place in states like Colorado, in Oregon, in Washington State, and even in California. And I think what was previously nibby, not in my backyard, now states are taking a close, hard look as to what's taking place.
So what I think you're going to see is you'll start to see relaxation, if you will, from the Federal government. Even today, they're removing funding from the Drug Enforcement Agency to prosecute and/or pursue medical marijuana businesses that are serving patients legally in the states once they've been given the right to do so. And so I think ultimately, what the federal government must give real consideration to is giving us banking. At the end of the day, you can't have a 2.5, 5 or 10 billion-dollar industry that does not allow us traditional access. And so banking is the similar greatest opportunity, but is the similar greatest threat. And I believe in 2016 we'll probably see some real movement on that, and that's going to be really lucrative to the industry overall.
EQ: Prior to working in the cannabis sector, you were a serial entrepreneur, in real estate development, software and various other industries. What would you say is the most stark difference between the other markets you've worked in and the cannabis space?
Tripp Keber: Well, as a serial entrepreneur with over 25 years of professional experience, I've run a range of businesses from real estate development to technology, to even bars and restaurants, but I can tell you, there is no industry that is more fascinating, more exciting and potentially more anxiety ridden than the cannabis industry. At the end of the day, we cannot forget that what we're doing is illegal at the federal level. Now, I'm fortunate to operate within the state of Colorado, but what we have to remember is that like any other business, if you fail, you're talking about potential financial ruin.
In the cannabis industry, you're talking about your personal liberties, and so you have to have what I would describe as a delusional confidence, and that delusional confidence truly can work for or against you. And so we work very, very closely with our affiliate partners in these new states we're expanding to, as well as countries because you're only as strong as your weakest link and we never forget that here at Dixie. But also, we work hand-in-hand with our governments, whether they be state or soon-to-be federal regulators to ensure that this is an industry that is continuing to grow year over year, and in some cases doubling. And so we're really excited about what that future holds. We at Dixie believe that the future of cannabis is not only Dixie but that of oil and we think we're very, very well-positioned to take advantage of that.
You can read more from our special program The Future of Cannabis here. To find out why Equities.com and Viridian Capital Advisors launched this program, be sure to read What is The Future of Cannabis? This program was made possible by the support of our sponsors.Click here for a full list of our sponsors.
DISCLOSURE: The views and opinions expressed in this article are those of the authors, and do not represent the views of equities.com. Readers should not consider statements made by the author as formal recommendations and should consult their financial advisor before making any investment decisions. To read our full disclosure, please go to: http://www.equities.com/disclaimer