​Trimble's Expanding SaaS Business Makes It Far More Agile
Stephen L Kanaval Follow |

Trimble, Inc., formerly known as Trimble Navigation, makes hardware and software for global navigation satellite systems (GNSS) receivers along with other technology solutions for workers in multiple industries including advanced military GPS. The California-based company highlights four segments of its business: building and infrastructure, geospatial, resource and utilities and transportation. TRMB's revenues are 55% software and 45% hardware, and recently the company has worked to convert even more of its business to software-as-a-service (SaaS).
This transition was largely due to the leadership of former CEO Steve Berglund, who was just succeeded in the position this month by former CFO, Rob Painter, in a transition that was announced in October.
Mr. Berglund deserves accolades for taking Trimble from $271 million in revenue in 1999 to now over $3.2 billion and increasing the company's enterprise value from $150 million to near $11 billion. Furthermore, the stock price has increased from the $2.50 range in 1999 to $44.31 at the time of writing.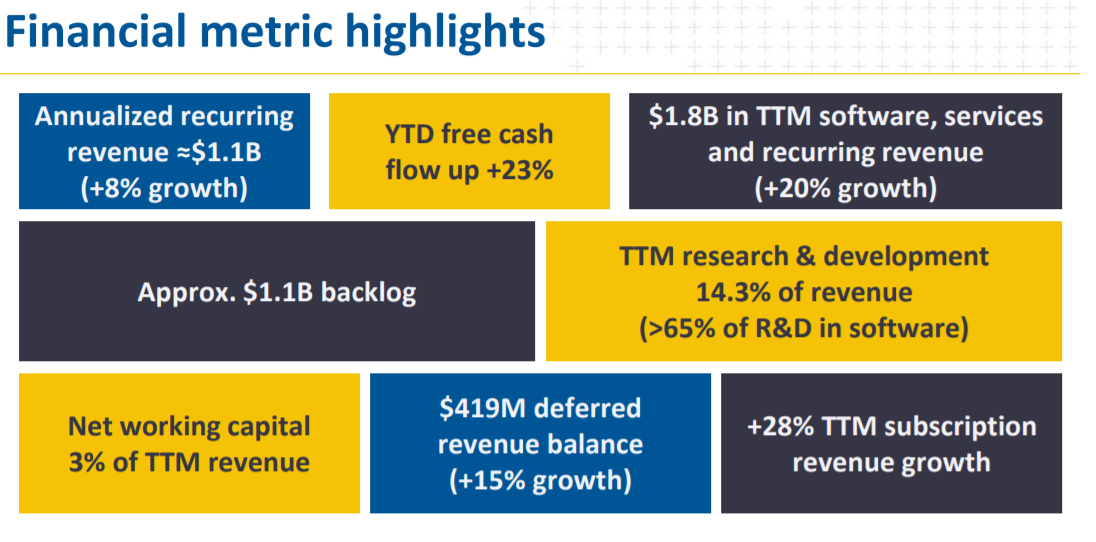 Source: Trimble Third Quarter 2019 Results Summary
Mr. Painter is only the third CEO in Trimble's existence (the company has been around since 1978), and he is now guiding a company that is much more agile for today's marketplace. In its Q3 filing, Trimble recorded some strong numbers including increasing 12-month trailing revenues by 6% to $3,238 million. In addition, recurring revenues have increased more than 25% over the last 12 months (which also now represents 33% of the company's total revenue), and software and subscriptions have increased more than 14%, which is a positive driver for the company's bottom line as SaaS revenues offer higher margins and more reliability.
Thanks to strong cash flow, Trimble has been acquiring companies that it believes fit in with its SaaS model. On January 9th, the company acquired Kuebix, a platform for transportation management logistics that handles 1.3 commercial trucks in North America. Then, in early December 2019, Trimble acquired Can-Ney and iBase Networks to increase the accuracy of the company's virtual references station, its subscription-based correction service used in agriculture and other geospatial projects.
These acquisitions work synergistically with the company's existing portfolio of SaaS software, and Mr. Painter has hinted that the company is looking for ways to improve specifically the geospatial segment through internal R&D.
Lastly, it is possible to see Trimble's off-road navigation solutions, which are ideal for construction, agriculture and other sectors, have an application in on-road navigation systems as well. The automotive industry is expanding its autonomous driving systems at a rapid pace, and TRMB's technology is highly advanced.
Trimble is a critical provider for GPS systems in North America, but much of its risk/reward ratio hinges on upcoming negotiations with China. The company has growth opportunities in Asia, and the growth of agriculture and construction across the continent benefits Trimble.
DISCLOSURE: The views and opinions expressed in this article are those of the authors, and do not necessarily represent the views of equities.com. Readers should not consider statements made by the author as formal recommendations and should consult their financial advisor before making any investment decisions. To read our full disclosure, please go to: http://www.equities.com/disclaimer.
Market Movers
Sponsored Financial Content