30 million American adults — 15% of the adult population — suffer from the gradual loss of essential kidney functions over time, or chronic kidney disease (CKD), according to estimates by the CDC. Nearly half of Americans who have severely reduced kidney function, but not currently being treated with dialysis, are not aware that they have CKD, and, most disturbingly, 96% of people with mildly reduced kidney function are not aware of it at all. Each year, Medicare costs amount to $87,000 per dialysis patient and $32,500 per kidney transplant patient. The National Kidney Foundation calls CKD the most under-recognized public health crisis in the country, responsible for over $100 billion in annual Medicare costs.
South San Franscisco based Tricida (proposed Nasdaq: TCDA) filed this week for a $150 million initial public offering via Goldman, JP Morgan and Cowen. Tricida's mission is to slow the progression of CKD through the treatment of metabolic acidosis, the buildup of acid in the body that is commonly caused by CKD and, in a vicious cycle, believed to further accelerate the progression of kidney deterioration. In its Form S-1, the company disclosed positive data from the Phase III trial of its lead candidate, TRC101, in 217 CKD patients with metabolic acidosis. The trial met its endpoints "in a highly statistically significant manner (p < 0.0001 for all primary and secondary endpoints)."
Source: Tricida
Initial topline analysis of the Phase III data indicates that treatment with TRC101 resulted in statistically significant increases in blood bicarbonate. After 12 weeks of treatment, 59.2% of subjects in the TRC101-treated group, compared with just 22.5% of subjects in the placebo group, exhibited an increase in blood bicarbonate level of at least 4 mEq/L or achieved a blood bicarbonate level in the normal range of 22 to 29 mEq/L, which was the primary endpoint of the trial. The mean change in blood bicarbonate from baseline to week 12 — the secondary trial endpoint — was 4.49 mEq/L in the TRC101-treated group, compared with only 1.66 mEq/L in the placebo group.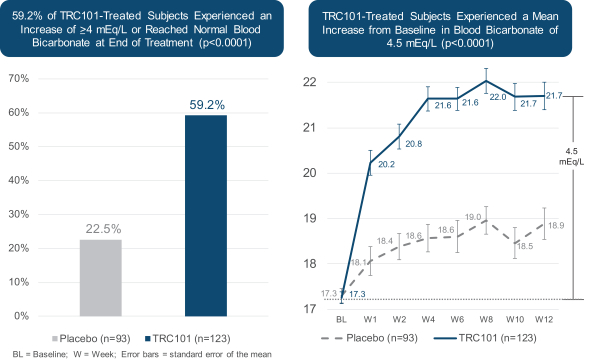 Source: Tricida

Source: Tricida
Both active (124 subjects) and placebo groups (93 subjects) had low discontinuation rates and low rates of treatment-related adverse events. 196 of the 208 eligible subjects who completed the 12-week treatment period in the trial agreed to continue into Tricida's 40-week blinded safety extension trial, which the company expects to complete in the first half of 2019. Tricida plans to submit a New Drug Application in the second half of 2019 through the FDA's Accelerated Approval Program.
Founder and CEO Gerrit Klaerner, PhD, also founded Relypsa, which was acquired by Galenica in 2016 for $1.53 billion. Previously, Dr. Klaerner co-founded Ilypsa, which was acquired by Amgen in 2007 for $420 million.
In March 2018, Tricida entered into a $100 million venture debt facility with Hercules Capital, of which it drew down $25 million at closing. An additional $50 million will be available for drawdown subject to the achievement of future milestones, with the remaining $25 million to be available subject to Hercules' approval.
Tricida has raised $152.5 million in venture capital, with the most recent $57.5 million Series D financing in November 2017. Wellington, Venrock and Cormorant joined existing investors OrbiMed, Sibling Capital, Longitude Capital, Limulus Venture and Vivo Capital in that round. OrbiMed is the company's largest investor with 36.9% of the common stock, followed by Sibling Capital with 23.4%
Please email us at [email protected] to see our Case Studies and Testimonials.
Please click here for information on our new trading platform.