There has been significant and increasing interest in the scientific and investment communities surrounding the potential therapeutic value of messenger RNA (mRNA) drugs. mRNA is a critical link in the gene expression chain, translating genetic information encoded in DNA into instructions that cells use to make proteins. During the transcription process, a gene that encodes an amino acid sequence for a particular protein is transcribed into a complementary sequence of mRNA, which then carries these instructions to ribosomes where protein synthesis occurs.
Source: Wellcome Genome Campus

Abnormal gene expression, caused by a mutation in a DNA sequence, can result in the transcription of defective instructions, which can lead to the failure to produce, insufficient production or over production of a protein, or the production of dysfunctional proteins. This protein defect is the underlying cause of genetic disease.
Translate Bio, a Lexington, Massachusetts, based private company, is developing synthetic mRNA therapies to treat diseases caused by protein or gene dysfunction. The company announced today a three-year research and development collaboration and exclusive licensing agreement with Sanofi Pasteur, the vaccines global business unit of Sanofi SNY, to develop mRNA vaccines for up to five undisclosed infectious disease pathogens. Sanofi Pasteur will make an upfront payment of $45 million to Translate Bio and up to $805 million in additional development, regulatory and sales-related milestone payments and option exercise fees related to development of vaccines for additional pathogens.
The companies will jointly conduct vaccine R&D activities, and Translate Bio is eligible to receive additional tiered royalty payments associated with worldwide sales. Sanofi Pasteur will pay for all costs during the research term and will receive exclusive worldwide commercialization rights. Translate Bio will be responsible for clinical manufacture and will be entitled to additional payments under a separate supply agreement to be established.
Translate Bio's proprietary mRNA therapeutic platform creates mRNA that is encapsulated in a lipid nanoparticle for delivery. When the newly created mRNA is delivered to the target cell, the cell's own machinery recognizes it and translates it accordingly, restoring or augmenting protein function to treat or prevent disease. The company believes that its platform is applicable to a broad range of diseases caused by insufficient protein production or where production of proteins can modify disease, including diseases that affect the lung, liver, eye, central nervous system, lymphatic system and circulatory system.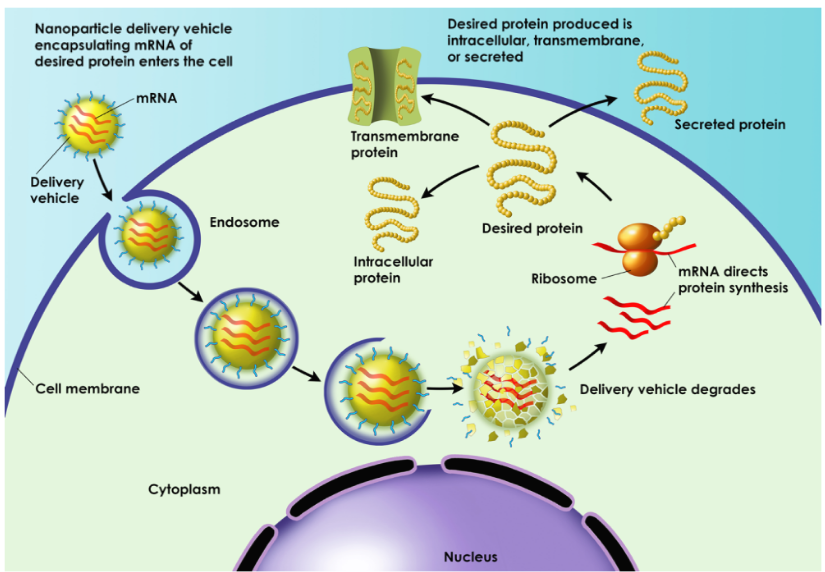 Source: Translate Bio
mRNA vaccines represent a potentially innovative alternative to conventional vaccine approaches because of their high potency, capacity for rapid development and potential for low-cost manufacture and safe administration. A desired protein can be expressed from mRNA without the need to adjust the production process offering maximum flexibility in development, potentially enabling the development of vaccines for disease areas in which vaccination is not a viable option today.
We believe mRNA technology has significant potential for rapid and versatile manufacturing, reduced industrialization costs for multiple vaccines, and the improved breadth of immune response for infectious disease vaccines. The Translate Bio platform may allow us to further address medical needs worldwide, including those not readily accessible using conventional vaccine strategies.
– John Shiver, Senior Vice President, R&D, Sanofi Pasteur.
Sanofi Pasteur is at the forefront of vaccine research and development which makes them an ideal partner as we expand upon our promising early efforts in vaccines. We believe that this partnership validates the potential of our mRNA platform, and also enables us to apply our mRNA technology beyond the current therapeutic applications that we are pursuing in cystic fibrosis and ornithine transcarbamylase deficiency.
– Ronald Renaud, Chief Executive Officer, Translate Bio.
Ben Fidler writes in Xconomy that the excitement surrounding mRNA medicines has been fueled partly by the success Moderna Therapeutics has had in raising capital. With little human clinical data, "Moderna has secured more than $1.6 billion in venture financings [most recently from Abu Dhabi Investment Authority, BB Biotech, Julius Baer, EDBI and Sequoia], another $1 billion in partnerships [with the likes of AstraZeneca, Merck, Vertex, DARPA and the Bill & Melinda Gates Foundation] and has a valuation north of $7 billion."
Please email [email protected] to see our Case Studies and Testimonials.
Please click here for information on our new trading platform.
Please click here to see our weekly newsletter.