Summary
The odds of a trade war escalate after Trump sent a pair of tweets threatening to increase tariffs on Chinese goods.
If there is no deal by this Friday, the tariffs will rise from 10% to 25% on $200 billion worth of goods and from 0 to 25% on an additional $325 billion of goods.
The rapid deterioration is due to the reversal of China's commitment to address the U.S. core complaints.
U.S companies with huge presence and sales in China, like Apple AAPL, stand to suffer if there's trade war escalation.
Elliott Wave Analysis on Apple suggests another major correction can happen.


Trump sent a pair of tweets again yesterday provoking China by saying he's very happy with the additional tariffs.
These tweets left no room for the U.S. to back down. U.S. Trade Representative Robert Lighthizer also made it clear that additional tariffs will apply this Friday despite the ongoing talk. Lighthizer is one of the China hawks in Trump administration who has pushed for an enforcement mechanism.
News started to surface that the U.S. was losing its patience after China backtracked on their commitments to address U.S. complaints. Beijing returned a draft agreement to Washington late on Friday night with a reversal to concessions on core U.S demands. The U.S. complaints center on the areas of intellectual property and forced technology transfer. There are several other areas such as market access for cloud computing firms and also currency manipulation. China has apparently gone back on all the major concessions it had made during the negotiation.
Chinese negotiators said they could not change the domestic laws, as such changes will be major and can't be done quickly. They also accuse the U.S demands of becoming harsher as the negotiations drag on. Vice Premier Liu will still visit Washington today, but the odds that the two sides can reconcile after this event seem to be slim.
For months, investors have shown their belief that the two largest economies are close to making a deal. The markets were trading at near all-time highs when Trump sent the first tweet volley on Sunday. The news immediately sent the stock market and commodities into free fall on Monday's open, and we can certainly see a sell-off continue if there's no deal by Friday.
$AAPL Apple Elliott Wave Daily Chart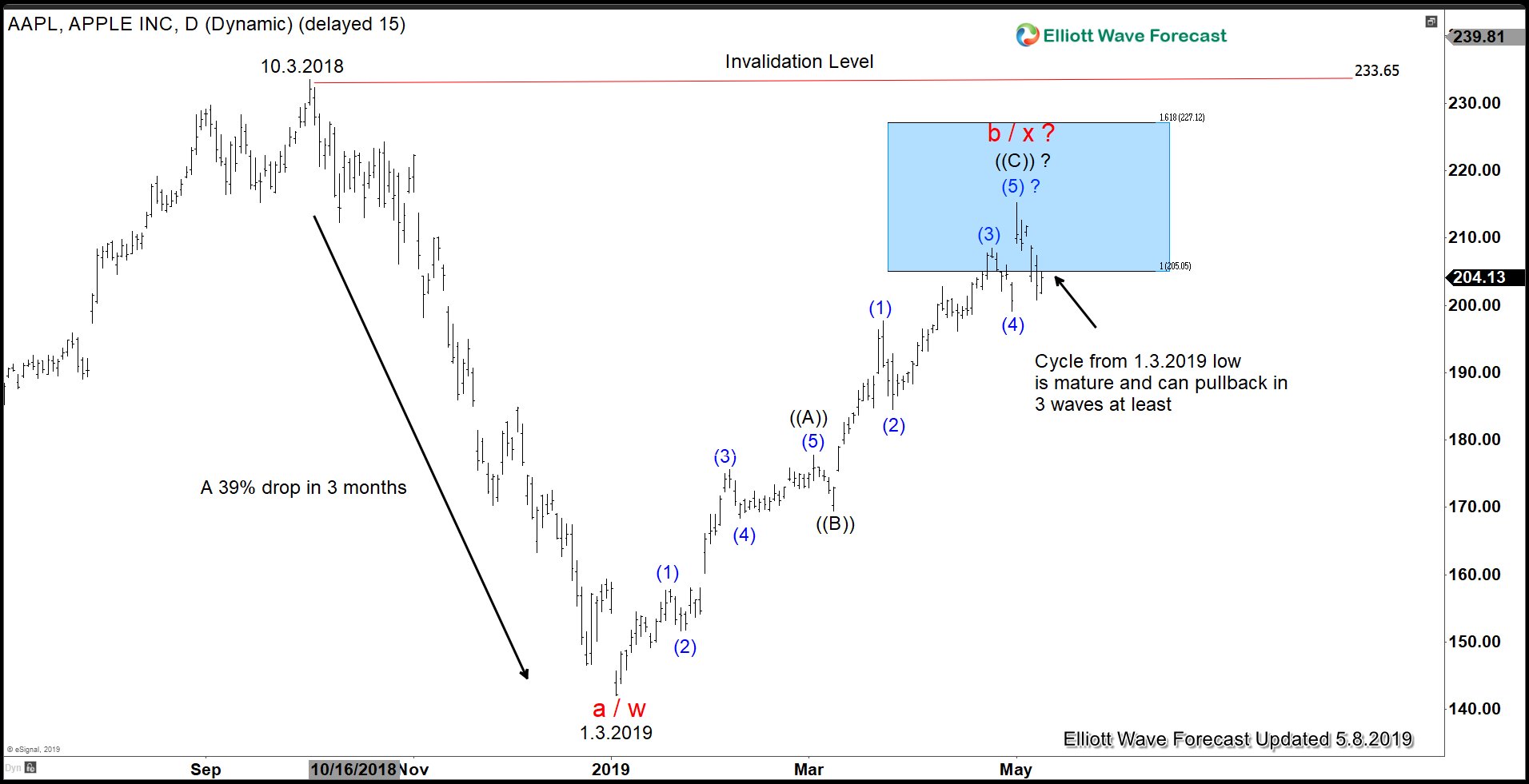 Apple has a lot at stake if the U.S and China trade war escalates. Revenue from the Greater China market made up 20% of Apple's total revenue of $229.2 billion. In terms of operating profit, Greater China accounted for 21.9% of Apple's total in the last year. China is also one of the manufacturing bases for Apple's products, such as iPhone, iPad and Macbook.
The stock had a big 39% drop from the October 3, 2018, high last year and has recovered nicely after bottoming on January 3, 2019. It's now at the area where it can end the cycle from January 3, 2019, low, however, and turn lower in 3 waves at least. If the U.S. escalates the trade war this week, the stock can start to turn lower and at least pull back in 3 waves to correct the cycle from the January 3, 2019 low.