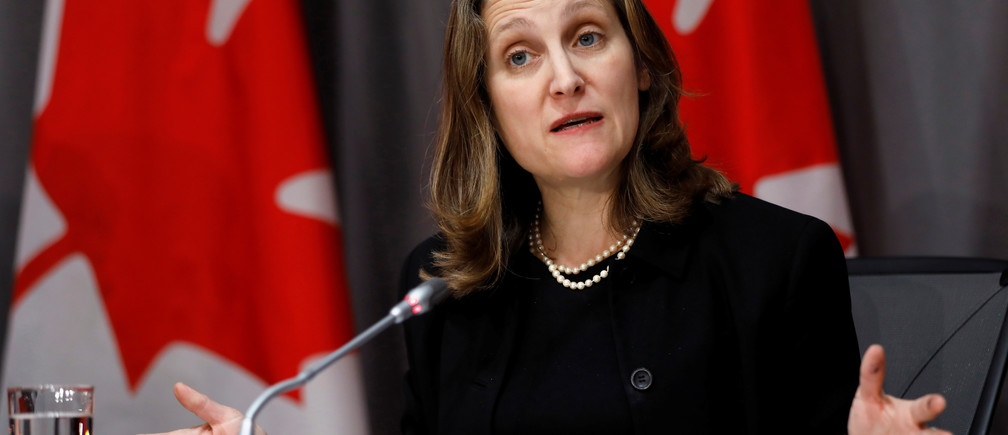 "One of the areas where we feel that we have been more successful than people might have thought is in maintaining our trade with the United States," said Chrystia Freeland, Deputy Prime Minister of Canada, on navigating the economic limitations of the COVID-19 era.
Commenting on the need to close the Canadian-US border to limit the spread of the coronavirus, she added: "We have been able to cut down the traffic across that border by over 90% and at the same time trade is still happening – goods and services are still flowing across the border."
Freeland's remarks came during a weekly virtual meeting of the Forum's COVID Action Platform on 6 May.
Launched last month, the Forum's platform aims to convene leaders from governments and the business community for collective action to protect people's livelihoods, facilitate business continuity and mobilize support for a global response to the COVID-19 pandemic. To date, more than 1,500 people from more than 1,000 businesses and organizations have joined the platform.
In addition to Freeland, participants on this week's webinar included: Arancha Gonzalez Laya, Minister of Foreign Affairs, European Union and Cooperation of Spain; Rich Lesser, Global Chief Executive Officer, BCG; Reema Nanavaty, Executive Director, Self-Employed Women's Association (SEWA), India; Paul Stoffels, Vice-Chairman of the Executive Committee; Chief Scientific Officer, Johnson & Johnson; Magdalena Andersson, Minister of Finance of Sweden; and Seth F. Berkley, Chief Executive Officer, Gavi, the Vaccine Alliance.
Here are some key quotes from the session:
On the economic fallout:
"The Swedish economy is also very severely hit by this crisis…we are forecasting at least a GDP fall of 7% this year and unemployment that will be well over 10%, or close to 15%, in the coming years," said Andersson, noting Sweden's reliance on exports to countries that are by-and-large locked down.
Regarding Spain's response to the economic crisis triggered by the pandemic, Laya noted: "For us, the first important response was to do it differently than what we saw in 2008 – to protect and preserve the productive capacity in the country, help business… protect employment so that these businesses and employers can get back in business as soon as we would have managed the sanitary front."
"The biggest issue…is the risk of a W [shaped economic recovery]. The risk that we brought the economy down, we bring it back up but we don't do it in the right way – and we're forced to bring it back down and bring it up a second time," argued Lesser. "Because the economic and emotional cost of doing that is just enormous," he added.
Freeland commented on Canada's focus on the youth as part of its economic stimulus strategy: "We have a 9 billion-dollar package of student support because we are really aware that there is a robust economic literature showing that if you are a young person graduating into a weak economy…that can have a lifelong impact on your earnings and indeed on how your entire life proceeds. We don't want that to happen to this generation [as] they are going to be the leaders of our economic come back."
On rethinking trade and supply chains:
"This experience has exposed the brittleness of supply chains in some places…whether it's where containers are located around the world, the fact that one small supplier can affect big parts of other supply chains – I think that in this restart period there will be a big focus on resilience," said Lesser.
"What we need to do is a bit of a rethink of the international trade order. We need to therefore invest in a serious rethink of the World Trade Organisation," said Laya. "There is a good opportunity to do so in that members now have one more reason to do this because trade is going to be an important part of the exit strategy for every country," she argued.
On efforts to develop a vaccine:
"More than 100 vaccine initiatives are ongoing in different technologies and that increases the probability of success," said Stoffels.
But while he called the collaboration between stakeholders working toward a vaccine "unprecedented," Stoffels also cautioned: "The fastest we can estimate that vaccines will be available… is in the first half of next year, and that will be done in emergency use. If you go for full approval of vaccines…it's going to take two, three years before many of the vaccines will reach any stage of being useful."
On the importance of political will to distribute a future vaccine to every corner of planet, Berkley said: "Having this global agreement on the need for equitable access is going to be a critical component we have to make this work. We can solve it technically, but we need that political support if we are to succeed."
On the virus's impact on developing countries:
"Even the morsel of the last grain has been snatched away from my mouth. There is no work, there is no transportation, and on top of this the climate shock that destroyed our standing crop. I do not know how I feed my family. I feel it is better to end my life or if death comes to me sooner than later. Just because we are poor, don't we have the right to have self-respect?"
Those were words Nanavaty shared from one of the members of her organization. "In a nutshell, I'm describing what is the reality of the informal sector workers in the Global South. […] this is the situation of millions and millions of workers who are forced to migrate in search of work who now are stranded" as a result of the pandemic, Nanavaty explained.
"Social distancing, lockdown – these are all very alien concepts for the workers in the informal economy," she added.
_____
Source: World Economic Forum