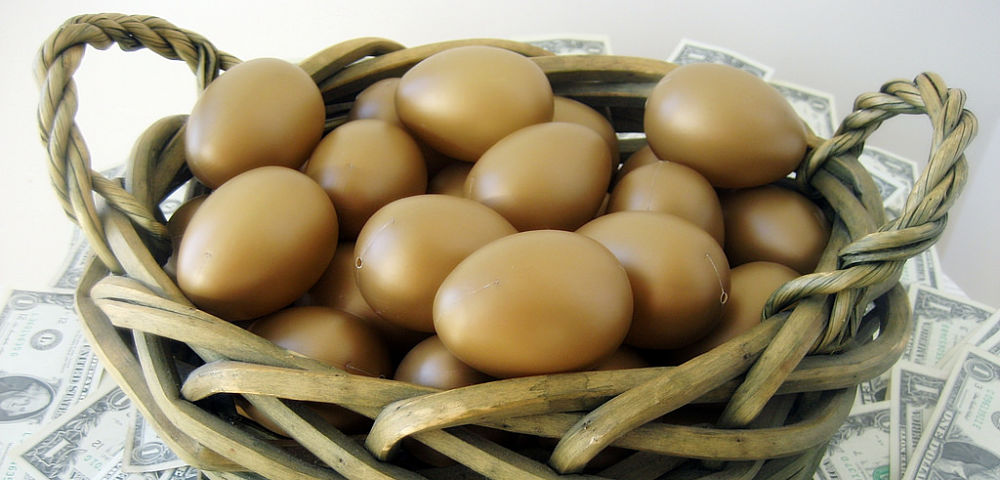 Image via 401(K)2012/Flickr CC
With the egg producer's fiscal third-quarter earnings report now in the rearview, it's a cheap time to buy options premium on Cal-Maine Foods (CALM), says Elizabeth Harrow of Schaeffer's Research.
Schaeffer's Volatility Index (SVI) of 27% registers in the low 15th percentile of its annual range, as short-term bets on CALM have priced in lower volatility expectations only 15% of the time in the last 12 months.
And that's true even as the stock's 30-day historical volatility arrived recently at 37.4%, in the elevated 84th annual percentile, per Trade-Alert. Since early March, CALM has rallied more than 13%, guided by support at its rising 10-day and 20-day moving averages. Earlier in Wednesday's session, the equity peaked at $49.70 — just pennies from its Nov. 30 closing high at $49.75.
According to Schaeffer's Senior Quantitative Analyst Rocky White, there's been just one other instance since 2008 where CALM has been trading this close to its 52-week high with short-term implied volatility running below the 20th annual percentile. Following the last such signal, the stock was 6.73% higher one month later. From CALM's current perch around $49.65, another rally of that magnitude would put the shares around $53 by this time next month — at fresh two-year highs, and comfortably above their November intraday peak of $50.40.
The prospect of "double-top" pressure in the $50 region is certainly worth watching, and potential call buyers may want to wait for a successful test of the 10-day and/or 20-day moving averages for entry — but there are a couple of sentiment indicators that would support a continued CALM surge to new highs in the short term.
For starters, short sellers remain in covering mode. Short interest on the stock dropped by 6.3% during the most recent reporting period, but still accounts for 13.4% of CALM's float. At the security's average daily trading volume, it would take more than 10 sessions for all of these shorted shares to be covered.
Plus, call open interest is suddenly outpacing put open interest on CALM — a relatively rare state of affairs for the stock. Around the time of last November's price peak, put open interest on the equity was ramping up, while call open interest was cratering. This time around, the situation is reversed. Since March-dated options expired roughly one month ago, call open interest on CALM has jumped by approximately 88%, while put open interest is up about 36% over the same time frame.
In fact, combined data from the International Securities Exchange (ISE), Chicago Board Options Exchange (CBOE), and NASDAQ OMX PHLX (PHLX) shows a 50-day call/put volume ratio of 3.59 for CALM, which registers in the near-peak 98th percentile of its annual range. As those who take up the short end of these call transactions buy shares to remain delta-neutral — and as shorts run for cover — CALM should catch a solid tailwind.
Elizabeth Harrow is director of digital content at Schaeffer's Investment Research.
View Schaeffer's Investment Research for stock and options ideas, options education, and market commentary here
About MoneyShow.com: Founded in 1981, MoneyShow is a privately held financial media company headquartered in Sarasota, Florida. As a global network of investing and trading education, MoneyShow presents an extensive agenda of live and online events that attract over 75,000 investors, traders and financial advisors around the world.