Image: Total S.A.
A year ago, I wrote a bullish case for SunPower Corporation [SPWR], and since then the stock is up 100%. Not one to overstay my welcome, I am taking profits this month.
I still have a favorable view of the company, because it has the highest efficiency solar panels for residential and commercial applications. However, now that the stock is in the $12+ range rather than the $6+ range, there is less of a margin of safety if we should see continued economic slowdown in the United States and elsewhere. I would potentially be willing to buy back in at a lower price.
In fact, one way I plan to maintain some small exposure to SunPower is through Total S.A. [TOT], the French oil major. Total owns 66% of SunPower Corporation's stock. This stake is relatively small for Total, equal to about 1% of the oil major's market cap, but it represents an option on the future growth of solar. Total has its own solar projects as well, which pushes up its exposure to the industry a bit more.
In other words, I'm shifting my preference here from a growth stock with a lot of potential and a lot of risk to a value stock with a higher yield and more stability in the intermediate term.
The Commodity Bear Market
While U.S. stocks have reached strong new highs over the past several years, most commodities and commodity producers have been left in the dust. In fact, commodities are at near record divergence in terms of their relationship with the S&P 500:
Chart Source: Incrementum AG, In Gold We Trust 2019 Report
Incrementum plots an assumed reversion to the mean through 2023 on its chart, which might or might not happen in that way, or at all. This chart and ones like it have been popular for the past three years, and the divergence has only grown larger during that time.
However, it's true that commodities have been in a deep bear market for the better part of a decade, and are now at low extremes compared to their relationship with other asset classes. Valuation doesn't tell us much about what will happen in a year or two, but gives us clues for where to start looking for long-term opportunities.
I started buying gold and silver producers heavily in late 2018. For example, I recommended Sandstorm Gold Royalties [SAND] here in November 2018, and the stock is up over 40% since then. The precious metals are the one area in the commodity space that have performed rather well recently.
Going forward, while I am maintaining my exposure to gold and silver producers, I am diversifying a bit into the highest-quality copper, agricultural, and oil producers, because these commodities continue to be very cheaply priced. Unlike precious metals and agriculture, however, copper and oil prices often fall during recessions, so it's important for long-term investors to stick with companies that have a low cost of production and a strong balance sheet to get them through periods of low prices — and to leave the riskier opportunities for the traders.
Total S.A. – Diversified High-Yielder
While I don't have a large oil exposure in my portfolio, I do like to have one or two oil producers as a small portion so that I can dollar-cost average into them during price dips. Going forward, Total is my preferred choice.
The company has a free cash flow breakeven point of about $30 per barrel of Brent crude, which means a greater than 50% reduction in the price of oil would be needed to turn the company free cash flow negative at the current time. If oil drops more than 10-20% from where it is now, some of the less profitable producers will start to run into financial trouble and reduce supply, which means low-cost producers like Total can usually push forward until prices normalize.
The balance sheet is strong with a net debt to income ratio of approximately 3, and an A+ credit rating from S&P.
I particularly like Total's exposure to LNG. The company expects LNG demand to have a 5% growth rate through the next decade, led primarily by Asian electrical generation.
Chart Source: Total February 2019 Results & Outlook Presentation
Natural gas is a cheaper and cleaner source of energy than coal, and is currently taking market share from coal in many regions. As cars increasingly become electrified rather than powered by gasoline, Total's exposure to LNG is likely to become increasingly important.
After Total closes its expected acquisition of Anadarko's global assets from Occidental Petroleum [OXY], Total will be the fourth largest LNG provider in the world, and the second largest out of companies that are not state-owned. This acquisition also strength's Total's footprint in Africa, which is one of its core areas of focus.
The company has had a rough decade due to major declines in the price of oil, but going forward from this price level, I think the company is likely to offer reasonable forward returns.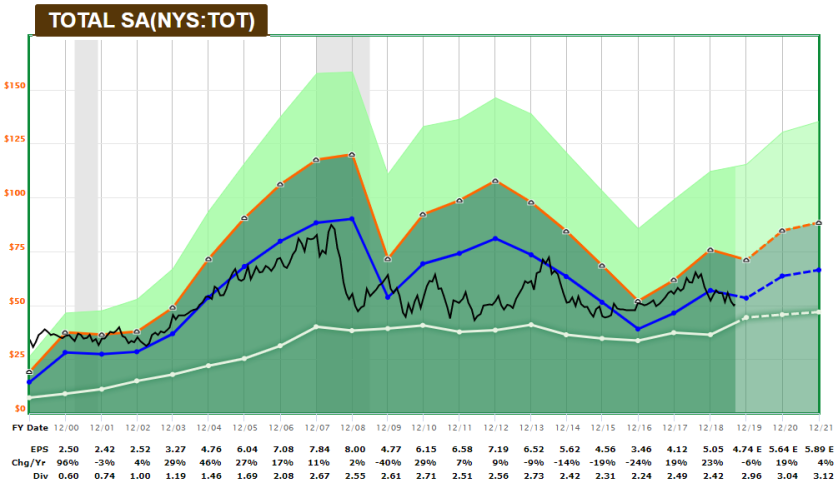 Chart Source: F.A.S.T. Graphs
Total is on track to pay a 5.8% dividend yield during 2019 and has averaged a 5.6% yield over the past decade. The company has maintained or raised its dividend every year for 37 consecutive years in local currency terms, including through various crashes in the oil price.
Total's performance might not be able to keep up with the S&P 500 during a raging bull market like we've seen for the past decade, but from a late-cycle environment with high valuations, the stock offers compelling value. With a 5.8% dividend yield, a forward oil price that hypothetically keeps up with inflation over time (with substantial volatility along the way), and mild or moderate production growth, Total can potentially offer low double-digit forward returns at a time when many equities likely cannot.
Overall, Total's combination of a low cost of production, diversified mix of upstream and downstream operations, a stake in a growing solar business, and a strong balance sheet, make it one of the blue chip stocks in the energy sector.
Moreover, the company is trading at a notable discount to U.S. major oil producers like Exxon Mobile [XOM] and Chevron [CVX], and with a higher dividend yield.
___
Equities Contributor: Lyn Alden
Source: Equities News