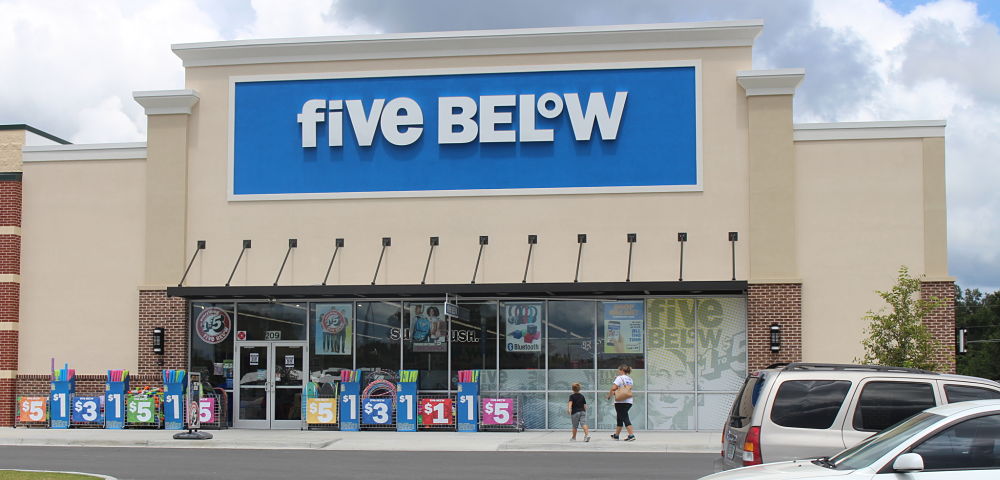 Image via Michael Rivera/Wikimedia
In MoneyShow's Top Picks 2018 report published at the start of the year, Mike Cintolo chose Five Below FIVE as his favorite stock for the year. Now up 48%, the growth stock expert and editor of Cabot Top Ten Trader updates his outlook.
Five Below didn't do much for the first few months of the year. In fact, the stock made no progress from its peak in early January through the end of May.
It was tedious, but the stock broke no rules and business by all indications was still in fine shape, so we held on. And we're glad we did! FIVE soared on earnings in early June following a blowout quarter.
Not only did sales (up 27%) and earnings (up 123%) top expectations, but we think this was effectively a coming out party for the stock, with institutional investors now convinced that Five Below not only has years of growth ahead of it, but that (a) the likelihood of that growth is very high, giving them confidence to pay up, and (b) that even management's long-term outlook of 2,500 stores (up from 675 at the end of 2017) could be conservative.
Short-term, of course, the earnings move (the stock was up 40% in one week) was so big that FIVE could easily sit around for a bit. But given that the stock's original breakout was only back in November 2017, we think this cookie-cutter story has room to run.
Technically, the stock remains in fine shape, hovering around the $100 level since its earnings gap three weeks ago. Retail looks like the leading growth area of the market now, and FIVE is certainly one of the best of the bunch.
The longer the stock can hold its recent big gains, the greater the chance it can continue higher over time. We'll stay on Buy, but it's probably best to keep new positions on the small side. We have it rated Buy, ideally on weakness.
Subscribe to Mike Cintolo's Cabot Top Ten Trader here…
This article was originally published by MoneyShow.com: Founded in 1981, MoneyShow is a privately held financial media company headquartered in Sarasota, Florida. As a global network of investing and trading education, MoneyShow presents an extensive agenda of live and online events that attract over 75,000 investors, traders and financial advisors around the world.