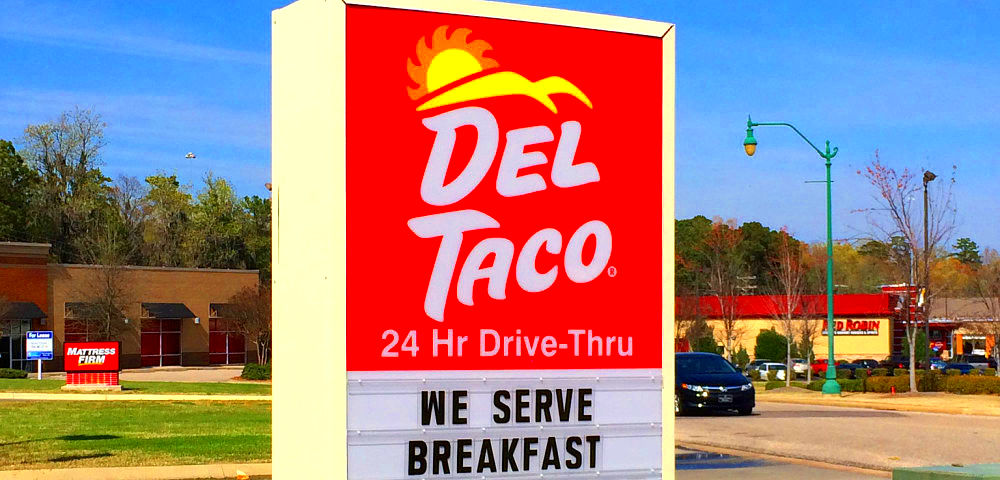 Image via Mike Kalasnik/Flickr CC
Del Taco Restaurants (TACO) is a new name among our recommendations but I believe there are very interesting catalysts that will propel the name higher, suggests money manager Peter Mantas, editor of Logos LP Blog.
The company has surprisingly consistent operating margins in the high single digits — which is almost double that of Chipotle Mexican Grill (CMG) — and trading at only 1x sales which is well below industry competitors.
More importantly, this small cap is unloved at the moment (down 17% year to date) despite strong growth prospects.
At only 5% revenue growth (which is well below their current forecast), 5% net margin (which we believe will be higher after corporate tax cuts and higher operating margins from increased economies of scale) and 20.5 times forward P/E ratio, the company is worth over $511 million in market cap which implies a very conservative 10% margin of safety.
Download MoneyShow's 35th Annual Top Picks Report: The 100 Best Stocks for 2018
Moreover, the company has sublease income growth at over 22% over the last 5 years which is an underappreciated growth catalyst for the stock as the company scales and contribution margin has increased every year to above 20% in its latest quarter.
Insider buying has also picked up at Del Taco Restaurants, with directors buying significant positions in the company over the last quarter.
Overall, the stock has fallen high double digits from peak to trough but is now seeing double-digit earnings (and revenue) growth at low forward P/E multiple relative to its industry competitors.
Peter Mantas is editor of Peter Mantas' Logos LP Blog.
Subscribe to Peter Mantas' Logos LP Blog here…
About MoneyShow.com: Founded in 1981, MoneyShow is a privately held financial media company headquartered in Sarasota, Florida. As a global network of investing and trading education, MoneyShow presents an extensive agenda of live and online events that attract over 75,000 investors, traders and financial advisors around the world.