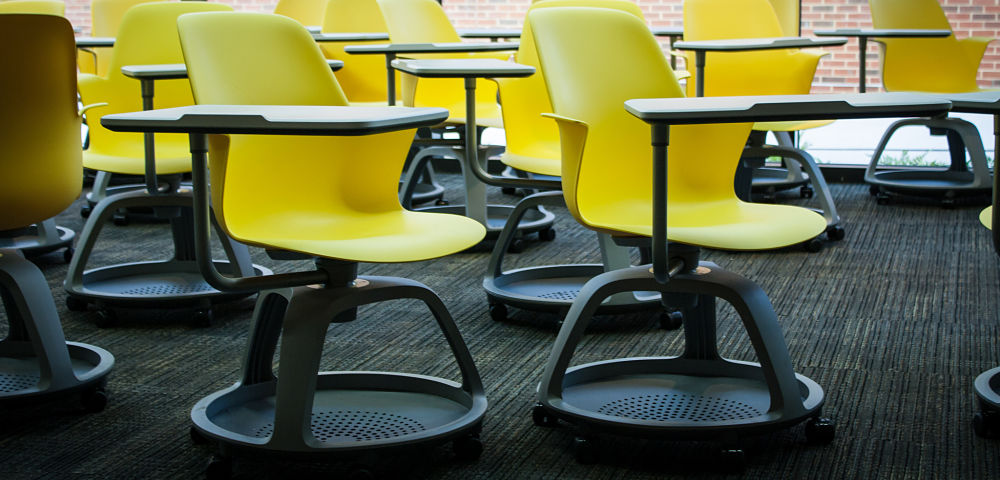 Image via Derek Bruff/Flickr CC
Founded in 1912 as the Metal Office Furniture Company, Grand Rapids, Michigan based Steelcase (SCS) designs and sells furniture and interior architectural design products through a network of 800 dealers, notes John Dobosz, income expert and editor of Forbes Dividend Investor.
Its furniture portfolio includes panel-based and freestanding furniture systems and complementary products, such as storage, tables and ergonomic work tools.
Brands include Steelcase, Coalesse, Designtex, PolyVision and Turnstone. Its main emphasis is on seating. In fact, your desk chair may be one of Steelcase's "task" chairs.
Revenue for the current fiscal year ending February 2018 is expected to grow 2.4% to $3.1 billion, with net operating cash flow up 14.1% to $196.8 million.
Download MoneyShow's 35th Annual Top Picks Report: The 100 Best Stocks for 2018

Steelcase has grown its dividend by 14.9% a year since 2012, and with an annual payout of $0.51, the stock yields 3.7%.
Steelcase trades at valuations significantly below five-year averages on multiple metrics, including price-to-sales (-16.9%), price-earnings (-8.4%), price-to-cash flow (-29.3%) and price-to-book value (-25.5%).
John Dobosz is editor of Forbes Dividend Investor.
Subscribe to John Dobosz's Forbes Dividend Investor here…
About MoneyShow.com: Founded in 1981, MoneyShow is a privately held financial media company headquartered in Sarasota, Florida. As a global network of investing and trading education, MoneyShow presents an extensive agenda of live and online events that attract over 75,000 investors, traders and financial advisors around the world.