​Top Picks 2018: Cognex Could Be a Play on the Rise of Automation
MoneyShow Follow |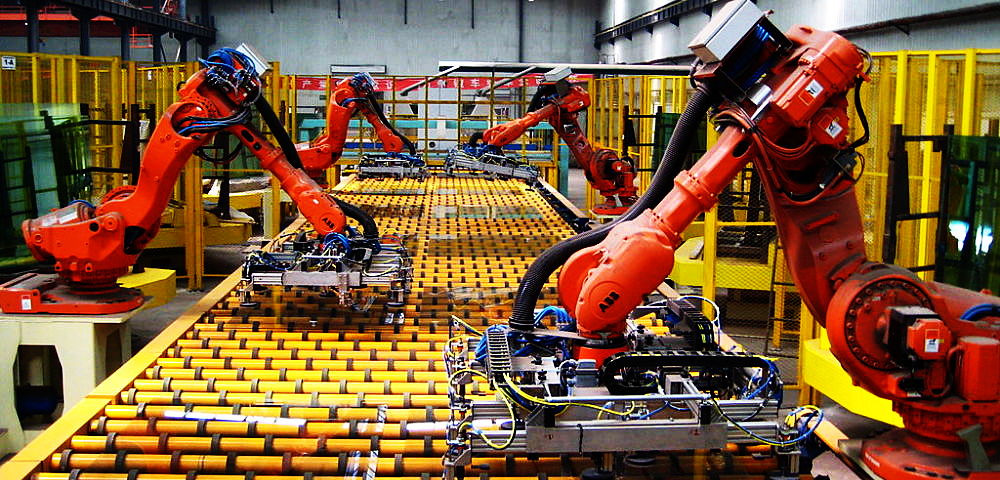 Image via ICAPlants/Wikimedia
In order to survive in the 21st century, companies are demanding greater speed and efficiencies in their processes and robots are ever increasingly the answer; that's why robot armies are spreading throughout factories and warehouses around the world, explains Tony Daltorio, editor of Growth Stock Advisor.
Global sales of industrial robots rose by 18% to a record $13.1 billion (1.828 million units) in 2016, according to the International Federation of Robotics (IFR). The IFR forecasts the number of units will jump to 3.053 million units by 2020, transforming many manufacturing operations into factories of the future.
Many of these robots will be ones that can work safely alongside humans. These are known as collaborative robots or cobots. Crucial to these type of robotics systems is the rapid advancements being made in software, sensors and robotic vision systems.
This looks to be the richest seam to mine when investing in the robotics sector. The IFR estimates this is already a $40 billion market.
Most important among these is robotic vision systems. These vision recognition systems, coupled with artificial intelligence and cameras, allow robots to not only identify objects but to learn from experience to improve their performance over time.
Foremost in this sector is Cognex (CGNX), my top speculative idea for 2018. The company is the leader globally in providing vision systems, vision software, vision sensors and industrial ID readers. It sells its vision systems to most of the big players in the industrial robotics industry. Overall, Cognex has a 30% share of the vision systems market.
Download MoneyShow's 35th Annual Top Picks Report: The 100 Best Stocks for 2018
Its business is quite profitable, with Cognex enjoying nearly 80% gross profit margins. And with much of the growth in robotics overseas, it is not surprising that 45% of its 2016 revenues came from Europe. Another 30% came from the Americas and 25% from Asia.
Cognex is expanding rapidly into the fastest-growing segments of industries that are becoming more automated. For example, the logistics sector (warehouses, etc.) accounts for only 10% of Cognex revenues, but is currently growing at a 50% annual rate.
Another example is 3D vision, which is a necessity for cobots. Its 3D products grew well in excess of 100% in 2016 and that growth should only accelerate going forward. Industry tailwinds and Cognex's industry-leading position will keep the stock moving higher in 2018.
Tony Daltorio is editor of Growth Stock Advisor.
Subscribe to Tony Daltorio's Growth Stock Advisor here…
About MoneyShow.com: Founded in 1981, MoneyShow is a privately held financial media company headquartered in Sarasota, Florida. As a global network of investing and trading education, MoneyShow presents an extensive agenda of live and online events that attract over 75,000 investors, traders and financial advisors around the world.
DISCLOSURE: The views and opinions expressed in this article are those of the authors, and do not necessarily represent the views of equities.com. Readers should not consider statements made by the author as formal recommendations and should consult their financial advisor before making any investment decisions. To read our full disclosure, please go to: http://www.equities.com/disclaimer.
Market Movers
Sponsored Financial Content