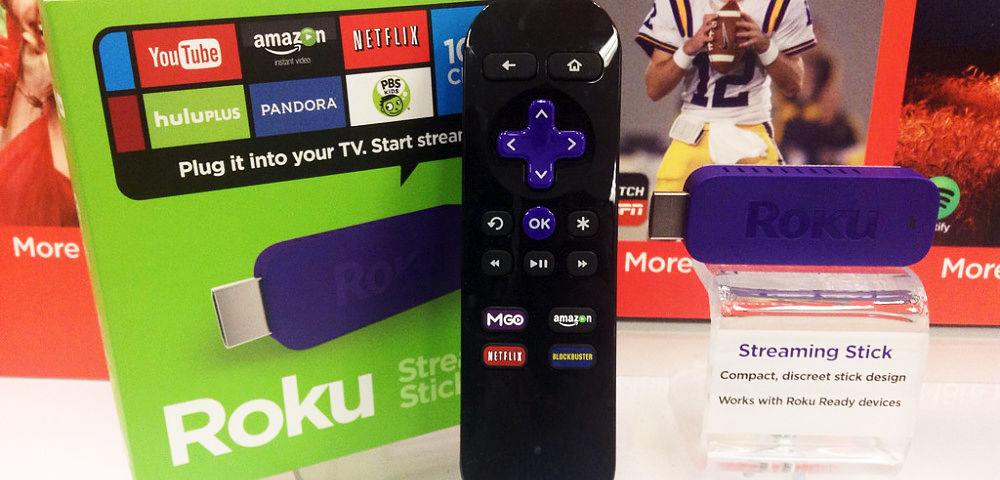 Image via Mike Mozart/Flickr CC
Roku (ROKU) is a direct play on the cord-cutting and TV streaming movement. It makes over-the-top (OTT) TV streaming devices that allow people to access apps such as Netflix (NFLX), Amazon (AMZN) and Hulu, notes Mike Cintolo, editor of Cabot Top Ten Trader.
Roku also developed an operating system that accesses the same apps, and which comes pre-installed on many smart TVs, including models from Hitachi, Insignia, TCL, Sharp, RCA, Hisense and Philips.
The stock is moving higher because Q3 results topped estimates by a mile. Revenue was up 40%, while EPS of -$0.10 beat by $0.19. The results also showed the power of Roku's business model.
The company is pulling in tons of users by selling streaming devices and TVs (73% of total revenue and 33% of gross profit) at relatively little profit, then cashing in once they are users of the company's platform by selling advertising, content distribution services and audience data (27% of total revenue and 67% of gross profit).
Download MoneyShow's 35th Annual Top Picks Report: The 100 Best Stocks for 2018
The best evidence of this phenomenon is that active accounts were up 48% to 11.3 million in the third quarter, while average revenue per user was up 37% to $12.68.
It's a potentially monster story given that Roku benefits from the general acceptance of TV streaming and the mega-movement toward dumping expensive cable packages, and isn't tied to one particular service. Analysts expect 2018 revenue growth to hit 30%, while red ink will likely be slashed from -$1.80 in 2017 to -$0.43 in 2018.
Yes, there's competition, and the stock is extraordinarily volatile. But if management continues to make the right moves, the potential is huge as millions more viewer use its platform.
Mike Cintolo is editor of Cabot Top Ten Trader.
Subscribe to Mike Cintolo's Cabot Top Ten Trader here…
About MoneyShow.com: Founded in 1981, MoneyShow is a privately held financial media company headquartered in Sarasota, Florida. As a global network of investing and trading education, MoneyShow presents an extensive agenda of live and online events that attract over 75,000 investors, traders and financial advisors around the world.