Top Funds' Activity in Q2 2019
Leo Kolivakis Follow |

Vincent Bielski, Melissa Karsh, Brandon Kochkodin and Paul Murray of Bloomberg report the world's biggest hedge funds piled into Uber and sold Microsoft, among other big moves during the second quarter:

The world's biggest hedge funds anointed a clear favorite: Uber. They piled into the ride-hailing company, which had its initial public offering in May. Three Tiger Cubs—alumni of Julian Robertson's Tiger Management—led the charge on a $1.4 billion wager. As they favored the shiny new thing, plenty of others cast off an old tech giant, Microsoft, turning it into the most disliked stock.

Winners. Losers. Buyers. Sellers. By Aug. 14, fund managers disclosed in regulatory filings the multi-million dollar moves they made in the U.S. stock market in the second quarter. The quarterly rite allows investors to gain some insight in an otherwise opaque arena dominated by some of the richest managers—from Bill Ackman to David Einhorn.

Here we parse the flood of data that was released to show you where the smart money placed wagers—and how those bets look, in hindsight.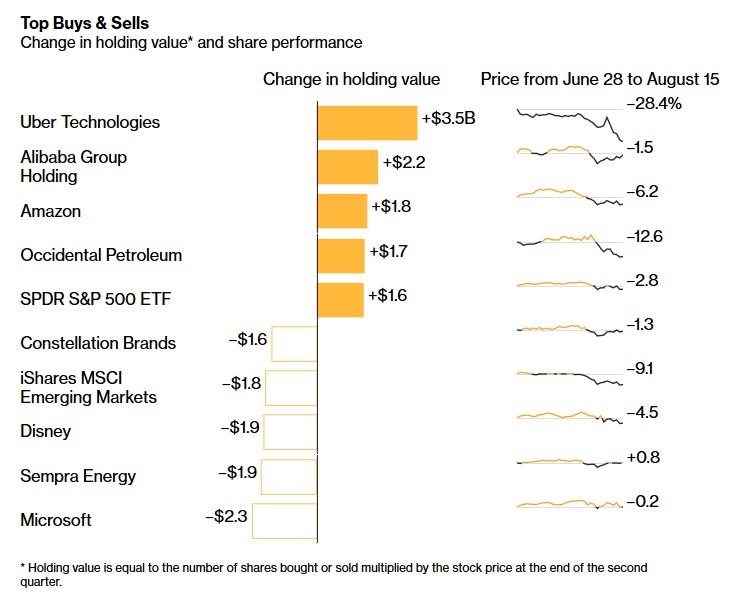 The chart below gives you the big picture. It plots about 250 U.S. stocks, combining in each dot two measures: the change in the value of hedge fund positions and the performance of the equity in the first 45 days of the third quarter. Scroll over the dot for Humana, a popular stock with hedge funds like Glenview Capital and Maverick Capital in the second quarter. Shares of the health insurer surged after it boosted its outlook in July. Alcohol giant Constellation Brands, which sells beer and tequila from Mexico in the U.S., has had a tougher time. Hedge funds fled the stock as the Trump administration made trade and immigration threats against its southern neighbor.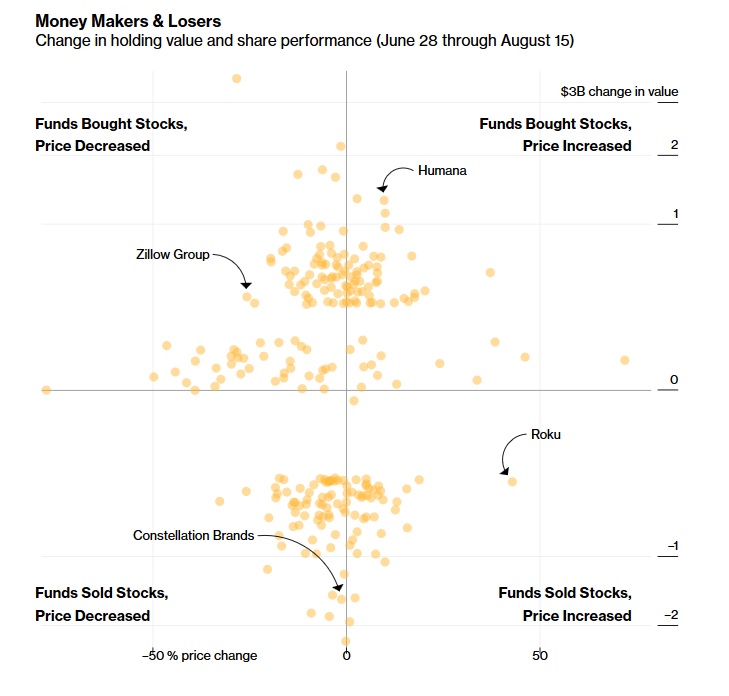 Hedge funds kept their years-long infatuation for almost all of the FAANGs—Netflix, Amazon, Facebook and Google parent Alphabet. They jumped into the companies, as the chart below shows, with D1 Capital taking a new stake in Amazon and adding to its holdings in Netflix and Facebook. Meanwhile, funds ditched Apple amid slowing iPhone sales, and also Microsoft, just as the software giant deepens its partnership with Samsung. Big quant names like D.E. Shaw and AQR Capital trimmed their positions in the iPhone maker.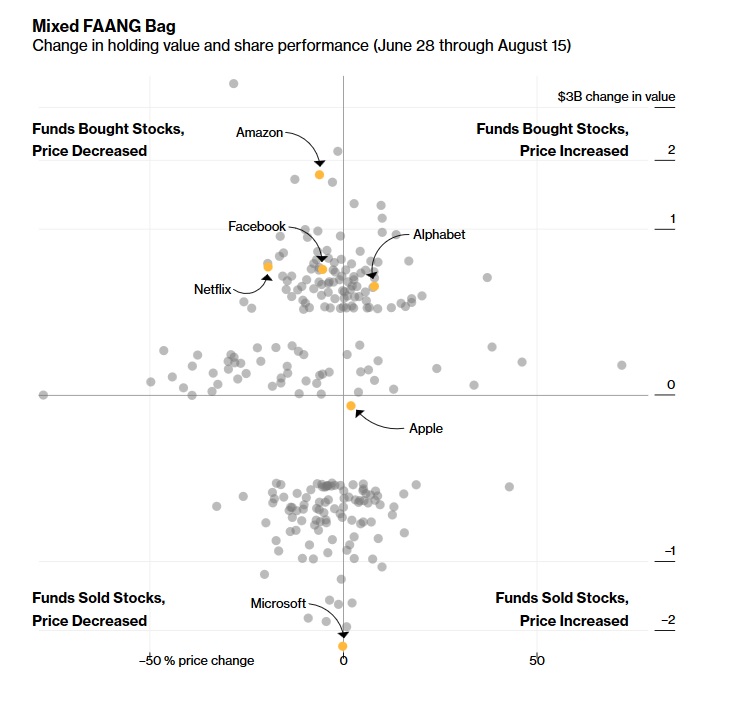 IPOs in the U.S. surged in the second quarter, raising the most capital in years, after a slow start to 2019. CrowdStrike, a software firm, has been one of the top performing offerings. Big hedge funds like Tiger Global, Element Capital and Melvin Capital got a piece of the CrowdStrike action. Chewy, an online pet store, was another favorite. Its stock got an early pop fueled by the firm's robust growth. The shares have since settled down.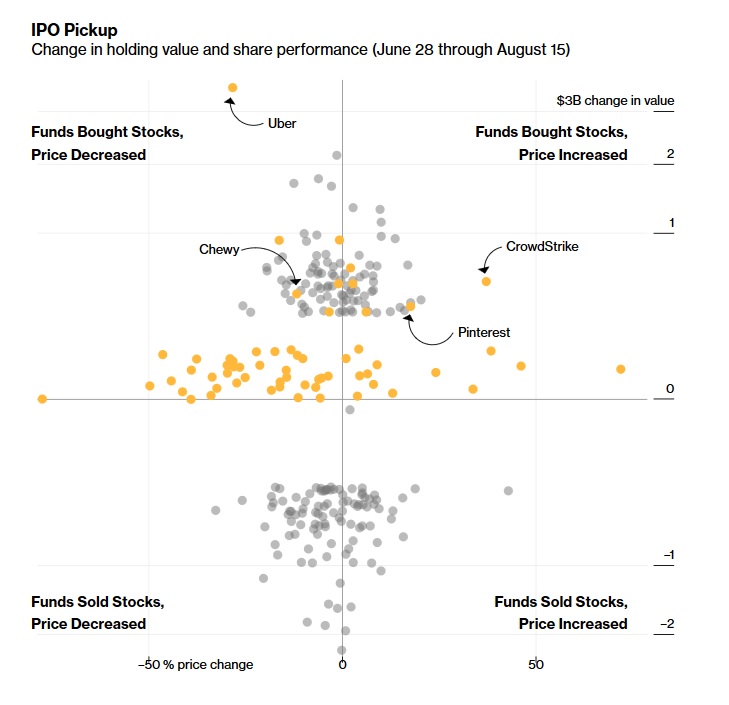 Hedge funds often move in clusters, crowding into or clearing out of the same stock at about the same time. The chart below displays the most and least popular stocks by the number of firms that bought or sold them in the second quarter. Disney was among the winners of the beauty contest, gaining fans as it makes an aggressive push into streaming video. Marshall Wace added to its stake and Suvretta Capital took a new position in the quarter. Chevron, which lost a takeover battle for an oil driller in May, was less appealing. More hedge funds sold Chevron than bought it.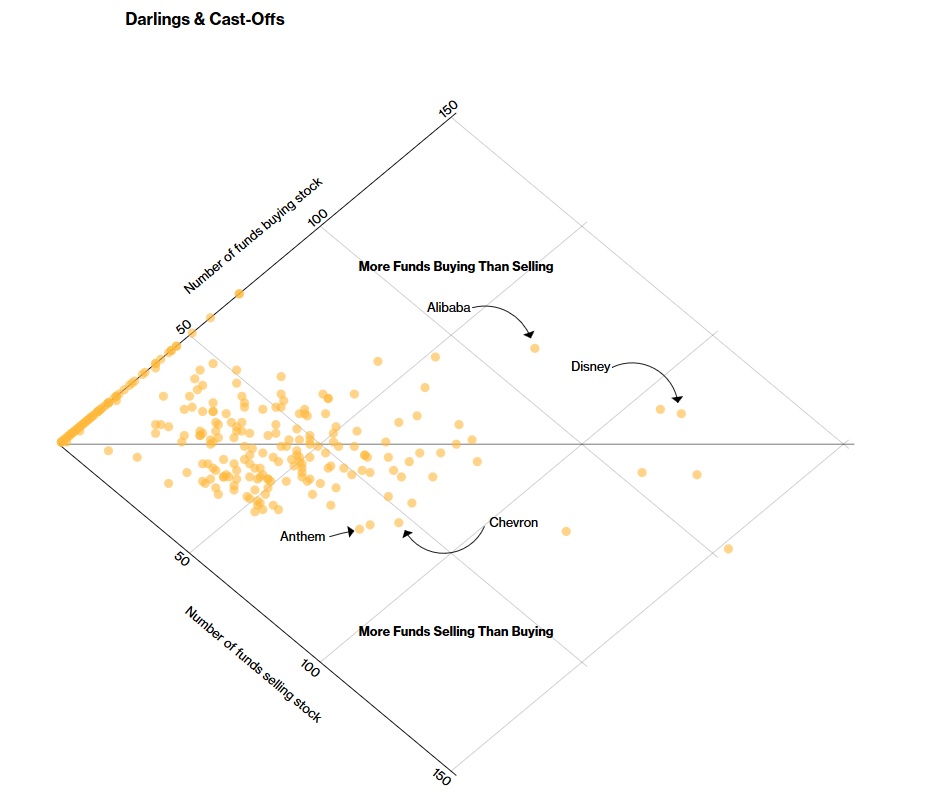 The hedge fund industry's boldfaced names—from Bill Ackman of Pershing Square to Andreas Halvorsen of Viking Global—made a splash in the quarter.

Big Names, Big Bets
Pershing Square took a new stake in Berkshire Hathaway, valued at about $749 million as of June 30. Berkshire's shares may have taken a hit on weak earnings and a swoon in bank stocks as Warren Buffett builds up the firm's financial holdings.
After ditching its Boeing stake in the first quarter, Viking Global built a new position in the jet manufacturer this go-around, worth about $1 billion at the end of June. 737 Max concerns continue to weigh on Boeing shares.
Appaloosa cut its Allergan stake by more than 50%, valuing the holding at about $217 million as of June. Shares of the drugmaker have been down slightly after an initial jump once AbbVie agreed to acquire it in June.
Elliott exited its $1.4 billion position in Sempra Energy after reaching an agreement in October to add two new directors to the utility's board.
You have to go to the Bloomberg article here to have access to the interactive charts.
The article is interesting but I must be honest, I couldn't care less what big hedge funds or Warren Buffett or any of the big name gurus were buying and selling last quarter.
Many hedge funds are underperforming and in these volatile markets, a lot of them are going to get annihilated if market volatility persists.
What concerns me these days is market volatility, geopolitical risks, the inverted yield curve, negative interest rates all over the world exacerbating the massive rally in US Treasurys, and most of all capital preservation.
Make sure you go back to read my last three market comments:
The most important thing right now is trying to figure out the market environment and how to navigate all the risks ahead.
For example, what if China devalues the yuan considerably? That will basically export deflation throughout the world and clobber risk assets.
When macro risks dominate, and they always do, beta risks are high so even if you're a great stock picker, you can easily get whacked hard in these volatile markets.
The herding behavior top hedge funds are exhibiting isn't an accident. They're all looking for the three "Ls" of investing in these volatile markets: Liquidity, Liquidity, and Liquidity.
That's essentially why FAANG stocks are so popular among top hedge funds, they can get in and out of them very easily.
Have a look at the 5-year weekly chart of the S&P Technology ETF (XLK), it's been volatile lately but the uptrend is still intact: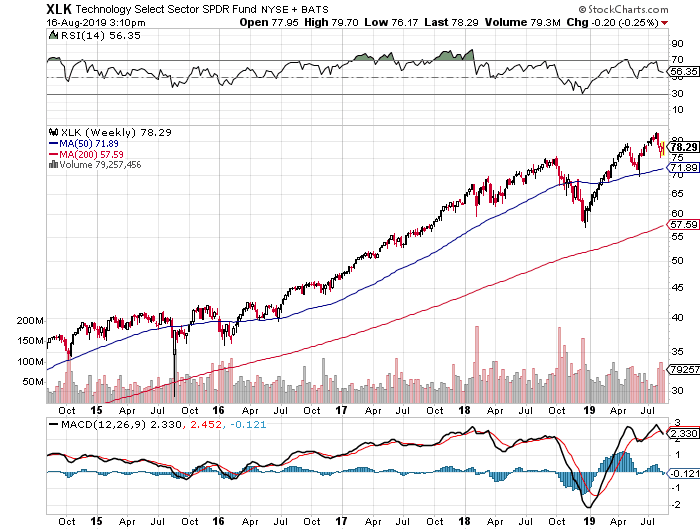 If it drops below 70 and 60, then I'd start to worry if I'm loaded up with FAANG stocks.

Here are two other nice charts to keep in mind, the 5-year weekly chart of US long bonds (TLT) and the 5-year weekly chart S&P Gold shares (GLD) which have both gone parabolic as fear sets in that negative rates will hit the US: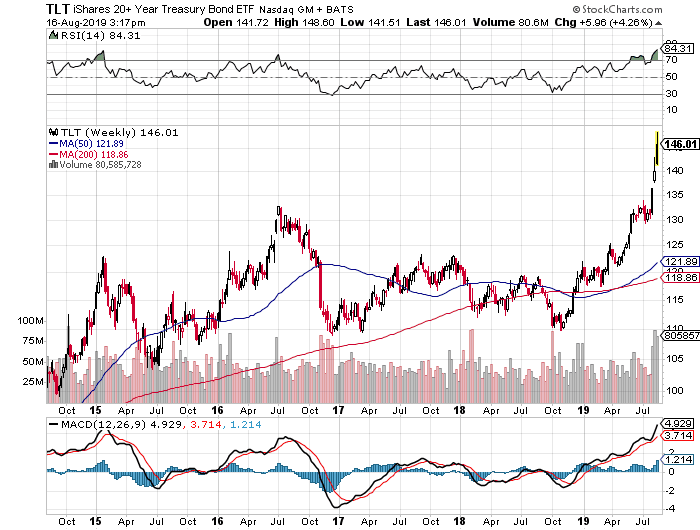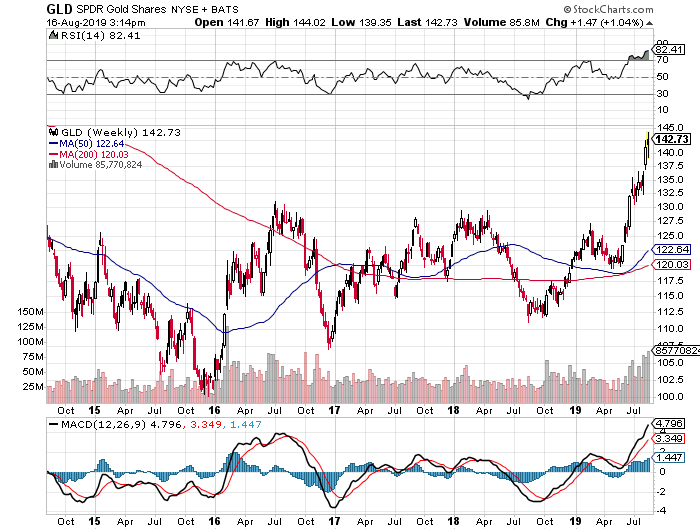 The big money these days isn't in picking stocks, it's in making the right macro calls and sticking with them.

In fact, the hedge funds posting the best performance recently were CTAs who were on the right side of the bond trade as yields plunged all over the world.

But everyone is so fixated on what Warren Buffett, Dan Loeb and other big name gurus are buying and selling in the stock market, it's quite silly in these volatile markets.

Those of you who love trading stocks, I can tell you Fidelity made killing on Roku (ROKU) and got destroyed on Nektar Therapeutics (NKTR).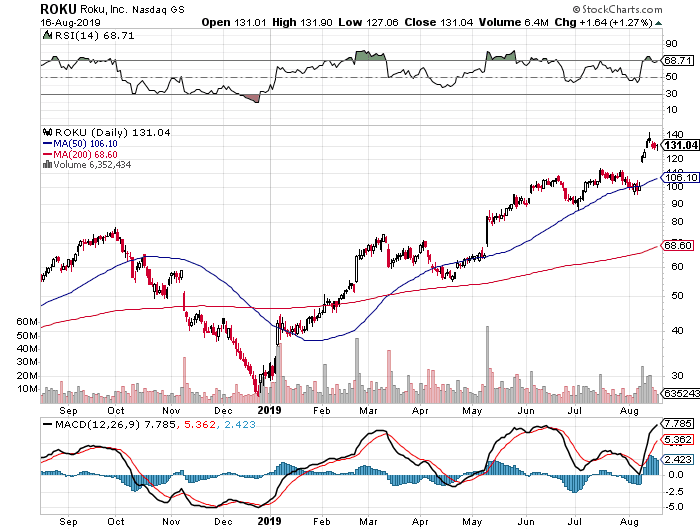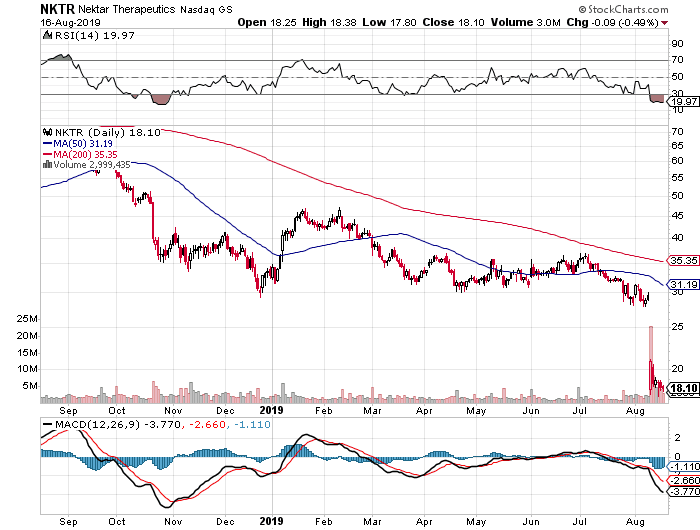 I can tell you Jim Simons' Renaissance Technologies made a killing on Chipotle Mexican Grill (CMG) and Starbucks (SBUX) as they ran up to make record highs this quarter (I was telling people to buy Starbucks when it dipped below $50 after that scandal broke out):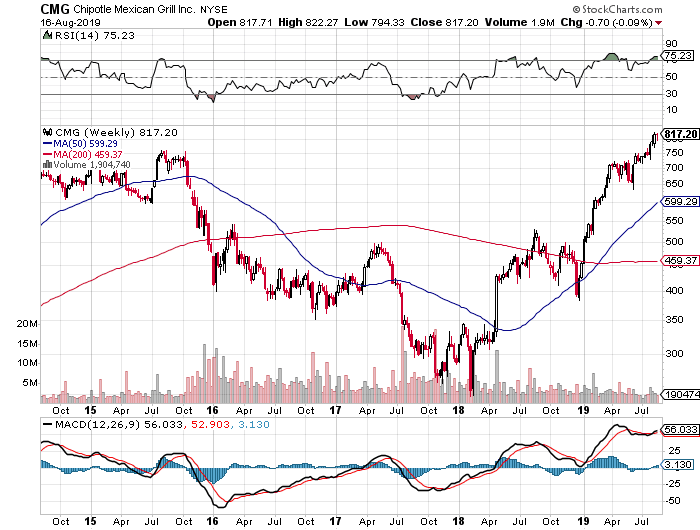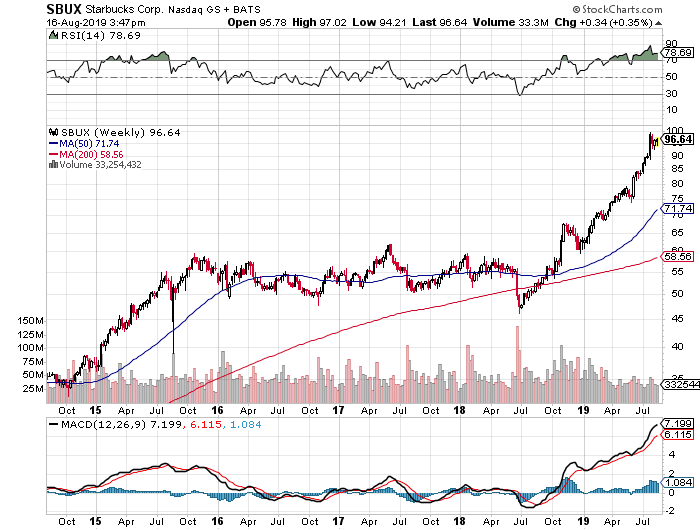 I can also tell you generic drug manufacturers and other healthcare stocks which are part of that massive opioid lawsuit got destroyed but are bouncing a bit today as markets end the week on a high note (be careful here but worth tracking them):



I can also tell you the selloff in shares of Cisco (CSCO), Dropbox (DBX), and Revolve Group (RVLV) have all got me interested but I'm not nibbling here:

There are a lot of stocks that got clobbered and some keep making new highs, but I remain very cautious here as I remain convinced macro and geopolitical risks will dominate the second half of the year.


A lot of chatter lately of the Fed cutting rates 50 basis points in September. If it does, stocks will sell off hard and gold shares will make even higher highs.


On that cheery note, have fun looking at the second quarter activity of top funds listed below. The links take you straight to their top holdings and then click on the column head "Change (%)" to see where they increased and decreased their holdings (you have to click once or twice to see).


Top multi-strategy and event driven hedge funds


As the name implies, these hedge funds invest across a wide variety of hedge fund strategies like L/S Equity, L/S credit, global macro, convertible arbitrage, risk arbitrage, volatility arbitrage, merger arbitrage, distressed debt and statistical pair trading. Below are links to the holdings of some top multi-strategy hedge funds I track closely:
1) Appaloosa LP
4) Point72 Asset Management (Steve Cohen)
8) Farallon Capital Management
10) Highbridge Capital Management
11) Highland Capital Management
12) Hudson Bay Capital Management
13) Pentwater Capital Management
14) Och-Ziff Capital Management
15) Carlson Capital Management
16) Magnetar Capital
18) QVT Financial
19) Paloma Partners
20) Weiss Multi-Strategy Advisors
Top Global Macro Hedge Funds and Family Offices
These hedge funds gained notoriety because of George Soros, arguably the best and most famous hedge fund manager. Global macros typically invest across fixed income, currency, commodity and equity markets.
George Soros, Carl Icahn, Stanley Druckenmiller, Julian Robertson have converted their hedge funds into family offices to manage their own money.
3) Duquesne Family Office (Stanley Druckenmiller)
5) Pointstate Capital Partners
6) Caxton Associates (Bruce Kovner)
7) Tudor Investment Corporation (Paul Tudor Jones)
8) Tiger Management (Julian Robertson)
9) Discovery Capital Management (Rob Citrone)
11) Element Capital
12) Bill and Melinda Gates Foundation Trust (Michael Larson, the man behind Gates)
Top Quant and Market Neutral Hedge Funds
These funds use sophisticated mathematical algorithms to make their returns, typically using high-frequency models so they churn their portfolios often. A few of them have outstanding long-term track records and many believe quants are taking over the world. They typically only hire PhDs in mathematics, physics and computer science to develop their algorithms. Market neutral funds will engage in pair trading to remove market beta.
5) Cubist Systematic Strategies (a quant division of Point72)
6) Numeric Investors now part of Man Group
10) Quantitative Investment Management
12) PDT Partners
13) Angelo Gordon
14) Quantitative Systematic Strategies
15) Quantitative Investment Management
16) Bayesian Capital Management
Top Deep Value, Activist, Event Driven and Distressed Debt Funds
These are among the top long-only funds that everyone tracks. They include funds run by legendary investors like Warren Buffet, Seth Klarman, Ron Baron and Ken Fisher. Activist investors like to make investments in companies where management lacks the proper incentives to maximize shareholder value. They differ from traditional L/S hedge funds by having a more concentrated portfolio. Distressed debt funds typically invest in debt of a company but sometimes take equity positions.
1) Abrams Capital Management (the one-man wealth machine)
3) Baron Partners Fund (click here to view other Baron funds)
4) BHR Capital
13) Jana Partners
14) Gabelli Funds
15) Highfields Capital Management
16) Eminence Capital
17) Pershing Square Capital Management
18) New Mountain Vantage Advisers
19) Atlantic Investment Management
20) Polaris Capital Management
21) Third Point
22) Marcato Capital Management
23) Glenview Capital Management
25) Avenue Capital
28) Brigade Capital Management
29) Caspian Capital
31) Knighthead Capital Management
33) Roystone Capital Management
35) Schneider Capital Management
36) ValueAct Capital
40) Sasco Capital
42) Gabelli Funds
45) Jet Capital
46) Conatus Capital Management
47) Starboard Value
48) Pzena Investment Management
Top Long/Short Hedge Funds
These hedge funds go long shares they think will rise in value and short those they think will fall. Along with global macro funds, they command the bulk of hedge fund assets. There are many L/S funds but here is a small sample of some well-known funds.
5) Pointstate Capital Partners
7) Tiger Global Management (Chase Coleman)
11) Fox Point Capital Management
14) Paulson & Co.
16) Hoplite Capital Management
18) Hussman Strategic Advisors
19) Cantillon Capital Management
20) Brookside Capital Management
24) GLG Partners LP
25) Cadence Capital Management
26) Honeycomb Asset Management
28) Penserra Capital Management
29) Eminence Capital
30) Steadfast Capital Management
31) Brookside Capital Management
32) PAR Capital Capital Management
34) Brahman Capital
36) Kensico Capital Management
39) Passport Capital
40) Pennant Capital Management
42) Tide Point Capital Management
45) Highside Capital Management
48) Suvretta Capital Management
52) Senvest Partners
53) Falcon Edge Capital Management
54) Park West Asset Management
56) Owl Creek Asset Management
57) Portolan Capital Management
58) Proxima Capital Management
59) Tourbillon Capital Partners
62) Marshall Wace
63) Light Street Capital Management
64) Rock Springs Capital Management
Top Sector and Specialized Funds
I like tracking activity funds that specialize in real estate, biotech, healthcare, retail and other sectors like mid, small and micro caps. Here are some funds worth tracking closely.
1) Avoro Capital Advisors (formerly Venbio Select Advisors)
12) Oracle Investment Management
14) Consonance Capital Management
16) Redmile Group
17) RTW Investments
18) Bridger Capital Management
19) Boxer Capital
20) Bridgeway Capital Management
21) Cohen & Steers
22) Cardinal Capital Management
24) Diamondhill Capital Management
27) Criterion Capital Management
29) 12 West Capital Management
31) Sarissa Capital Management
32) Rock Springs Capital Management
34) Southeastern Asset Management
35) Sphera Funds
37) Thomson Horstmann & Bryant
38) Ecor1 Capital
Mutual Funds and Asset Managers
Mutual funds and large asset managers are not hedge funds but their sheer size makes them important players. Some asset managers have excellent track records. Below, are a few funds investors track closely.
1) Fidelity
6) Brookfield Asset Management
7) Dodge & Cox
9) Grantham, Mayo, Van Otterloo & Co.
12) JP Morgan Chase & Co
13) Morgan Stanley
19) Thornburg Investment Management
20) Legg Mason (Bill Miller)
21) Kornitzer Capital Management
22) Batterymarch Financial Management
23) Tocqueville Asset Management
24) Neuberger Berman
25) Winslow Capital Management
26) Herndon Capital Management
27) Artisan Partners
28) Great West Life Insurance Management
32) Capital Research Global Investors
33) T. Rowe Price
34) First Eagle Investment Management
35) Frontier Capital Management
39) Victory Capital Management
Canadian Asset Managers
Here are a few Canadian funds I track closely:
2) Letko, Brosseau and Associates
5) Hexavest
8) Connor, Clark & Lunn Investment Management
12) Greystone Managed Investments
13) Mackenzie Financial Corporation
14) Great West Life Assurance Co
15) Guardian Capital
16) Scotia Capital
17) AGF Investments
18) Montrusco Bolton
19) CI Investments
20) Venator Capital Management
22) Formula Growth
23) Hillsdale Investment Management
Pension Funds, Endowment Funds, and Sovereign Wealth Funds
Last but not least, I the track activity of some pension funds, endowment and sovereign wealth funds. I like to focus on funds that invest in top hedge funds and have internal alpha managers. Below, a sample of pension and endowment funds I track closely:
1) Alberta Investment Management Corporation (AIMco)
2) Ontario Teachers' Pension Plan
3) Canada Pension Plan Investment Board
4) Caisse de dépôt et placement du Québec
6) British Columbia Investment Management Corporation (BCI)
7) Public Sector Pension Investment Board (PSP Investments)
10) California Public Employees Retirement System (CalPERS)
11) California State Teachers Retirement System (CalSTRS)
12) New York State Common Fund
13) New York State Teachers Retirement System
14) State Board of Administration of Florida Retirement System
15) State of Wisconsin Investment Board
16) State of New Jersey Common Pension Fund
17) Public Employees Retirement System of Ohio
18) STRS Ohio
19) Teacher Retirement System of Texas
20) Virginia Retirement Systems
21) TIAA CREF investment Management
23) Norges Bank
24) Nordea Investment Management
26) Singapore Temasek Holdings
Below, Bloomberg's Sonali Basak reports on Hedge Funds releasing second quarter 13F filings on "Bloomberg Daybreak: Americas."
Second, Bianco Research's James Bianco believes Fed Chairman's Jerome Powell's comments at Jackson Hole will determine what happens next in the markets.
Jim thinks the Fed should open the door to a 50 basis point rate cut but I believe if they do, stocks will sell off hard after the initial knee-jerk reaction.
Lastly, an interesting conversation where Teddy Vallee, CIO of Pervalle Global, explains to Raoul Pal why he thinks leading indicators are pointing to a global recession (filmed on July 9, 2019).

Equities Contributor: Leo Kolivakis

Source: Equities News
DISCLOSURE: The views and opinions expressed in this article are those of the authors, and do not represent the views of equities.com. Readers should not consider statements made by the author as formal recommendations and should consult their financial advisor before making any investment decisions. To read our full disclosure, please go to: http://www.equities.com/disclaimer. The author of this article, or a firm that employs the author, is a holder of the following securities mentioned in this article : none