Top Funds' Activity in Q2 2018
Leo Kolivakis Follow |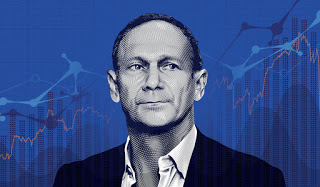 David Randall and Svea Herbst-Bayliss of Reuters report, U.S. hedge funds bet on retail, tech in Q2 as economy sizzled:
It's time to wrap up this week by looking at the quarterly filings of top hedge funds and other fund managers.

The data is lagged but we get a glimpse into their activity. I think there is a lot of great data to be manipulated here and I use this information as part of my toolkit when looking at stocks to buy, sell or when I want to increase/ decrease my positions.
But I always tell my readers to be aware of the current macro crosscurrents or risk getting clobbered in highly volatile markets.
Here are some of my recent market comments which you need to read:


In fact, a lot of hedge funds are struggling this year because they're not getting the macro right. I suggest they subscribe to Francois Trahan's excellent portfolio research at Cornerstone Macro.
There are plenty of others I like but Francois ties everything to the market very well and his calls are forward looking and excellent.
Get the macro right. Get your sectors right on the long and short side. Then you can call yourself a real hedge fund that delivers alpha in good and bad times.
Alright, enough on macro, back to top funds' activity in Q2. Kate Rooney of CNBC reports, Warren Buffett's Berkshire Hathaway reloads on Apple, Goldman Sachs and airlines:

I was curious to see if Buffett added to his Teva (TEVA) stake, one of my core longs, and to see what other top funds were doing with this company.
You can go through Teva's top holders here but this is the image that I want to bring to your attention (click on image):

That proved to be a wise decision. On Thursday, Teva's shares soared more than 7% on news the FDA approved its generic EpiPen (click on image):
In case you're not aware, an EpiPen shortage has parents struggling during back-to-school season.

ICYMI: FAA Urges Airlines To Take Stronger Action With Unruly, Disruptive Passengers

But it's not just Teva that impressed me this year. Check out shares of Mallinckrodt (MNK) since the start of the year:

That's what I want to see in an active manager. I want to see intelligent risk-taking, not closet indexers, and a more concentrated portfolio. I want to pay them to take intelligent risks.

Consultants have corrupted the industry to the point where active managers are afraid to take risks lest they suffer too much "tracking error" in any given year. It's truly pathetic.

Anyway, back to top funds' activity. I wish there was an easier way for me to go through all of it with you but it's paintakingly long and tedious work to go through everyone's portfolio.

When I went over Q1 activity, I went through a lot of stuff, like why I wasn't so convinced with David Tepper's decision to increase his holdings of Micron Technology (MU). It turns out I was right:

Maybe there is a bounce to be played here but I wouldn't buy and hold it, that's for sure.

Anyway, have fun reading articles on what top funds bought and sold last quarter here.

Also, take the time to read a great Institutional Investor article on Perceptive Advisors' Joseph Edelman, The 41% Man (h/t, Denis Parisien).

You'll recall I discussed Perceptive and Joe Edelman when I covered top funds Q4 activity. Not only is he the best biotech investor, he has the most impressive track record among active managers (with lots of vol which comes with the territory).

Edelman significantly increased his stake in Mirati Therapeutics (MRTX) in Q2, which was a great move:

I'll end it there. Have fun looking at the second quarter activity of top funds listed below. The links take you straight to their top holdings and then click on the fourth column head, % chg, to see where they decreased (click once on % chg column head) and increased their holdings (click twice on % chg column head).

DISCLOSURE: The views and opinions expressed in this article are those of the authors, and do not necessarily represent the views of equities.com. Readers should not consider statements made by the author as formal recommendations and should consult their financial advisor before making any investment decisions. To read our full disclosure, please go to: http://www.equities.com/disclaimer.
Market Movers
Sponsored Financial Content