Top Funds' Activity in Q2 2018
Leo Kolivakis Follow |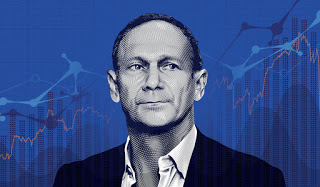 David Randall and Svea Herbst-Bayliss of Reuters report, U.S. hedge funds bet on retail, tech in Q2 as economy sizzled:
Prominent hedge fund managers appeared to make big second-quarter bets that the U.S. economy would continue to expand despite increasing concerns about a broadening trade dispute between the United States and China, regulatory filings showed Tuesday.

Third Point added new positions in payment companies PayPal Holdings Inc and Visa Inc, both of which are up more than 19 percent year to date. Greenlight Capital, run by billionaire investor David Einhorn, added new positions in low-to-middle income retailers including Dollar Tree Inc , Dollar General Corp, Gap Inc, and TJX Companies Inc, the parent company of discount retailers TJ Maxx and HomeGoods.

Activist fund Jana Partners added shares of broad-based exchange-traded funds that track the S&P 500 and the Russell 2000 indexes and took new positions in Wells Fargo & Co and food delivery company GrubHub Inc.

The flurry of new positions in cyclical companies came during a quarter in which U.S. gross domestic product increased at an annual rate of 4.1 percent, nearly double the 2.2 percent rate of the first quarter of the year, according to Commerce Department estimates.

A rally in cyclical companies would help boost hedge fund industry returns at a time when many fund firms are under pressure from investors to lower their fees or improve their performance. Hedge funds, on average, are up 1.5 percent since the start of January, according to research firm Hedge Fund Research, well behind the 6.2 percent gain in the benchmark S&P 500 index over the same time.

"Everyone is comparing everything to the S&P 500 and that's a very difficult hurdle for the last few years," said Sol Waksman, president of research firm BarclayHedge.

Quarterly disclosures of hedge fund managers stock holdings, in what are known as 13F filings with the U.S. Securities and Exchange Commission, are one of the few public ways of learning what the managers are selling and buying. But relying on the filings to develop an investment strategy comes with some risk because the disclosures come 45 days after the end of each quarter and may not reflect current positions. Still, the filings offer a glimpse into what hedge fund managers saw as opportunities to make money on the long side.

The filings do not disclose short positions, or bets that a stock will fall in price. As a result, the public filings do not always present a complete picture of a management firm's stock holdings.

TRIMMING THE FAANGS

Large hedge fund managers cut their positions in some of the so-called FAANG stocks - the moniker given to Facebook Inc , Apple Inc, Amazon.com Inc, Netflix Inc , and Google-parent Alphabet Inc - that led the market higher last year.

Third Point sold all of its stake in Alphabet and divested 1 million shares of Facebook, reducing its position in the company by 25 percent. At the same time, it increased its stake in Microsoft Corp by nearly 310 percent, buying 1.7 million shares.

Omega Advisors, meanwhile, sold all of its position in Netflix and added new holdings in biotechnology companies including Madrigal Pharmaceuticals Inc and Deciphera Pharmaceuticals Inc.

A number of prominent fund managers sharply cut their stake in Apple only weeks before it became the first publicly traded U.S. company to be worth more than $1 trillion.

Einhorns Greenlight Capital slashed its stake by 77 percent, while Philippe Laffonts Coatue Management got rid of 95 percent. Advisory firm Diamond Hill Capital Management cut its stake by 27 percent. Other big holders, including Sanders Capital and Adage Capital Partners, trimmed only small amounts in the second quarter.
It's time to wrap up this week by looking at the quarterly filings of top hedge funds and other fund managers.


The data is lagged but we get a glimpse into their activity. I think there is a lot of great data to be manipulated here and I use this information as part of my toolkit when looking at stocks to buy, sell or when I want to increase/ decrease my positions.

But I always tell my readers to be aware of the current macro crosscurrents or risk getting clobbered in highly volatile markets.

Here are some of my recent market comments which you need to read:


I also think it's important to read these comments:


In fact, a lot of hedge funds are struggling this year because they're not getting the macro right. I suggest they subscribe to Francois Trahan's excellent portfolio research at Cornerstone Macro.

There are plenty of others I like but Francois ties everything to the market very well and his calls are forward looking and excellent.

Get the macro right. Get your sectors right on the long and short side. Then you can call yourself a real hedge fund that delivers alpha in good and bad times.

Alright, enough on macro, back to top funds' activity in Q2. Kate Rooney of CNBC reports, Warren Buffett's Berkshire Hathaway reloads on Apple, Goldman Sachs and airlines:

Warren Buffett's Berkshire Hathaway increased its stake in Apple by 5 percent, according to a regulatory filing Tuesday that discloses positions through the end of the second quarter.

Berkshire also upped its holdings of Goldman Sachs by 21 percent, Delta by 18.8 percent and Southwest by 18.7 percent, the filing said, and it added another 6.7 percent to its Teva stake, which it had doubled in the first quarter of this year.

Buffett's conglomerate has been steadily building its Apple stake for two years to become its second-biggest shareholder. Apple recently won the race to become the first U.S. company to reach a market value of $1 trillion, and its shares have surged 23 percent this year.

"If you look at Apple, I think it earns almost twice as much as the second most profitable company in the United States," Buffett told CNBC in May.

Banks have been another focus. Berkshire added to Goldman in the second quarter as the stock has fallen nearly 10 percent this year. Goldman recently announced that Lloyd Blankfein, its CEO for the last 12 years, will step down from that role in September and retire at the end of the year, to be succeeded by David Solomon.

The company made its first bet on Goldman Sachs in 2008 after the collapse of Lehman Brothers. The move was seen as a vote of confidence in the investment bank as the financial crisis worsened.

Buffett told CNBC earlier this year that Berkshire had added 75 million shares of Apple and exited its stake in IBM in the first quarter. The company also increased its stake in St. Louis-based agricultural product giant Monsanto in the first quarter.

Berkshire cut its holdings in Phillips 66 by 24 percent, Wells Fargo by 1 percent, and Charter Communications by 8.7 percent, as of the end of June. It also cut shares in American Airlines by 2.8 percent, and United Continental by 3.7 percent.
I was curious to see if Buffett added to his Teva ( (TEVA)) stake, one of my core longs, and to see what other top funds were doing with this company.
You can go through Teva's top holders here but this is the image that I want to bring to your attention (click on image):
As you can see, top hedge funds like Poinstate, Millennium, Renaissance, Point72 (add Citadel, Two Sigma and others here) all increased their stake in Q2 and followed Warren Buffett and David Abrams here.


That proved to be a wise decision. On Thursday, Teva's shares soared more than 7% on news the FDA approved its generic EpiPen (click on image):
In case you're not aware, an EpiPen shortage has parents struggling during back-to-school season.
But there are plenty of other reasons why I like Teva and believe the stock is primed to go much higher over the next year or two barring a meltdown in the stock market which is always possible.


But it's not just Teva that impressed me this year. Check out shares of Mallinckrodt ( (MNK)) since the start of the year:

And who are the top holders of Mallinckrodt? You'll see BlackRock but right after, Scopia Capital Management, and then Paulson and Bill Miller:

And when I looked at the top holdings of Scopia Capital Management, I was even more impressed because these guys aren't closet indexers, they take risks in a fairly concentrated portfolio and some of their picks are excellent.


That's what I want to see in an active manager. I want to see intelligent risk-taking, not closet indexers, and a more concentrated portfolio. I want to pay them to take intelligent risks.

Consultants have corrupted the industry to the point where active managers are afraid to take risks lest they suffer too much "tracking error" in any given year. It's truly pathetic.

Anyway, back to top funds' activity. I wish there was an easier way for me to go through all of it with you but it's paintakingly long and tedious work to go through everyone's portfolio.

When I went over Q1 activity, I went through a lot of stuff, like why I wasn't so convinced with David Tepper's decision to increase his holdings of Micron Technology ( (MU)). It turns out I was right:
Still, Tepper significantly increased his stake in Micron again in Q2 and is the fifth largest institutional holder of the stock.


Maybe there is a bounce to be played here but I wouldn't buy and hold it, that's for sure.

Anyway, have fun reading articles on what top funds bought and sold last quarter here.

Also, take the time to read a great Institutional Investor article on Perceptive Advisors' Joseph Edelman, The 41% Man (h/t, Denis Parisien).

You'll recall I discussed Perceptive and Joe Edelman when I covered top funds Q4 activity. Not only is he the best biotech investor, he has the most impressive track record among active managers (with lots of vol which comes with the territory).

Edelman significantly increased his stake in Mirati Therapeutics ( (MRTX)) in Q2, which was a great move:
I know this biotech very well because at one point I owned 5,000 shares at $5, sold it at $5.50, it fell to $3 and change and then the rest is history. Every time I look at that chart, I kick myself for not holding on through the volatility (the Baker Brothers and Broadfin made a killing here).


I'll end it there. Have fun looking at the second quarter activity of top funds listed below. The links take you straight to their top holdings and then click on the fourth column head, % chg, to see where they decreased (click once on % chg column head) and increased their holdings (click twice on % chg column head).

DISCLOSURE: The views and opinions expressed in this article are those of the authors, and do not represent the views of equities.com. Readers should not consider statements made by the author as formal recommendations and should consult their financial advisor before making any investment decisions. To read our full disclosure, please go to: http://www.equities.com/disclaimer
Companies