The latest round of 13F filings from institutional investors were out this week, revealing what some of the most successful investors have been buying and selling during the last quarter. It appears fund managers were doing more selling than buying of many popular tickers:
Managers were more bullish that bearish on FAANG stocks. Soros was the exception, buying Netflix NFLX but selling Amazon AMZN and Alphabet GOOGL.
Among the FAANG stocks, managers were most bullish on Netflix, with Loeb, Coleman and Soros all adding to their stakes.
Despite major trade war headlines, fund managers mostly ignored Apple AAPL in the first quarter. Rosenstein cut his Apple stake for the second consecutive quarter.
Adobe ADBE was on fund managers' radars in the first quarter, but they weren't on the same page. Cooperman and Soros were buying, while Rosenstein and Coleman were selling.
Warren Buffett made his first venture into FANG territory, buying Amazon for the first time
Detailed 13F roundups are available here and you can find plenty of other articles on 13F filings.
Keep in mind, the data is made public 45 days after end of quarter. Also, some funds trade a lot more often than others as markets evolve so one needs to interpret this data very carefully.
Before delving into what top funds bought and sold, I want to look at the top performing large cap US stocks year-to-date:
Since Roku ROKU is the top performer so far this year, I will use it as an example.
Looking at the top institutional holders of Roku, I see Fidelity (FMR), Vanguard and BlackRock, but also top hedge funds like Renaissance Technologies and Whale Rock Capital Management: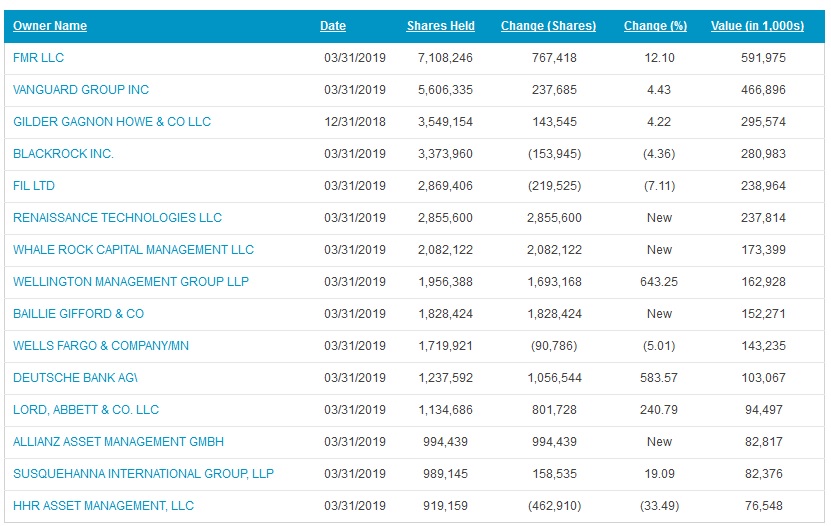 Looking at the chart of Roku, you see it had a spectacular run since bottoming in Q4: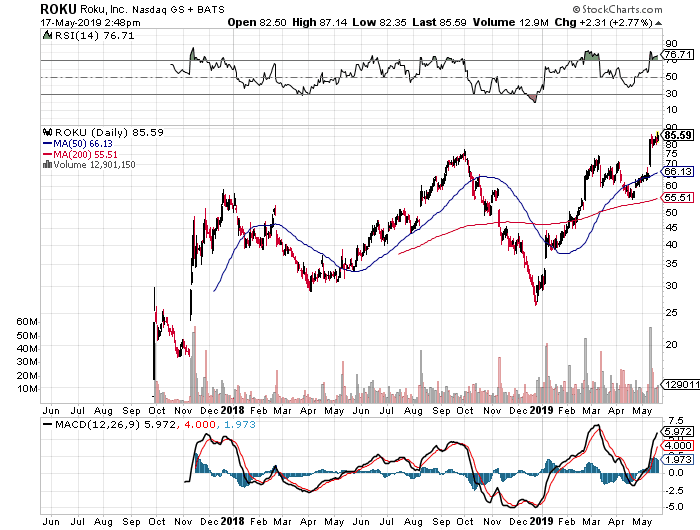 Can Roku keep surging from these levels? Possibly, but in all likelihood, it will experience a pullback to its 50 or even 200-day moving average. High beta stocks like this swing hard both ways.
Next, let's look at the worst performing large cap US stocks year-to-date: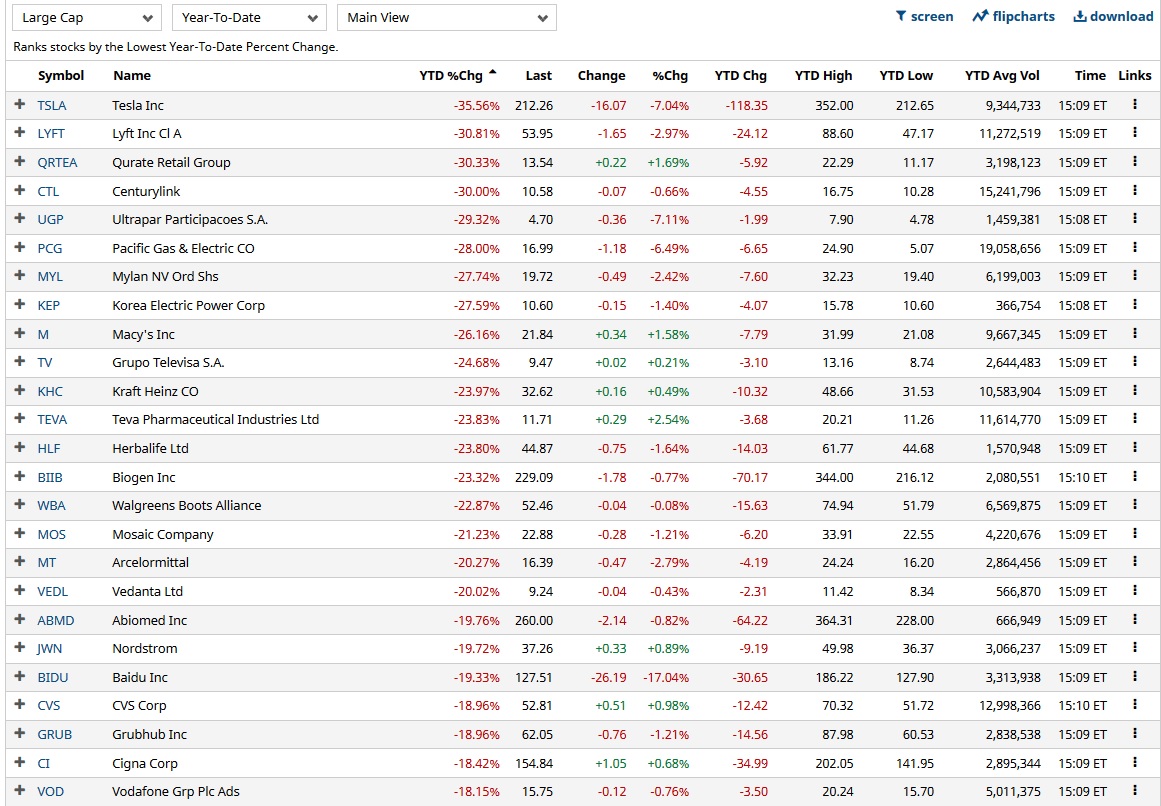 Here, I see familiar names like Tesla TSLA which I know is a big short position of Greenlight Capital's David Einhorn. After years of losses, Einhorn's fund is performing very well this year, up 19% as at end of April.
But looking at the top institutional holders of Tesla, I see Norway's sovereign wealth fund doubled its position and quant hedge fund Two Sigma significantly increased its stake: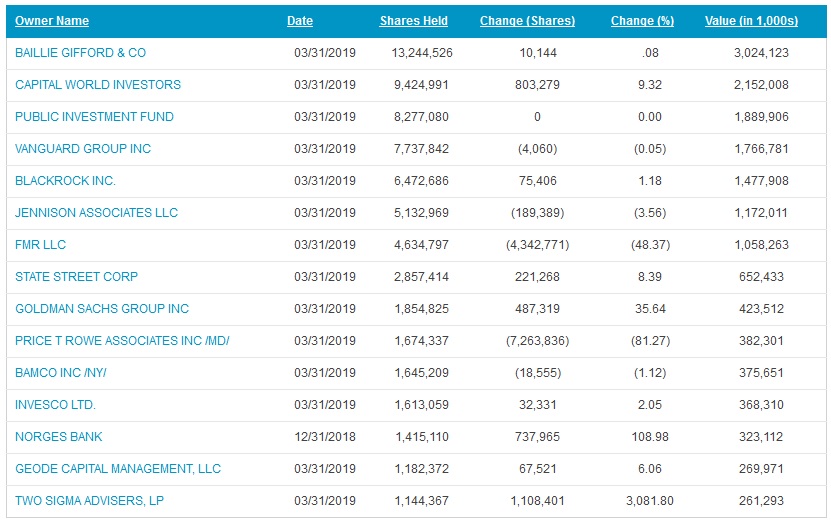 Now, looking at the weekly chart of Tesla, it's very ugly but if the share price declines to $180, you might see a big bounce (i.e., don't get greedy shorting it):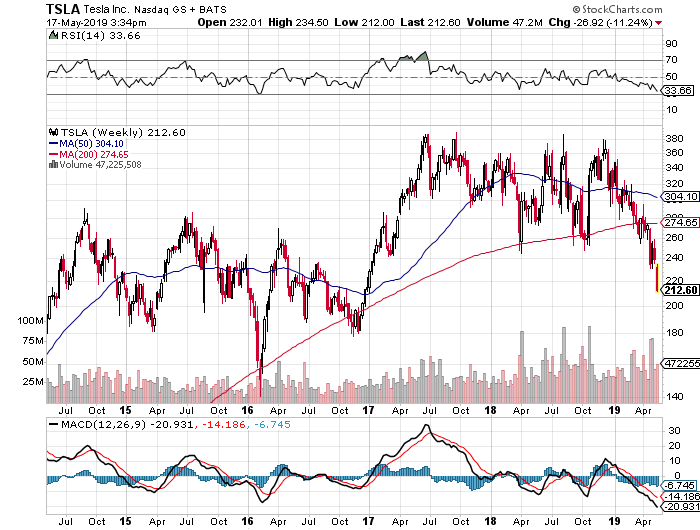 What else? From the big decliners above, I noticed two Berkshire holdings, Kraft Heinz KHC and Teva Pharmaceuticals TEVA. Teva is a core long of mine and it got clobbered this week following a report on 60 Minutes accusing the biggest generic drug makers of a massive, systematic conspiracy to overcharge consumers extortionately.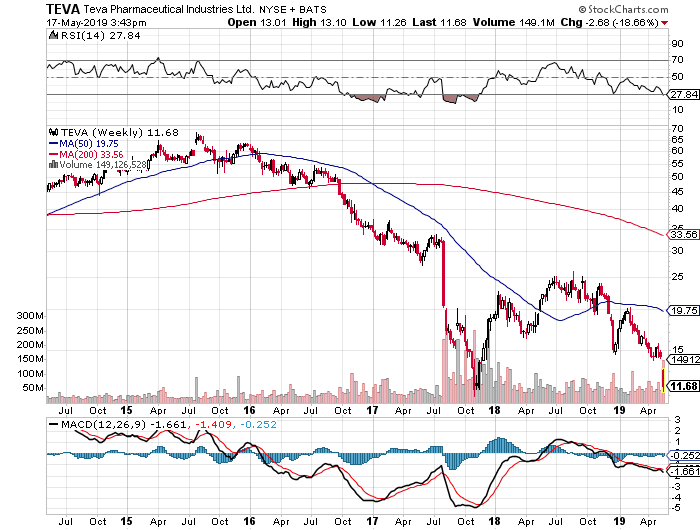 When I looked at the top institutional holders of Teva, I see Berkshire didn't sell its position and neither did David Abrams but Fidelity sliced its position in half and Renaissance Technologies sliced it by 60%.
Other generic drug makers like Mylan MYL (owned by Paulson and AQR) have fared even worse than Teva this year, hitting multi-year lows: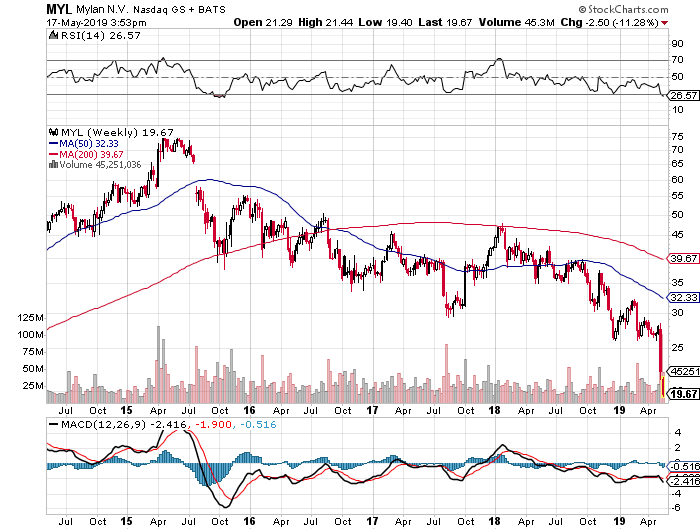 Another stock that caught my eye from the decliners is PG&E Corporation PCG which has taken a hit recently after bouncing back from the abyss earlier this year: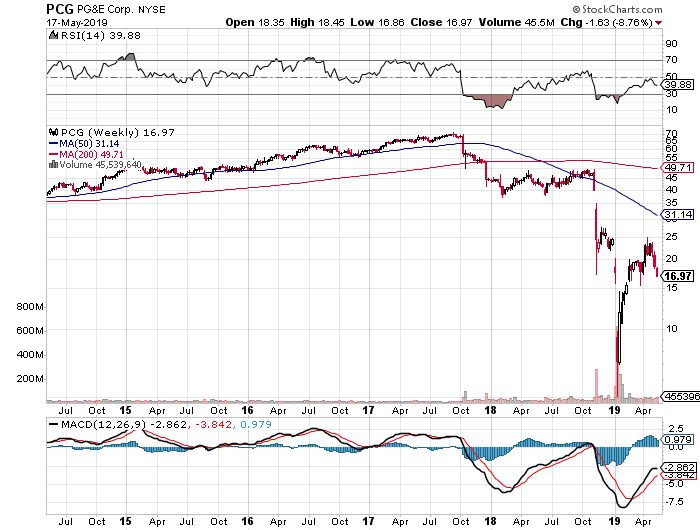 Among the embattled utility's top institutional holders, you'll see Seth Klarman (Baupost), David Abrams (Klarman's disciple), and David Tepper (Appaloosa):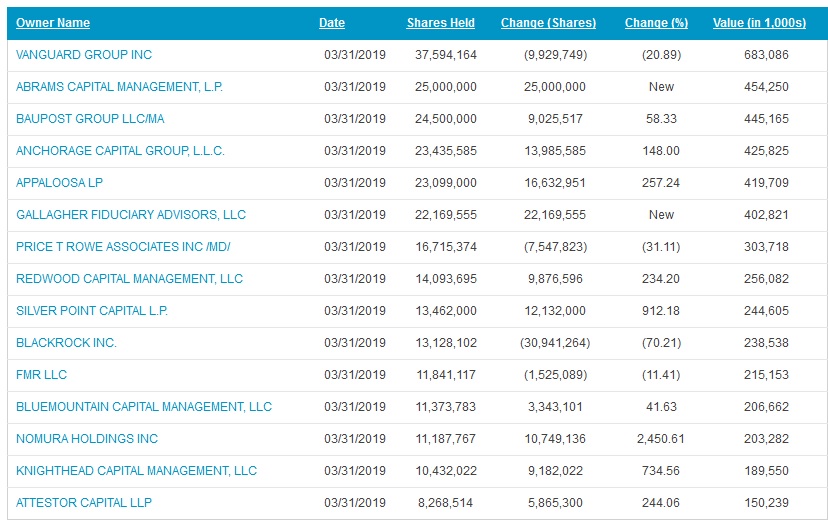 What this shows you is top fund managers are not afraid to take concentrated positions and ride through the volatility in companies they believe in.
Anyway, have fun looking at the first quarter activity of top funds listed below. The links take you straight to their top holdings and then click on the fourth column head to see where they increased and decreased their holdings.
Top multi-strategy and event driven hedge funds
As the name implies, these hedge funds invest across a wide variety of hedge fund strategies like L/S Equity, L/S credit, global macro, convertible arbitrage, risk arbitrage, volatility arbitrage, merger arbitrage, distressed debt and statistical pair trading. Below are links to the holdings of some top multi-strategy hedge funds I track closely:
1) Appaloosa LP
4) Point72 Asset Management (Steve Cohen)
8) Farallon Capital Management
10) Highbridge Capital Management
11) Highland Capital Management
12) Hudson Bay Capital Management
13) Pentwater Capital Management
14) Och-Ziff Capital Management
15) Carlson Capital Management
16) Magnetar Capital
18) QVT Financial
19) Paloma Partners
20) Weiss Multi-Strategy Advisors
Top Global Macro Hedge Funds and Family Offices
These hedge funds gained notoriety because of George Soros, arguably the best and most famous hedge fund manager. Global macros typically invest across fixed income, currency, commodity and equity markets.
George Soros, Carl Icahn, Stanley Druckenmiller, Julian Robertson have converted their hedge funds into family offices to manage their own money.
3) Duquesne Family Office (Stanley Druckenmiller)
5) Pointstate Capital Partners
6) Caxton Associates (Bruce Kovner)
7) Tudor Investment Corporation (Paul Tudor Jones)
8) Tiger Management (Julian Robertson)
9) Discovery Capital Management (Rob Citrone)
11) Element Capital
12) Bill and Melinda Gates Foundation Trust (Michael Larson, the man behind Gates)
Top Quant and Market Neutral Hedge Funds
These funds use sophisticated mathematical algorithms to make their returns, typically using high-frequency models so they churn their portfolios often. A few of them have outstanding long-term track records and many believe quants are taking over the world. They typically only hire PhDs in mathematics, physics and computer science to develop their algorithms. Market neutral funds will engage in pair trading to remove market beta.
5) Cubist Systematic Strategies (a quant division of Point72)
6) Numeric Investors now part of Man Group
10) Quantitative Investment Management
12) PDT Partners
13) Angelo Gordon
14) Quantitative Systematic Strategies
15) Bayesian Capital Management
Top Deep Value, Activist, Event Driven and Distressed Debt Funds
These are among the top long-only funds that everyone tracks. They include funds run by legendary investors like Warren Buffet, Seth Klarman, Ron Baron and Ken Fisher. Activist investors like to make investments in companies where management lacks the proper incentives to maximize shareholder value. They differ from traditional L/S hedge funds by having a more concentrated portfolio. Distressed debt funds typically invest in debt of a company but sometimes take equity positions.
1) Abrams Capital Management (the one-man wealth machine)
3) Baron Partners Fund (click here to view other Baron funds)
4) BHR Capital
13) Jana Partners
14) Gabelli Funds
15) Highfields Capital Management
16) Eminence Capital
17) Pershing Square Capital Management
18) New Mountain Vantage Advisers
19) Atlantic Investment Management
20) Polaris Capital Management
21) Third Point
22) Marcato Capital Management
23) Glenview Capital Management
25) Avenue Capital
28) Brigade Capital Management
29) Caspian Capital
31) Knighthead Capital Management
33) Roystone Capital Management
35) Schneider Capital Management
36) ValueAct Capital
40) Sasco Capital
42) Gabelli Funds
45) Jet Capital
46) Conatus Capital Management
47) Starboard Value
48) Pzena Investment Management
Top Long/Short Hedge Funds
These hedge funds go long shares they think will rise in value and short those they think will fall. Along with global macro funds, they command the bulk of hedge fund assets. There are many L/S funds but here is a small sample of some well-known funds.
5) Pointstate Capital Partners
7) Tiger Global Management (Chase Coleman)
11) Fox Point Capital Management
14) Paulson & Co.
16) Hoplite Capital Management
18) Hussman Strategic Advisors
19) Cantillon Capital Management
20) Brookside Capital Management
24) GLG Partners LP
25) Cadence Capital Management
26) Honeycomb Asset Management
28) Penserra Capital Management
29) Eminence Capital
30) Steadfast Capital Management
31) Brookside Capital Management
32) PAR Capital Capital Management
34) Brahman Capital
36) Kensico Capital Management
39) Passport Capital
40) Pennant Capital Management
42) Tide Point Capital Management
45) Highside Capital Management
48) Suvretta Capital Management
52) Senvest Partners
53) Falcon Edge Capital Management
54) Park West Asset Management
56) Owl Creek Asset Management
57) Portolan Capital Management
58) Proxima Capital Management
59) Tourbillon Capital Partners
62) Marshall Wace
63) Light Street Capital Management
64) Rock Springs Capital Management
Top Sector and Specialized Funds
I like tracking activity funds that specialize in real estate, biotech, healthcare, retail and other sectors like mid, small and micro caps. Here are some funds worth tracking closely.
12) Oracle Investment Management
14) Consonance Capital Management
16) Redmile Group
17) RTW Investments
18) Bridger Capital Management
19) Boxer Capital
20) Bridgeway Capital Management
21) Cohen & Steers
22) Cardinal Capital Management
24) Diamondhill Capital Management
27) Criterion Capital Management
29) 12 West Capital Management
31) Sarissa Capital Management
32) Rock Springs Capital Management
34) Southeastern Asset Management
35) Sphera Funds
37) Thomson Horstmann & Bryant
39) Ecor1 Capital
Mutual Funds and Asset Managers
Mutual funds and large asset managers are not hedge funds but their sheer size makes them important players. Some asset managers have excellent track records. Below, are a few funds investors track closely.
1) Fidelity
6) Brookfield Asset Management
7) Dodge & Cox
9) Grantham, Mayo, Van Otterloo & Co.
12) JP Morgan Chase & Co.
13) Morgan Stanley
19) Thornburg Investment Management
20) Legg Mason (Bill Miller)
21) Kornitzer Capital Management
22) Batterymarch Financial Management
23) Tocqueville Asset Management
24) Neuberger Berman
25) Winslow Capital Management
26) Herndon Capital Management
27) Artisan Partners
28) Great West Life Insurance Management
32) Capital Research Global Investors
33) T. Rowe Price
34) First Eagle Investment Management
35) Frontier Capital Management
39) Victory Capital Management
Canadian Asset Managers
Here are a few Canadian funds I track closely:
2) Letko, Brosseau and Associates
5) Hexavest
8) Connor, Clark & Lunn Investment Management
12) Greystone Managed Investments
13) Mackenzie Financial Corporation
14) Great West Life Assurance Co
15) Guardian Capital
16) Scotia Capital
17) AGF Investments
18) Montrusco Bolton
19) CI Investments
20) Venator Capital Management
22) Formula Growth
Pension Funds, Endowment Funds, and Sovereign Wealth Funds
Last but not least, I the track activity of some pension funds, endowment and sovereign wealth funds. I like to focus on funds that invest in top hedge funds and have internal alpha managers. Below, a sample of pension and endowment funds I track closely:
1) Alberta Investment Management Corporation (AIMco)
2) Ontario Teachers' Pension Plan
3) Canada Pension Plan Investment Board
4) Caisse de dépôt et placement du Québec
6) British Columbia Investment Management Corporation (BCI)
7) Public Sector Pension Investment Board (PSP Investments)
10) California Public Employees Retirement System (CalPERS)
11) California State Teachers Retirement System (CalSTRS)
12) New York State Common Fund
13) New York State Teachers Retirement System
14) State Board of Administration of Florida Retirement System
15) State of Wisconsin Investment Board
16) State of New Jersey Common Pension Fund
17) Public Employees Retirement System of Ohio
18) STRS Ohio
19) Teacher Retirement System of Texas
20) Virginia Retirement Systems
21) TIAA CREF investment Management
23) Norges Bank
24) Nordea Investment Management
26) Singapore Temasek Holdings
Below, Bloomberg's Hema Parmar examines the latest 13F releases to track the holdings of money managers. She speaks on "Bloomberg Markets."
And Carmel Wellso, director of equity research at Janus Capital, and Francois Trahan, a strategist at UBS, join 'Squawk Box' to give their market calls for the rest of the week. Listen carefully to Francois, he's spot on, we still haven't felt the lagged effects of previous rate hikes.