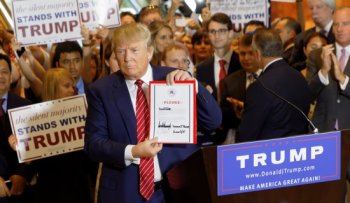 As the market waffles, I'm focusing on two specific areas: Pharma and cybersecurity. To better to understand where we are now, it's important to recall that near the end of August, we were in full sell-off mode. Since then, all we've done is retest a small percentage of the fall.
Shares (in any ETF really, though I use SPDR S&P 500 ETF Trust ($SPY)) have not even retraced halfway back since the August selloff week that did all this market damage. We really only need to watch these two sectors to discover the clues about what is important to the market. It isn't about FANG right now. It's all about biotech and cybersecurity. I watch these sectors because we are entering the election cycle, and both of these will be front and center.
My reasoning for watching SPDR S&P Pharmaceuticals ETF ($XPH) is reflected in the constant media attention brought on by the story of the punky hedge fund manager who put himself at the center of the controversy (like the dentist who killed Cecil the Lion), by raising the price of medication for AIDs patients. All it took was a few words from Hillary, and the sector reversed for the year.
Cybersecurity ETF FS PrFd ISE Cyb Tec ($HACK) (such a cool symbol for the ETF!!) will become increasingly important during the election cycle, as self-driving cars come into focus as both parties talk about technology. This tech climate offers an easy way for Democrats and Republicans to draw clear battle lines, and these two simple ETF's are great daily checks. I always keep an eye on FANG to get a sense of what the recent sell-off really means - but market drivers are changing as markets settle and volatility quiets.
I looked at both ETF's in today's rally, and both look vulnerable – which tells me that this is nothing more than a bounce – but I can tell you, I will watch these two sectors each day. Understand that many managers must now adjust bets as we count down the 87 trading days remaining in 2015. The only remaining questions for me are: When does the selling stop in XPH, and is HACK a value outside of trading Palo Alto Networks ($PANW) on its own?
I look to focus on biotech and pharma, and follow whatever comes out of the politico's mouths for the rest of the year, because I do not think they are dumb enough to kill/extinguish investment in funding cures. Politicians will need to balance themselves with Wall Street in some way, so there will be many value buys in biotech and pharma, which is the perfect way for a manager to try and hit a homer at year-end for his or her bonus.
This seems like a perfect set-up to me. I love trading the election cycle – it normally has specific sectors that become value plays and lend themselves to a great year-end trade or great Q1 observations for the active trader or market watcher. This year, with Hillary and The Donald bearing down on one another, it will be great to play.
DISCLOSURE: The views and opinions expressed in this article are those of the authors, and do not represent the views of equities.com. Readers should not consider statements made by the author as formal recommendations and should consult their financial advisor before making any investment decisions. To read our full disclosure, please go to: http://www.equities.com/disclaimer