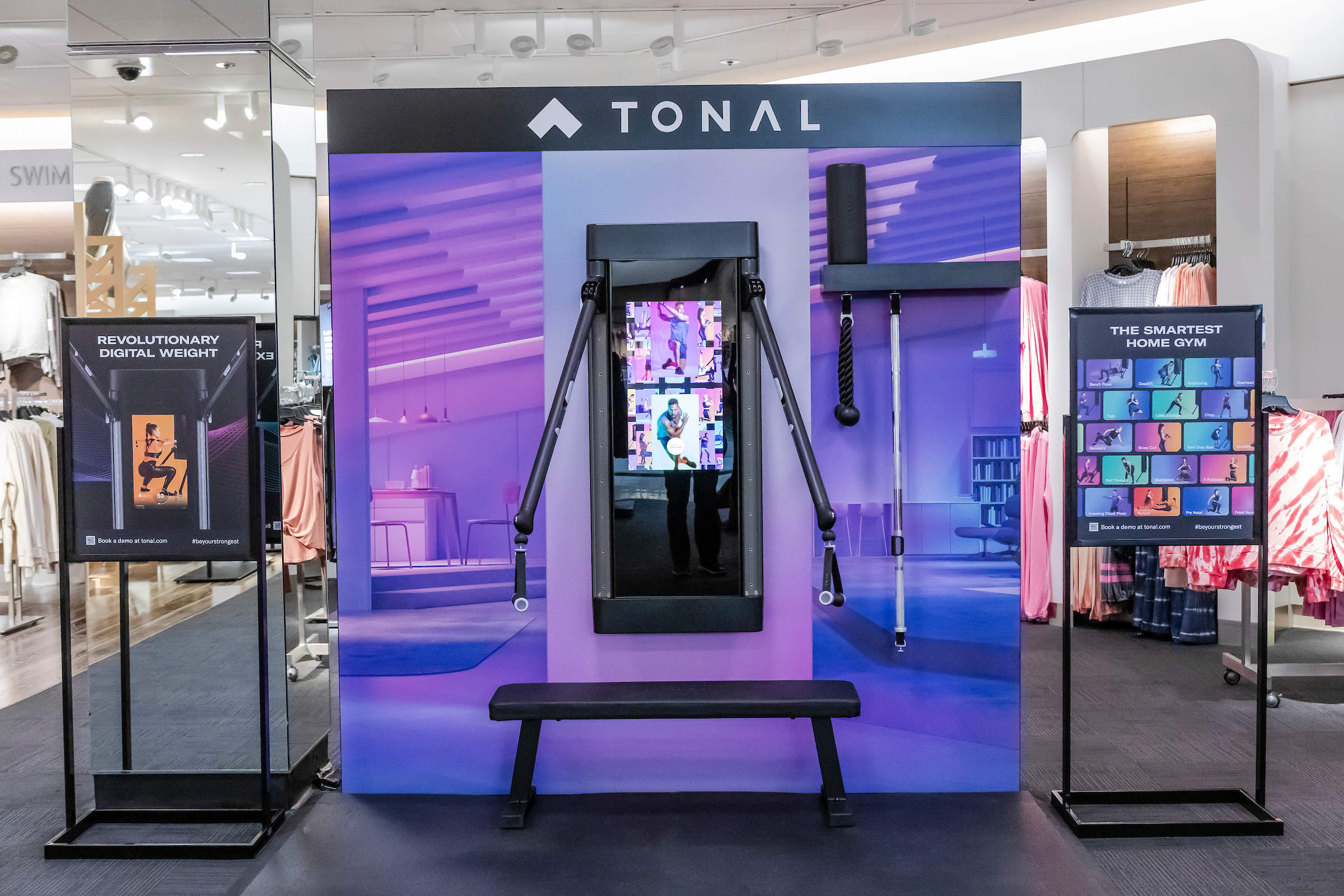 Image source: Nordstrom Inc
At-home fitness start-up Tonal Systems Inc announced Monday it is more than tripling the number of physical locations it sells its devices through a new partnership with Nordstrom Inc (NYSE: JWN ).
Starting this month, the department store chain will debut 40 mini "shop-in-shops" in locations across 20 states to showcase Tonal, which sells a $2,995 wall-mounted, digital system that emulates various traditional gym stations.
The 50-square-foot shops will be located in the women's active department, where shoppers can see a demo of the equipment, try a workout for themselves or speak with a Tonal employee.
Tonal currently has 16 brick-and-mortar locations — six of its own stores and 10 shop-in-shops with other business partners.
Christopher Stadler, Tonal's chief marketing officer, said it was "a natural fit" to "partner with one of the most respected retail brands in the world."
"We are excited for more people to experience the power of digital weight and this partnership underscores our continued retail momentum and broadening our reach to new customers," he said.
Stadler told CNBC that Tonal spoke with other potential retail partners but decided to go with Nordstrom because the department store's typical shopper more closely aligns with Tonal's target customer based on factors like age, income and type of employment.
The partnership comes at a time when many households are investing in more high-tech devices to improve homebound workouts during the ongoing COVID-19 outbreak that shuttered many gyms.
San Francisco-based Tonal, whose backers include Amazon.com Inc's (Nasdaq: AMZN ) Alexa Fund, NBA star Stephen Curry and tennis legend Serena Williams, is part of a growing at-home fitness market that includes Peloton Interactive Inc (Nasdaq: PTON ) and Hydrow Inc.
In September, Tonal chief executive officer and founder Aly Orady told CNN Business the company was performing over "10x" compared to a year ago due to a combination of the 2019 holiday season and the pandemic.
CNBC reported that talks between Nordstrom and Tonal began in November, during the midst of the holiday shopping season, and progressed quickly. The partnership, CNBC noted, is a long-term agreement and not merely a pop-up shop.
Nordstrom is trying to capitalize off the current demand for active and leisure gear. In December 2020, the retailer launched a microsite that features workout guidance as well as merchandise. It plans to continue bulking up its active department, offering more fitness and outdoor products both online and in stores.
Nordstrom's vice president and divisional merchandise manager Lori Marten said, "Our goal is to help customers discover the latest active gear for style, performance and everything in-between, and we look forward to making it easier than ever to discover everything in one place so they can look and feel their best."
Investors await Nordstrom's fiscal fourth quarter earnings, which are due after the market closes Tuesday.
_____
Source: Equities News