A few weeks ago we wrote about the successful IPO of Jumia JMIA, the African e-commerce company that is trailblazing delivery routes across the continent and creating access for entrepreneurs. Flutterwave is the African tech company that custom designed the payment solution platform for Jumia and they are doing some exciting things across Africa well worth talking about.
1. They are backed by Y Combinator
Overall, African startup companies had a phenomenal year. Countries across the continent raised $1.1 billion in 2018 amounting to 108% in year-over-year growth, according to Partech. Especially exciting for technology entrepreneurs in Africa is that venture growth deals 120% year-over-year.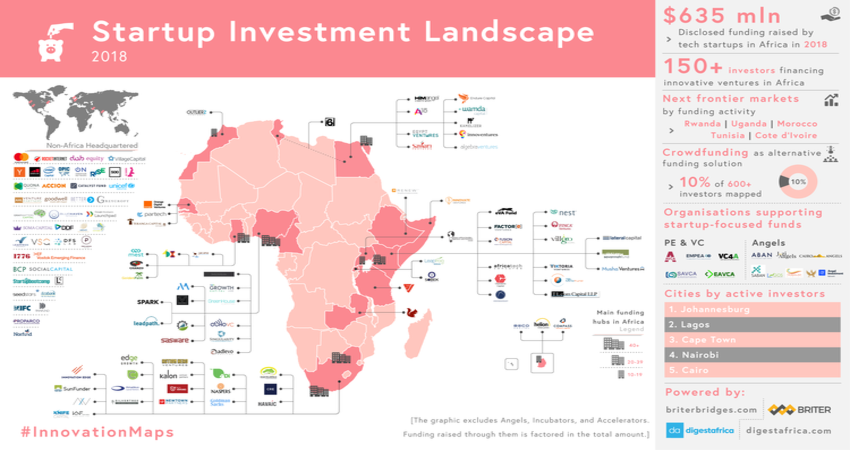 Source: https://briterbridges.com/innovation-maps
The report shows that financial inclusion makes up 50% of the total funding, but B2B innovators like Flutterwave own 30.4% of the funding landscape thanks to the challenge of monetization across Africa.
In total, Flutterwave has raised $20.4M in six rounds of funding and their work with Uber and Booking.com have been instrumental in gaining attention and showing their value. Besides these two high-profile accounts, the company has processed billions for businesses since inception.
"When you look at how payments work in the developing world, you start to realize that it's a lot more complicated than in the US," Aaron Harris, Partner at Y Combinator. "There's a huge number of different payment options, and different reasons for people to use each. By making it easy for any merchant, no matter where they are located, to process all of the available payment options, Flutterwave is changing how money moves for an entire continent."
The company's Founder, Iyinoluwa Aboyeji, a tech celebrity in Africa, left the company last October to pursue "family goals". This has left the company in the hands of co-founder, Olugbenga Agboola.
"African fintech is ahead of its time," Agboola said in a conference recently. "Fragmented payment markets have required payment processors like us to become world-class in execution and delivery by developing global solutions that can adapt to local circumstances."
2. They recently partnered with Visa
Flutterwave recently partnered with Visa V on the app, GetBarter. The app is specifically designed for African small merchants and cross border payments in Africa.
The app also allows non-Visa cardholders to create an account with another mobile wallet creating a virtual Visa card. GetBarter will also allow for payments across products like Kenya's mobile money service, M-Pesa.
"The target market is pretty much everyone who has a payment need in Africa. That includes the entire customer base of M-Pesa, the entire bank customer base in Nigeria, mobile money and bank customers in Ghana — pretty much the entire continent," Agboola said.
3. The company is involved in the blockchain space
In 2018, Flutterwave hooked up with the Ripple Blockchain Network making it the only technology rail on the growing Ripple Network.
Through a series of networks like xCurrent and xRapid, the two integrated Flutterwave's InterledgerProtocol to allow for P2P, B2C and B2B payment across the underbanked continent.