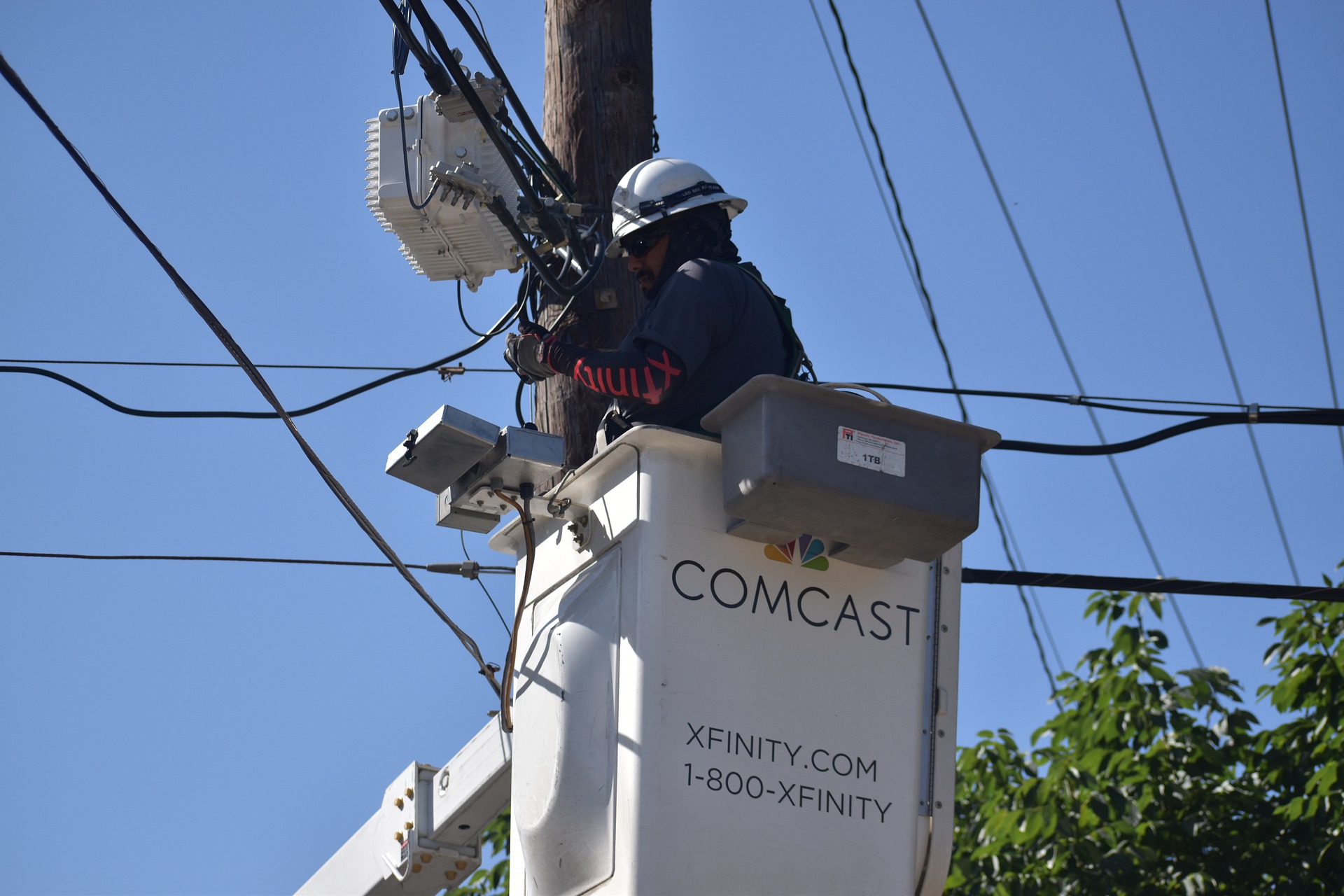 Image source: F. Muhammad / Pixabay
Why are the number of cable TV subscribers declining? This is an important question for investors, customers and workers in cable TV, pay TV, IPTV, wireless TV and more. What are the real reasons for the decline? Where are customers going, and why? Let's take a closer look at this downward trend and look at companies that are moving in the right direction.
First, we must understand the world of television and entertainment has always been a continually changing space.
In the beginning, we used antennas and only got three commercial channels and one public television channel. Next, cable TV brought us dozens, now hundreds of channels in recent decades.
Now the industry is changing once again to the world of pay TV. This means television delivered in a variety of ways like over the Internet, wireless technology, streaming services and traditional cable TV.
Yesterday, there was a large number of smaller cable TV competitors, that over the decades merged. Today, there are fewer and larger competitors. In fact, Comcast, now the largest cable TV provider, was once one of the small players.
The big player back then was TCI or Telecommunications Inc. AT&T acquired it and was the largest player in cable TV in the late 1990s.
Then Comcast acquired TCI from AT&T and became the largest from that move.
Today, cable TV's leading competitors are Comcast Xfinity, Charter Spectrum, Altice, Cox and others.
AT&T eventually re-entered the pay TV space with its U-Verse service. Next the company acquired DirectTV and today it offers AT&T TV, HBO Max and more.
So, as you can see the world of television and entertainment is continually changing.
Comcast and AT&T are leaders in pay TV, news and entertainment
Today, as pay TV grows and changes, the top two competitors are Comcast Xfinity and AT&T.
Plus, new streaming services have begun their first growth wave.
Yes, the world of pay TV has really been changing the television industry over the last decade as the larger industry has been changing for decades.
Also, there is a blending of pay TV with wireless, internet, telephone and, in recent years, news and entertainment.
Leaders in this new model of TV, news and entertainment are two companies. One is Comcast Xfinity with its acquisition of NBC Universal Studios. The other is AT&T with its more recent acquisition of Time Warner with WarnerMedia, Warner Brothers, CNN, HBO and more.
These are the top two competitors, and they are both blending these different industry groups under one umbrella for growth. They are leading, changing and expanding the marketplace.
In this new world, Charter Spectrum, Altice, Cox and other cable TV companies offer Cable TV, Internet and wireless. They continue to do business regionally, but cable TV is a declining part of their portfolios.
Cable TV subscriber market share decline continues
The wireless businesses called Xfinity Mobile, Spectrum Mobile and Altice Mobile were started to slow traditional customer defections. This has been a trouble spot for traditional cable TV companies.
This move has helped slow the pace of subscriber loss, but the movement away from traditional cable TV continues.
As the pay TV industry continues to shift away from the cable TV model of yesterday, we are seeing new technology empower new competitors.
These new competitors are winning market share from the companies that are still following the old-fashioned cable TV model. This is a great new opportunity for growth for some providers, while it is a threat to incumbent competitors.
Streaming services, HBO Max, Disney+, Apple TV+, Paramount
Streaming services like HBO Max, Disney+, Apple TV+ and Paramount form a brand-new segment that started last year. These join the slightly older streaming models like Hulu, Netflix, Amazon Prime, Sling TV and many others.
In fact, these streaming services are coming in rather handy for a population in lockdown. AT&T's Warner Bros. unit has decided during the current COVID-19 pandemic to release its new movies both at theaters and on HBO Max on the same day. This dramatic move is breaking the Hollywood model.
If successful, which so far it looks like it is, I think others will follow.
AT&T changing new movie release model to theaters + HBO Max
After all, Hollywood and the movie business have been hit hard by coronavirus restrictions. This is a good way to deal with the current pandemic and start a new business area.
All that being said, you can see that while the variety of new pay TV services is growing and changing, traditional cable TV is shrinking as a consequence.
This change may seem new, but it has been occurring for many decades and will only continue.
The coronavirus has just added a new layer to the cake, and the industry is being creative and working through it.
New pay TV technology and competition causing customers to shift
All this new technology and new competition is causing a shift to occur in the industry.
Customers have a limited budget. Faced with a choice of all these new services, it's getting confusing, expensive and harder to choose. Some customers can afford all the new choices, but most cannot.
Customers faced with an onslaught of new choices of competitors and new technology have a choice to make. Do they stick with their current setup or do they change?
Of those who change, there are also slices in that pie as well. Some change everything, while others change just a little and try it out. The majority of customers are keeping a close eye on the cost.
Many times, groups of friends or family share an account. That makes it more affordable if you only have to subscribe to one service while your friends and family subscribe to other services, and then the group shares them all.
I think providers are letting this happen for a while to create a customer who is dependent on their service.
Then when the industry cracks down on this practice, and they always do, and when users can no longer share their account with friends and family, what will happen next?
Will the industry see a drop-off?
These are all valid facts and questions, and we simply do not have the answers today.
Cable TV subscriber loss is a danger signal
One thing we do know is that faced with all these choices, traditional cable TV subscribers are shrinking. This is a big DANGER signal in the path ahead for these providers.
This is not a problem which will go away. They may have slowed this concern by adding internet and wireless, but the loss continues and must be addressed.
The reason cable TV is at risk is lack of competition
The problem with the traditional cable TV industry is simple. The players never faced competition. Each was the only provider in its separate region.
That meant they could not lose customers, who had no place else to go. That made them fat and happy.
Today, however, things are different. Today there are new competitors and new technology. The threat is real.
This is a real threat to the traditional cable TV model, which only paid attention to the investor and didn't care about the captive customer.
While this was good news for the investor, it was lousy news for the customer.
Winning strategy for Comcast, Spectrum, Altice in cable TV
A winning company in a competitive marketplace must focus on the workers first. Then they take great care of the customers. Then they reward the investor. This strategy really works, and everyone wins.
This is the disconnect with the cable TV industry. The companies never had to compete before, so they never paid attention to the customer.
Now that they face competition, they know they need to get more customer-focused. This is something I have been saying for quite a long time.
While cable TV companies may understand the threat they face from new competition and new technology, their efforts to stem the decline haven't worked.
To make matters worse, things will only get worse for traditional cable TV as we move forward.
To date, however, they have struggled to make any headway with the customer base. After all, customers have long memories and being ignored by the cable TV industry for decades is not something they are willing to forgive and forget. It will take much time, effort and money.
At this point, I would hope all cable TV competitors could mature and continue as we move forward. The challenge is theirs. So far, they have slowed the decline, but not reversed it.
That's just one of many of the key challenges the cable TV industry faces as they continue to lose subscribers to the new and varied pay TV models, competitors and changes.
Jeff Kagan is an Equities News columnist. Kagan is a Wireless Analyst, Technology Analyst who follows Telecom, Pay TV, Cloud, AI, IoT, Tele Health, Healthcare, Automotive, Self-Driving cars and more. Email him at [email protected] His web site is www.jeffKAGAN.com. Follow him on Twitter @jeffkagan and LinkedIn www.linkedin.com/in/jeff-kagan/
_____
Source: Equities News