---
---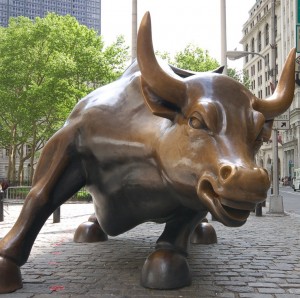 Investor's first read - Brooksie's edge before the open
Monday, August 27, 2012 9:12 a.m.
DJIA: 13,157.98
S&P 500: 1411.13
Nasdaq Comp.: 3069.39
Russell 2000: 809.19
This will be a big week for economic indicators. Not sure what the Street wants – good news, or bad. Bad gets it a new round of stimulus from the FED, Good news suggests our economy will continue to plod ahead at a snail's pace, typical of recoveries after a near-meltdown.
The stock market has been up sharply since July 24, partly in anticipation of a new round of stimulation by the Fed.
This week's economic indicators may be the tipping point for the Fed's decision. If the readings are bad, the Fed may act in September.
While this would be welcomed by the Street, stocks have already discounted much of the "expected" positive impact to the economy, if any.
Granted, Fed action has been necessary to avert another recession, but with the world's economies struggling, it will simply take time for a U.S. economy to get up a full head of steam, especially in light of the damage done by the Great Recession.
CONCLUSION: Friday's rebound was on light volume suggestion a lack of the kind of big buyers that are needed to run the market much higher. Resistance starts at DJIA 13,230 (S&P 500: 1418). Support is DJIA: 13,110 (S&P 500: 1405). I expect the market to rally initially then stall at the resistance levels.
FACEBOOK:
Without major buyers, FB will have to continue to probe for a level where buyers meet sellers head-on, setting the stage for a base from which it can recover over time.
A bottom can also occur as the result of a selling climax, a one-day reversal on huge volume from lower levels, which is what I have been expecting.
Last week was the week I said FB would hit its low. While it posted an all-time low of $18.75, the stock is now locked in an unimpressive basing patter, suggesting it must get a big aggressive buyer soon, or it will plunge again below last week's low.
I don't own, nor have I ever owned FB. Generally, I don't recommend or comment on individual stocks. I started covering FB technically after its IPO because I felt at $34 it was very vulnerable in face of all the misunderstanding and hype.
ECONOMIC REPORTS: Big week.
MONDAY:
Dallas Fed Mfg Survey (10:30): Declined to minus 13.2 in July from a plus 5.8 in June. New Orders dropped to 1.4 from 7.9 in June.
TUESDAY:
S&PCase Shiller Home Price Ix (9:00): The 20-city home price index gained 0.9% in May following a 0.7% gain in April and 0.8% gain in March.
Consumer Confidence Index(10:00): Rose 3.2 points in July to 65.9 (June revised upward 7 tenths to 62.7.
Richmond Fed Mfg Ix (10:00): Fell in July to minus 17.0 from a minus 1.0 in June. New Orders plunged to minus 25 from minus 7.
WEDNESDAY:
GDP (8:30):Q2 growth slowed to a 1.5% annual rate from Q1's 2.0%.
Pending Home Sales (10:00): Fell 1.4% in June after a 5.4% gain in May.
THURSDAY:
Jobless Claims (8:30): Were up 4,000 to 372,000. The 4-week average is up slightly to 368,000 but still 8,000 below the mid-July level.
Personal Income Outlays (8:30):
Kansas City Fed Mfg Ix (11:00): Rose to plus 5 in July from plus 3 in June. New orders rose to a minus 4 from a minus 7.
FRIDAY
Chicago PMI(9:45):Up 0.8 to 53.7 in July. New Orders rose 1.0 points to 52.9.
Consumer Sentiment (9:55): Gained in mid-August to 87.6 from July's 82.7
Factory Orders (10:00): Declined 0.5% in June, including a 2.9% drop in Petroleum and coal.
RECENT POSTS:
Aug 2 DJIA 12,976 "Recovery Sucking Wind, Not Tanking"
Aug 3 DJIA 12,976 "What This Market Needs"
Aug 6 DJIA 13,092 "NEXT ! Sequestration"
Aug 7 DJIA 13,117 "Is The Light Green Enough ?"
Aug 8 DJIA 13,168 "Facebook Testing Lows"
Aug 9 DJIA 13,175 "Alert: Congress Seeking Wiggle Room"
Aug 10 DJIA 13,165 " Correction to Test BIG Money's Interest"
Aug 13 DJIA 13,207 "Market Needs More Aggressive Buying to Move Higher"
Aug 14 DJIA 13,169 "Big Money Will Call the Shot"
Aug 15 DJIA 13,172 "Wall Street Quandry"
Aug 16 DJIA 13,162 "Market in Limbo – Big Day for Facebook"
Aug 17 DJIA 13, 250 "Facebook Bottom Imminent - $16.88 Worst Case ?"
Aug 20 DJIA 13,275 "Odds Favor Facebook Bottom This Week -$16.88
As BIG Money Steps In ?"
Aug 21 DJIA 13,271 "Facebook: Selling Climax to New Low, or Will BIG Money
Step In ?
Aug 22 DJIA 13,203 "Facebook Probing for a Bottom?
Aug 23 DJIA 13,172 "Correction to Follow Stimulus Announcement ?"
Aug 24 DJIA 13,057 "Facebook-Needs Big Buyer Pronto, or New Lows"
George Brooks
…………………………………………………………………………
The writer of Investor's first read, George Brooks, is not registered as an investment advisor. Ideas expressed herein are the opinions of the writer, are for informational purposes, and are not to serve as the sole basis for any investment decision. Readers are expected to assume full responsibility for conducting their own research pursuant to investment decisions in keeping with their tolerance for risk.
DISCLOSURE: The views and opinions expressed in this article are those of the authors, and do not represent the views of equities.com. Readers should not consider statements made by the author as formal recommendations and should consult their financial advisor before making any investment decisions. To read our full disclosure, please go to: http://www.equities.com/disclaimer