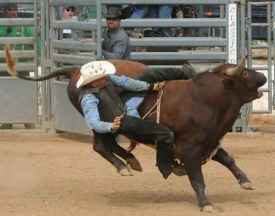 Many financial websites and software salesmen like to say things like, "You can become an expert trader in just three days!" The truth is that investing and trading in the stock market is very difficult. New information, usually quite scary, hits the newswires almost daily, and keeping your emotions and ego in check is extremely hard. Your real money and financial security is at risk and often thinking long term just isn't easy for most.
Bull markets offer the chance to make real money, but it is hard to ride a bull! As we started 2015, I suggested this will be a year to be nimble. The trend is still up and we have even entered what should be the best, but last stage of what has already been a six-year uptrend. I still expect my upside targets of DOW 20,000 and NASDAQ 5000 to be hit. I am finding enough "Magnet® stocks" to keep me active and investing.
I am closer to the market than most, and tend to be more active than most. I have already shared with equities.com readers that I entered the year fully invested, went to a 30% cash position, and now am already nearly fully invested again. Even for me, that is a lot of movement. I am cautiously trying to take advantage of the uptrend while looking at the longer term (and scary!) charts.
It is too easy to get caught up in the scary daily news. Instead of reacting to the news, keep your eyes on the new high/new low ratio and advance/decline line. Keep your eyes on the "near horizon". It is not time to be complacent, but it is never good to focus on what is "just over the hood of your car". The bull market is offering more gains–it may just be hard to stay with the trend.
Longs: Lannett Co. Inc. (LCI) , Gilead Sciences Inc. (GILD) , VASCO Data Security Intl. Inc. (VDSI) , Walgreens Boots Alliance, Inc. (WBA)
By Jordan Kimmel, Chief Investment Officer at Investview, Inc. (INVU).
DISCLOSURE: The views and opinions expressed in this article are those of the authors, and do not represent the views of equities.com. Readers should not consider statements made by the author as formal recommendations and should consult their financial advisor before making any investment decisions. To read our full disclosure, please go to: http://www.equities.com/disclaimer