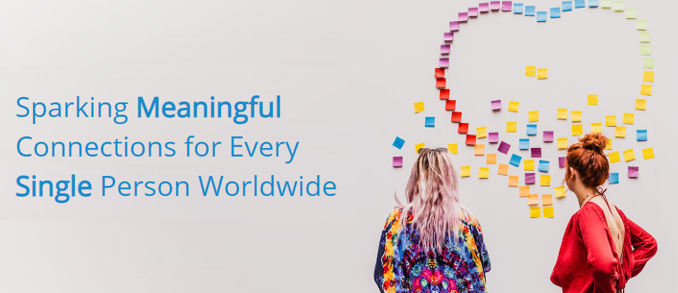 If you're in your thirties and single like me, chances are you've tried out online dating.
My sister met her husband on eHarmony in 2010. Two years later, they tied the knot. They now have two children.
One of my best friends met his fiancée on Bumble—another popular dating app.
Online dating isn't "weird" anymore. It's perfectly normal. In fact, it's now more common for couples to meet online than through mutual friends.
More than half of all single Americans have used an online dating service.
And 39% of straight US couples who met in 2017 did so online, according to Quartz. For same-sex couples, it was more than 60%!
A $12 Billion Industry
The online dating industry was worth $6.5 billion two years ago. By the end of next year, it will hit $12 billion.
By 2040, eHarmony projects that 70% of relationships will begin online.
Meeting your soulmate online will be as common as ordering a pair of shoes off Amazon or hailing an Uber on your iPhone.
There's an important driver behind online dating you should understand.
Today's young Americans aren't following in their parents' footsteps. They're getting married and having kids much later in life.
As you can see below, the percent of young Americans who are single has shot above 50% for the first time since at least the 1980s.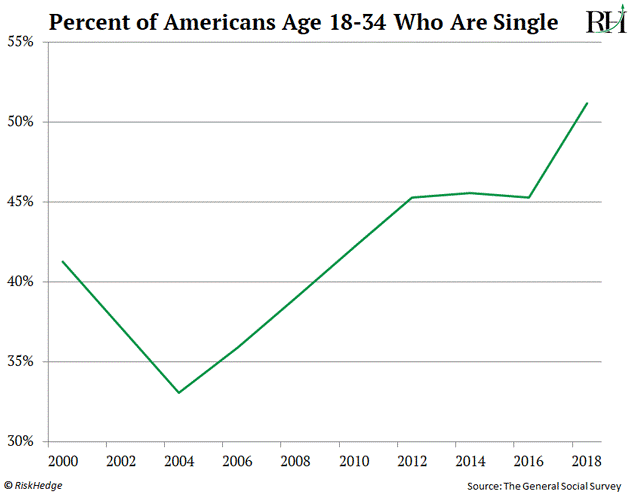 This is great for the online dating industry. It means millions more potential customers.
The Match Group (MTCH) Dominates Online Dating
This company invented online dating when it launched Match.com in 1995.
Since then, it's built out a portfolio of 45 dating services. This includes Match.com, Plenty of Fish, Hinge and Tinder.
No other company can compete with its product lineup.
According to the company, 60% of people who met their significant other online did so on a Match Group product.
But the Match Group (MTCH) didn't just pioneer online dating. More recently, like a true disruptor stock, it disrupted online dating with its smartphone application called Tinder.
Tinder Is the World's Most Popular Dating App
4.7 million people use it. In the past two years alone, Tinder's user base has more than doubled.
In fact, in the first half of 2019, Tinder was the second-highest-earning non-game app in the world. It beat out much larger, more recognizable apps like Netflix and YouTube.
The beauty of Tinder is its simplicity.
It's a breeze to set up. You don't have to answer hard questions like "what do you look for in a mate." You don't have to share lots of personal information. All you need to do is upload a few photos.
In short, Tinder "cuts to the chase." After you've uploaded pictures, it shows you profiles of other people you might like.
If you aren't interested in a person, you "swipe left." If you are interested, you "swipe right."
If you both swipe right on each other, you "match." At that point, you're free to message each other.
Tinder Users Swipe 1.4 Million Times Every Minute
That's more than 1.7 billion swipes per day.
About 15 million of those swipes turn into matches.
Helping people find love is a great business. The Match Group makes money by selling subscriptions and ads. Its subscriptions range from $2.99 to $40.00 per month.
And unlike many fast-growing tech stocks, Match Group is solidly profitable. Last year it booked a profit of nearly $500 million. That's more than double its 2016 profit.
The Match Group Is One of This Year's Top-Performing Stocks
Its stock price has marched up 77%, beating the S&P 500 by 4–1.
It's outperformed better-known high-fliers like Netflix (NFLX), Facebook (FB), Apple (AAPL), and Alphabet (GOOGL), as you can see here: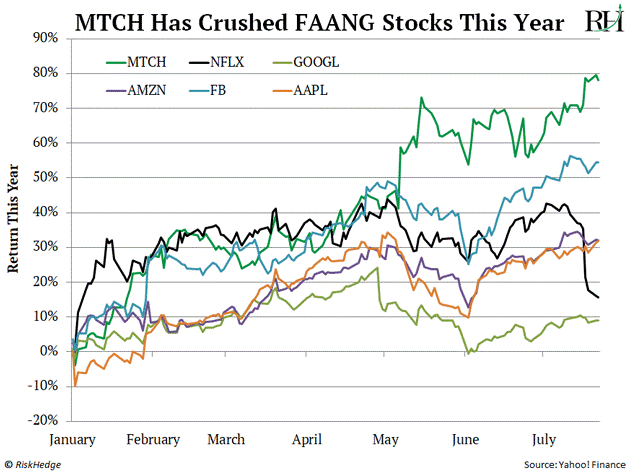 I expect Match Group stock to continue marching higher for a simple reason.
This Company Will Take Over the Global Dating Market
It has set its sights on global domination of the matchmaking market, and it's going to succeed.
According to TechCrunch, there are around 600 million young, single people with access to the internet in the world. And two-thirds of them have never tried a dating app. Match Group is going to change that.
Although it has an iron grip on the US online dating market, its global reach is even more impressive. Its products are available in more than 190 countries and 42 different languages.
The Match Group is now focusing on other countries like India, Japan and South Korea as key growth markets.
It's spending more on marketing in these countries than anywhere else, and it's paying off big time.
Tinder's international user base has grown 23% over the past year. That's twice as fast as its American user base grew.
Tinder is now the most downloaded dating app in India and South Korea. In Japan, it's the fourth most popular. Pairs—another Match Group dating app—holds the #1 spot in Japan.
Over 1.5 billion people live in these countries. If Match Group can continue to replicate the success it had in the US in these giant markets, I see its stock easily doubling within two years.
Equities Contributor: Justin Spittler
Source: Equities News