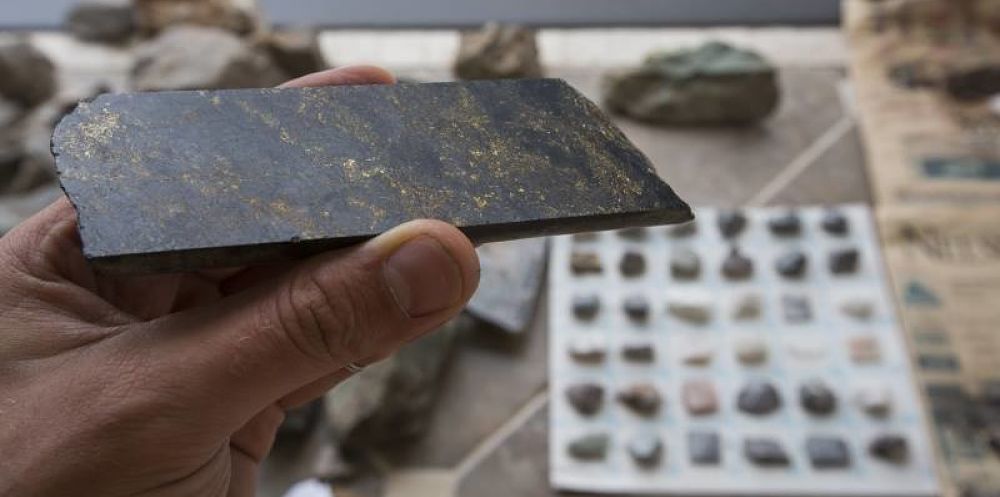 North of the Washington State border in the Kootenays in Southern British Columbia, Canada was once a prolific mining area scattered with miners of all sizes digging a variety of metals from the ground. Miners exited for any number of reasons decades ago, but that doesn't mean gold, silver, lead, zinc and other metals aren't still trapped in the Earth's crust. The company looking to reap the greatest rewards by revitalizing mining in the region is little Margaux Resources (MRL:CA)(MARFF). The Calgary, Alberta-based company has quietly gone about its business, succinctly consolidating properties and projects into one contiguous land package now topping 25,000 hectares (nearly 62,000 acres).
To lend a little color to how spacious 62,000 acres is, consider that Seattle—the 15th most populous city in the U.S. to the southwest of Margaux's Kootenay Arc property—covers about 53,760 acres.
To get a clearer picture of the potential for resources produced in the region, the Sheep Creek Gold District that is part of Margaux's portfolio has historic production of 785,000 ounces of gold at a stunning average grade of 14.4 g/t gold from 34 separate high-grade quartz veins. The Jersey-Emerald property that abuts the Sheep Creek property hosts the eponymous mine that was once the second-biggest producer of tungsten in North America.
To streamline its future strategic initiatives, Margaux recently announced the consolidation of all its gold projects under the "Sheep Creek Gold District" and its zinc projects under the "Kootenay Arc Zinc District."
Recently, Margaux gave investors an overview of accomplishments from 2017 and an outlook for its development plans for 2018 to advance its host of projects. The company also released a video summarizing last year's exploration activities.
Veins in the Sheep Creek are orogenic gold veins, which are the type of shallow veins that have historically been responsible for about 75% of gold recovery. Margaux's Sheep Creek Gold District weighs in as the third-largest orogenic gold district in British Columbia, trailing only the famous Barkerville and Bralorne camps. The beauty of Sheep Creek, compared to Barkerville and Bralorne, is that little exploration has been done on the property in nearly 70 years, giving Margaux plenty of reason to be optimistic about the gold yet to be discovered.
To make this determination, big-picture targets were drilled in 2017. Margaux wasn't exactly concerned about in-fill drilling of known veins; they focused their resources on new veins with zero previous drilling and no historic production to get a better feel for the opportunity at hand. The company described the drilling as "highly successful," with one new vein discovered, gold grades confirmed at two previously undrilled targets and extensions of two other veins determining the veins remain open at depth.
A summary of highlights from the drill program, below, sheds light on what the company means by "good" gold grades, which is certainly a modest way of describing the data, considering cuts ranged as high at 31.50 g/t gold and 79.5 g/t silver, with traces of lead and zinc.

With its origins going back to the breakup of Pangaea billions of years ago and younger granite entering the mix about 100 million years ago bringing additional minerals to the area, the Kootenay Arc has been well-known for uranium, lead and zinc. While low prices for these commodities forced mines to be mothballed all over the world decades ago, such is not the case today. Zinc prices have surged to their highest since 2007 because of a supply-demand imbalance that resulted from years of underinvestment.
The Kootenay Arc is, therefore, a regional geological belt ripe for bringing back into production to capitalize on the host of lead-zinc deposits to meet the demand for the metal used in galvanizing steel and being researched for potential applications to improve batteries in electric vehicles. Margaux's Kootenay Arc District covers a 30-kilometer strike, inclusive of the aforementioned Jersey-Emerald mine.
Last year, Margaux completed six drill holes, at a length of 1,115 meters, on the Jersey property exploring mineralization extensions at the edge of the mine. Nine holes totaling 1,397 meters were also drilled at the Jackpot property just north of Jersey-Emerald. The results, as detailed in the table below, suggest that there is potential for both high-grade underground mining, as well as large tonnage, lower-grade open pit mining at Jackpot.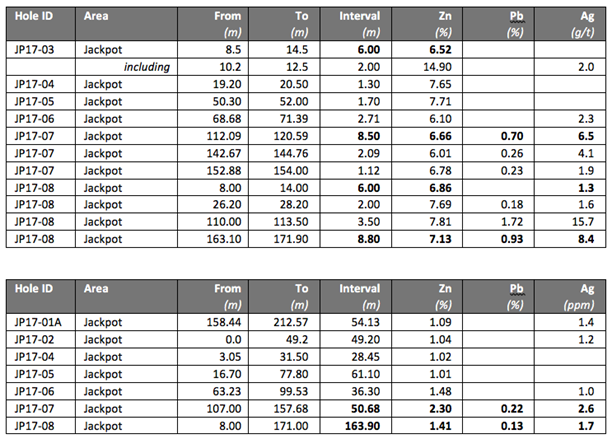 With multi-year drill permits in hand along with historic and current drill data, surface chip sampling and LiDAR survey info, Margaux is well-positioned for additional drill work to better define the lead/zinc resource.
Depending on what comes of an application to conduct a 10,000-ton bulk sample on the historic tailings from the Jersey-Emerald mine in collaboration with the environmental advocacy group Salmo Watershed Steamkeepers Society, this could be the easiest money of all for the company. Many technological advancements have been made since the 1.4 million tons of tailings were piled up at the deposit. Not only would reprocessing the tailings speak to the stewardship and environmental responsibility that Margaux holds as part of its corporate culture, it could expedite Margaux reaching the revenue stage and provide cash flow for additional exploration without dilution.
Those are words every investor likes to hear.
---
In the interest of full disclosure, we call the reader's attention to the fact that Equities.com, Inc. is compensated by the companies profiled in the Spotlight Companies section. The purpose of these profiles is to provide awareness of these companies to investors in the micro, small-cap and growth equity community and should not in any way be considered as a recommendation to buy, sell or hold these securities. Equities.com is not a registered broker dealer, investment advisor, financial analyst, investment banker or other investment professional. We are a publisher of original and third party news and information. All profiles are based on information that is available to the public. The information contained herein should not be considered to be complete and is not guaranteed by Equities.com to be free from misstatement or errors. The views expressed are our own and not intended to be the basis for any investment decision. Readers are reminded to do their own due diligence when researching any companies mentioned on this website. Always bear in mind that investing in early-stage companies is risky and you are encouraged to only invest an amount that you can afford to lose completely without any change in your lifestyle. Equities has been compensated with cash, common shares and/or warrants for market awareness services provided.