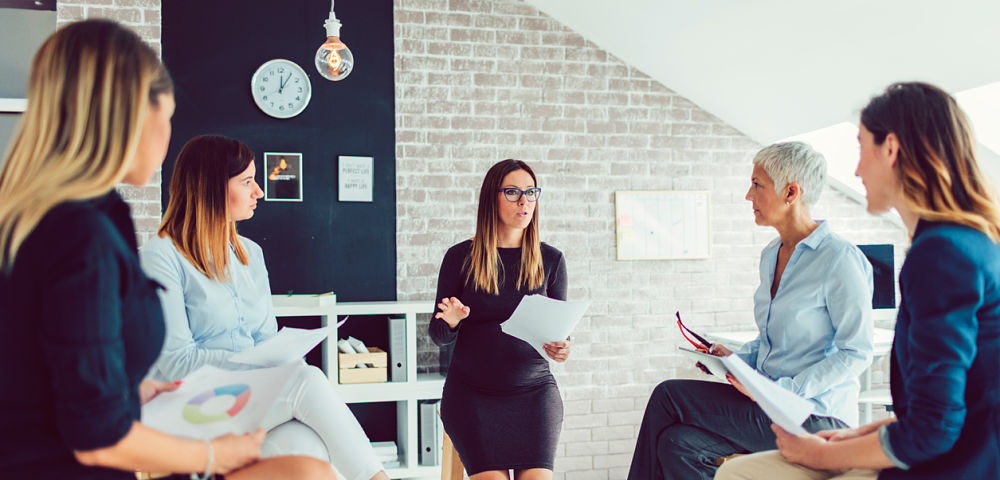 Being a woman business owner offers particular challenges that are not faced by male entrepreneurs. Women entrepreneurs traditionally face systematic discrimination when looking for venture capital or traditional lending, searching for mentors, and even being taken seriously by other entrepreneurs at networking events.
These challenges are further complicated for women who are multiply marginalized – disabled people, women of color, or veterans, for example. But while traditional avenues can cause women to struggle in business circles, several organizations are dedicated to helping women get a leg up in the world of business, hoping to help create a more equitable environment for business ownership.
1.National Association of Women Business Owners
NAWBO has more than forty years of experience in helping women found and run their own businesses. The organization is supported by dues, has chapters across the United States, and represents women in all industries.
NAWBO local chapters work as networking and support locations, giving women entrepreneurs access to others in the area. The statewide and national organizations participate in government work, advocating for the needs and causes relevant to women business owners.
2.Ladies Who Launch
Founded by Victoria Cooligan, Ladies Who Launch focuses on providing women entrepreneurs educational tools to help them get off to the right start in business and then keep going on the right path. On the free website, women can find documents and tools to help them create business plans, along with sample legal documents, contracts, and more.
The website also offers premium documents and information for those who need more advanced tools. Tips and videos offering suggestions and inspiration are also available. Women who are just starting out, or those who are in more isolated settings, may find these resources invaluable.
3.Center For Women & Enterprise
Based in New England, CWE is a nonprofit organization that has a primary focus in Rhode Island, Massachusetts, Vermont, and New Hampshire. CWE is also responsible for the Veterans Business Outreach Center of New England.
While those entrepreneurs outside of New England may not have direct benefits from CWE, the website contains free online courses that can help women learn more about starting, operating, and growing their business.
4.SCORE
Part of the Small Business Administration (SBA), SCORE is well known for their ability to connect mentors and volunteers with entrepreneurs. Mentors are a huge factor in the ongoing success of women in the entrepreneurial field, and connecting with those who have faced similar challenges is particularly beneficial. While SCORE works with entrepreneurs across demographics, they have many resources particularly aimed at helping women business owners.
5.Women's Venture Fund
While the WVF offers training, educational resources, and more to women business owners in the New York City metro area, one of their more important offerings is assistance in acquiring small business loans. Women traditionally face institutional bias when applying for traditional loan funding.
In order to keep their businesses up and running, they often need to rely on personal assets, credit cards, and alternative lenders to get the funding their businesses need. While this can certainly be a way to keep a business afloat, these capital sources often have higher interest rates than traditional lenders, which disadvantages women owned businesses.
6.SBA Women's Business Center
The Small Business Administration (SBA) is one of the most well known organizations in the United States related to the operations of small businesses. They offer funding options, educational resources, connections to mentors, and more.
Part of the SBA is the Women's Business Centers. The WBCs are a network of more than 100 education centers located throughout the United States and its territories. The organization's goal is to help women level the playing field in entrepreneurship and works to help them found and grow businesses.
7.National Women's Business Council
The NWBC is defined as a non-partisan federal advisory council. The organization works to offer council to Congress, the President, and the Small Business Administration on the particular economic issues that affect women entrepreneurs. The chair of the organization is appointed by the president and the chief executives are split between political parties.
Other executives include the heads of major women's business organizations in the United States. The NWBC focuses on conducting research regarding the state of women owned businesses and offering advice to government agencies on the best way to support women in entrepreneurial endeavors.
These are far from the only organizations working to improve the opportunities that women can access in business circles. Consider speaking to your local chamber of commerce to learn more about what resources are available in your area, or ask a national organization about starting a local chapter.