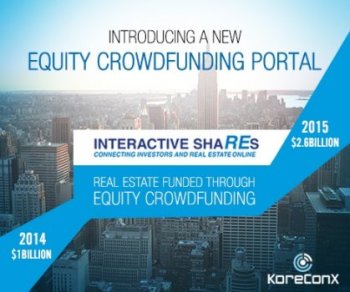 Today marks the beginning of the maiden voyage of Interactive Shares, an equity crowdfunding portal connecting accredited investors with vetted real estate projects in need of debt or equity financing. It's indicative of the steady progress being made towards democratic investment across the USA.
What's important to remember is that investment opportunities funded through equity crowdfunding create a ripple effect of wellbeing; for the companies that find growth through them, for the people they hire, and for the areas that they help develop and improve. This means that the appearance of a new player like Interactive Shares is really good news for all involved – not just for the companies they'll help fund. Investors will have a place to complete the entire process of real estate investment online, the opportunity to diversify their portfolio, and a place to view vetted investment opportunities they might not have otherwise have known about.
What results is a one-stop shop for real estate financing, providing a full capital stack with permanent and short-term debt instruments and equity offerings.
Yulia Yaani, a Columbia MBA graduate, started Interactive Shares last year with the goal of providing investors with a forum to access quality investment opportunities that would have been otherwise unavailable, and to help mid-sized real estate operators access capital efficiently and easily. She said that their focus is on small and mid-sized multifamily because their goal is to give multifamily developers a one stop shop project financing solution. "On our platform, multifamily operators will get access to full capital stack to secure equity and debt financing" Yaani said.
On the investor side, using Interactive Shares means accessing the cumulative knowledge and understanding of a team of real estate investment and technology experts behind its development. Since each investment opportunity undergoes extensive due diligence prior to listing, investors can be certain that the cream has already risen to the top.
Connecting Enterprises and Investors with Similar Interests
This child of the JOBS Act takes the spirit of equity crowdfunding to heart, focusing on small and medium-sized enterprises and connecting them with similar small scale investors. According to Interactive Shares, $1 billion of real estate was funded through equity crowdfunding in 2014, and that number is expected to grow to $2.6 billion in 2015. The sky's the limit, and the more players on the field, the higher the potential for growth.
If you've ever taken Economics 101 or a similar course, you may remember that increased competition is generally beneficial, forcing innovation, increased efficiency, and lowering cost – and this may be one case in which life imitates art. The potential impact of equity crowdfunding in the USA and abroad is tremendous, and as of yet, largely unrealized. New players such as Interactive Shares represent a higher number of potential deals involving companies or investors who might not have access to other portals, and the opportunity to convert an entirely new group of investors and companies into avid equity crowdfunding advocates and users.
The launch of a new platform doesn't mean that other platforms serving the same base will be scrabbling for deals, it means that the number of opportunities presented to investors will increase. In 2012, there were less than 10 real estate crowdfunding platforms, now the top three firms have facilitated more than $3 billion in real estate transactions through a mix of debt and equity. The takeaway is that the potential market for real estate crowdfunding, and real estate equity crowdfunding, is massive, and Interactive Shares is well positioned to take advantage of this.
There are economic benefits as well. If companies hire an average of 2.2 employees post-crowdfunding, then available equity crowdfunding portal create a ripple effect. Portals receive more opportunities than they can support, and only list a percentage. It's not because the ideas or the companies aren't worthwhile for investors, it's because of due diligence requirements, information availability, and sometimes, deal flow.
Interactive Shares' entrance into the market means increased capacity, and as an industry with high value for investors, real estate is a strong avenue for it. Yaani says that their average offerings are around $750,000 to $5 million for commercial real estate projects, and 100,000 and up for residential rehab loans.
Yaani says that while they're not the first real estate-focused equity crowdfunding platform in the DC area, they're proud to be in the same area as the pioneers of real estate crowdfunding, Fundrise. She says they're happy to partner with other portals, and have developed a referral program for multifamily deals that don't fit the criteria for other portals.
It really is the more the merrier.
DISCLOSURE: The views and opinions expressed in this article are those of the authors, and do not represent the views of equities.com. Readers should not consider statements made by the author as formal recommendations and should consult their financial advisor before making any investment decisions. To read our full disclosure, please go to: http://www.equities.com/disclaimer