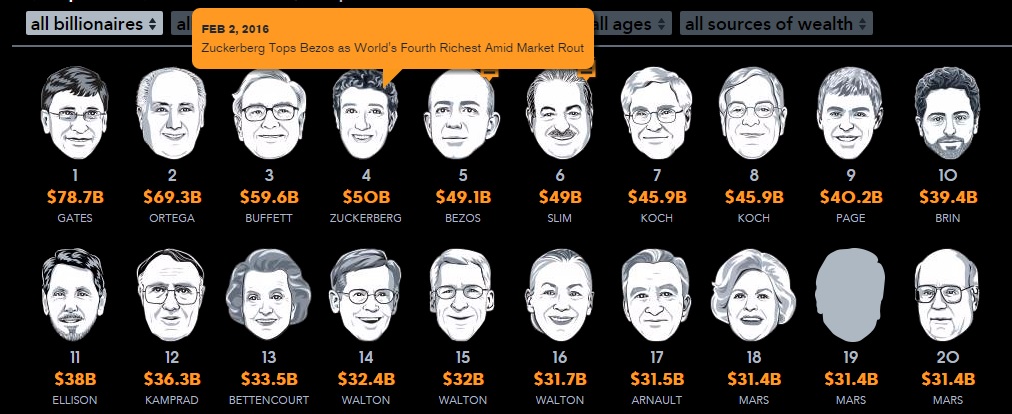 There was a major shakeup within the hierarchy of the world's wealthiest this week. Facebook's Mark Zuckerberg, on the back of a blowout quarter for the social network, broke into the top five of the world's richest people, surging past America Movil SAB's Carlos Slim and Amazon's Jeff Bezos just this week alone. What's more, Zuckerberg is only 31. Who says millennials aren't good with money?

According to Bloomberg, over 95% of Zuckerberg's wealth comes from his 25% stake in Facebook. As it currently stands, he's only about $9 billion away from taking legendary investor Warren Buffett's spot at third, $19 billion from Zara magnate Amancio Ortega at second, and $29 billion from Microsoft founder Bill Gates as the richest man in the world.
Considering that Facebook shares have surged over 50% in the past year, and have more than tripled from its IPO price of $38 from less than four years ago, it's not out of the question that Zuckerberg could dethrone Gates in the relatively near future. For Zuckerberg's net worth to reach $80 billion, Facebook would have to be trading around $178 per share. Right now, the analyst consensus target price of $133 per share represents another 18% move from where they currently sit, but analysts have been raising their target prices since earnings were reported, with Piper Jaffray's increase from $155 to $170 being the highest.
As for Gates, despite some jostling every couple of years between Slim and Buffett, he has sat firmly at the top of the list for over two decades—including a 13-year streak from 1995 to 2008 where he went uncontested. That's arguably the longest reign anyone's had in modern society.
Gates was 39 the first time he became the world's richest man, so Zuckerberg's got some time to challenge the streak—assuming he ever makes it to the top. But considering that Facebook's still on the verge of monetizing its other properties in WhatsApp, Instagram, Messenger, and Oculus Rift, you have to like his chances.
Henry Truc is the editor of Equities.com. You can follow him here and on Twitter @henrytruc.

[Image via Bloomberg]
DISCLOSURE: The views and opinions expressed in this article are those of the authors, and do not represent the views of equities.com. Readers should not consider statements made by the author as formal recommendations and should consult their financial advisor before making any investment decisions. To read our full disclosure, please go to: http://www.equities.com/disclaimer