Nothing has been more unrelenting a bear market than the one we have seen in natural gas. Every line in the sand from $3.00 to $2.50 to $2.00 has given way to lower and lower prices. This new break under $2 is putting huge strains on a number of pure nat gas plays out there with their stocks making 52-week lows on an almost daily basis. However their have been a few MLPs that have benefited from this seemingly endless supply. Companies that have positioned themselves to export natural gas have the best looking charts out there.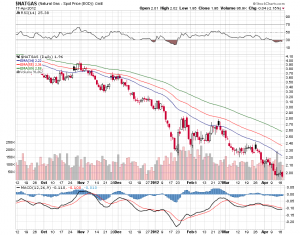 (Click to enlarge)
Take a look closely at this chart of Plains All American (PAA). There are 2 points on this chart that are notable. The first is the long climb from $60 to $84 from November to February. Part of that was the general rebound in stocks but Plains announced in that period that it was getting involved in the nat gas liquid exporting game. The second gap in early March is when the company announced an equity offering (which MLPs are known to do). Since then the stock has gone sideways. Companies that are positioned to benefit from low nat gas prices are these new exporters who can move the nat gas out to overseas markets. Liquids in energy is where the money is.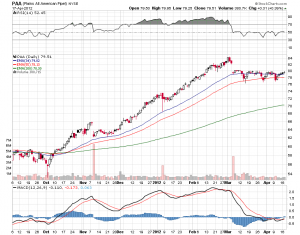 (Click to enlarge)
Cheniere Energy (CQP) is the MLP of Chenier Energy (LNG) and it really was the first of these companies to take advantage of the growing market in exporting.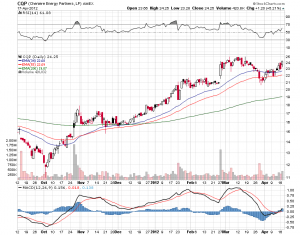 (Click to enlarge)
This MLP has doubled in price since October and it has been in a sideways mode since late February when it gapped higher on news Blackstone made an investment in the company. So far these two MLPs have resisted the pullback in MLPs and my suspicion is as long as the nat gas bear market continues, these two MLPs are probably positioned to continue to outperform the group in general.
DISCLOSURE: The views and opinions expressed in this article are those of the authors, and do not represent the views of equities.com. Readers should not consider statements made by the author as formal recommendations and should consult their financial advisor before making any investment decisions. To read our full disclosure, please go to: http://www.equities.com/disclaimer