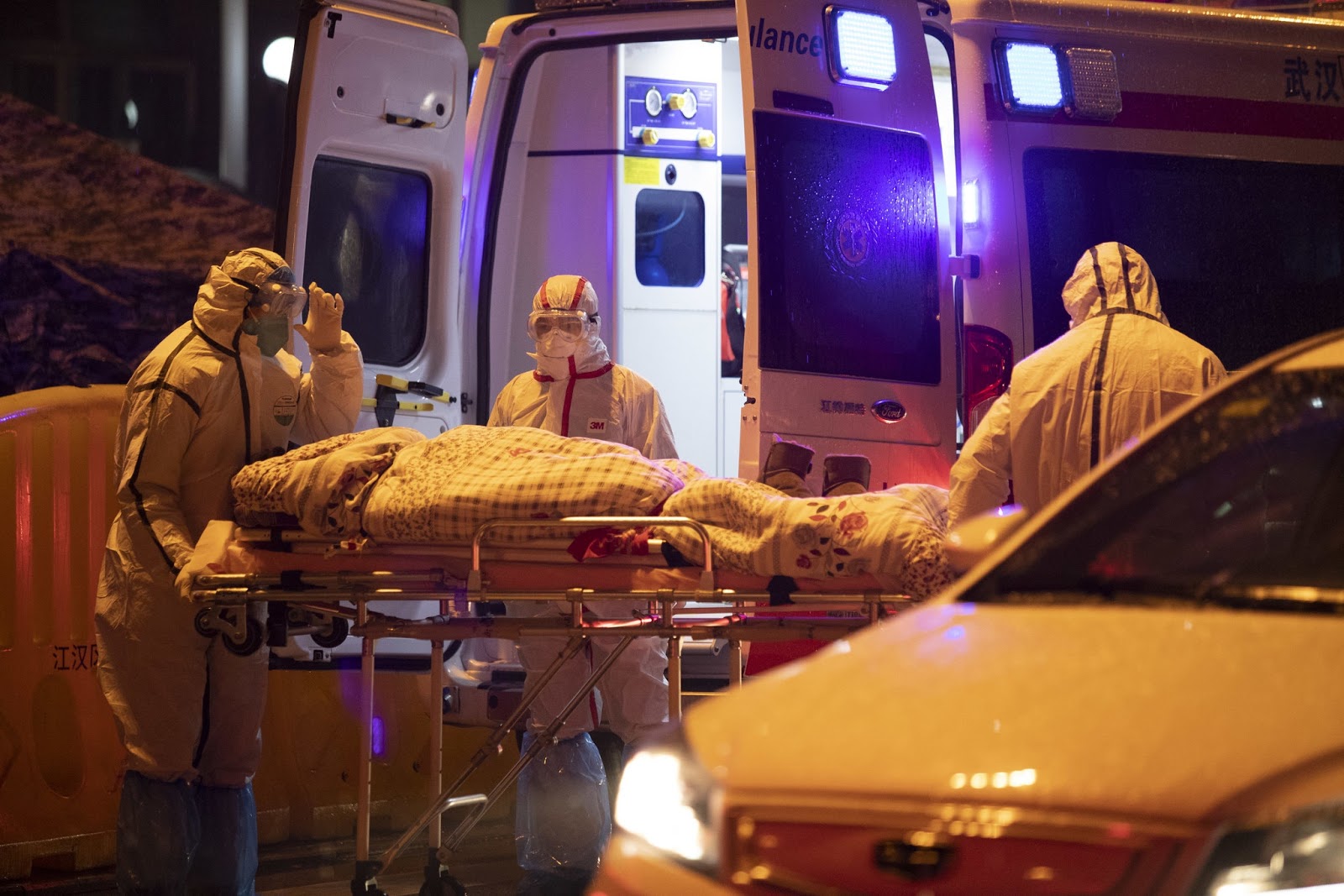 Jeff Cox of CNBC reports the stock market just set another record, this one going back to 1972:
The seemingly unstoppable U.S. stock market continues to set new records, with the latest standard a trend that hasn't been beaten since 1972.
One gauge closely watched by traders is where the market is in relation to its moving averages, which track the market's performance over various time periods.
In this case, FOREX.com looked at how many times the S&P 500 has closed below its 10-day moving average over the past 70 days, a time frame used because it entails the time since the Federal Reserve started expanding the bond holdings on its balance sheet.
The result is that the index has had just five such closings over the period, the lowest going back to 1972, or some 48 years, FOREX.com said, citing data from Quantitative Edges.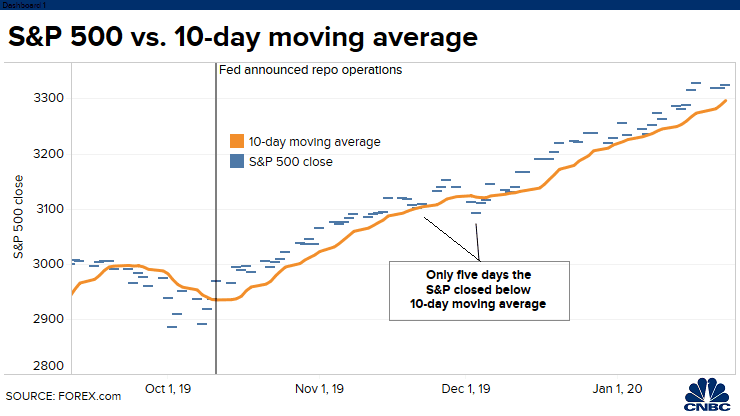 Fed officials have insisted that its latest round of bond buying is not like the quantitative easing it instituted during and after the financial crisis. Instead, the central bank has been conducting operations in the short-term repo market to keep its benchmark funds rate within the range the Fed uses as a target.
But stocks have risen almost perfectly proportionately to the expansion in the Fed's balance sheet.
"By this measure, US stocks haven't seen this consistent of a rally since most of us have been alive," Matt Weller, global head of market research at FOREX.com, said in a note. "Of course, as any Statistics 101 student will tell you, correlation does not necessarily indicate causation, but given the remarkably reliable rally we've seen, US index traders should definitely be paying close attention to any changes in the Fed's 'Not QE' schedule of repo purchases."
Interestingly, I cited the same data from Quantifiable Edges (not Quantitative Edges) last week when I went over whether or not to fight the "Tepper" tape.
Anyway, it's Friday, time to cover markets again, and this week we had several more hedge fund billionaires sharing their market views at Davos.
In a CNBC interview, Bridgewater founder Ray Dalio warned that 'cash is trash' (while Buffett sits on $128 billion cash). Dalio struck a similar chord at Davos two years ago, saying investors would "feel pretty stupid" if they hoarded cash. That turned out to be one of the worst short-term market calls in recent memory.
In another CNBC interview, Paul Tudor Jones said this market has "explosive upside" but warned that the new coronavirus could put a damper on things.
Given the global spread of the new coronavirus, with the CDC just confirming a second US case on Friday and monitoring dozens of other potential cases, it's fair to assume markets can head south very fast if this virus isn't contained very soon.
Unfortunately, we simply don't know enough about this new virus yet and it's spreading fast. More worrisome, new fresh research published in the prestigious Lancet journal stating the new coronavirus can cause infections with no symptoms and sicken otherwise healthy people. From STAT:

Two papers published Friday in the journal the Lancet offer some of the first rigorous analyses of patients who contracted a novel coronavirus that has broken out in China and spread to other countries. Among their discoveries: The virus does not only affect people with other, underlying health conditions, and people who are not showing symptoms can still be carrying the virus.
In one study, researchers analyzed data from the first 41 patients who were admitted to hospitals with confirmed cases of the infection in the central Chinese city of Wuhan, where the outbreak is believed to have originated last month. Two-thirds had been to a large seafood market that also sold wild animals for meat and is thought to be where the virus jumped from an animal source to people. The median age of the patients was 49.
The patients displayed a wide range of symptoms, many of which were similar to those caused by SARS, another coronavirus, which caused a global outbreak in 2002-2003 that started in China. All of them had pneumonia, and most had fever and cough. Some people had fatigue; rarer symptoms included headache and diarrhea. The researchers noted that patients with SARS more frequently had runny noses, sore throats, and diarrhea than those with the novel coronavirus, which is provisionally being called 2019-nCoV.
One key finding: It's not only people with other health conditions that are getting sick, the researchers reported. Some of the fatal cases caused by the virus have been among people with underlying diseases like diabetes, liver disease, and hypertension, but the majority of the first 41 patients infected with the disease in Wuhan were healthy. The researchers noted that SARS infections similarly did not only affect people with other conditions.
About a third of the 41 patients needed intensive care, and six of them died. Some of the patients with more serious illnesses suffered from a dangerous immune system overreaction called a cytokine storm, but the researchers said they still did not have a good understanding of how the virus affects the immune system.
As of Friday, there were more than 830 cases of the coronavirus infection in China, with 25 deaths, and a handful of cases in places — including Thailand, Japan, South Korea, and the United States — that were in people who traveled to those countries from China.
The second paper focused on one family who came down with pneumonia in Shenzhen. Five family members had recently traveled to Wuhan and had the virus, as did one relative who had not traveled to Wuhan.
So far, authorities have only confirmed human-to-human transmission of the virus among families and in health care clinics — settings where people are likely to be in close contact with each other, according to the World Health Organization. This appears to be the case with the family that was studied. Still, health officials do not know exactly how efficiently the virus can pass among people.
One child with the virus did not show any symptoms. Health authorities have said that people with the virus have shown a range of symptoms, from very mild to very severe. But an asymptomatic infection raises the question of whether people have to be showing signs of the disease to pass it to people, a question that experts are rushing to answer.
"Because asymptomatic infection appears possible, controlling the epidemic will also rely on isolating patients, tracing and quarantining contacts as early as possible, educating the public on both food and personal hygiene, and ensuring health care workers comply with infection control," Dr. Kwok-Yung Yuen from the University of Hong Kong-Shenzhen Hospital, who led the research, said in a statement.
In a commentary piece also published Friday by the Lancet, Dr. David Heymann, an infectious disease epidemiologist at the London School of Hygiene and Tropical Medicine, wrote that "the picture these two manuscripts paint is of a disease with a 3-6 day incubation period and insidious onset."
The researchers who wrote the two papers and other experts cautioned that these were small studies with limited numbers of patients in a rapidly evolving outbreak. But they noted that sharing information like this as quickly and rigorously as possible can help shape the response.
"The information in these articles are pieces of the jigsaw puzzle that are being fit together by WHO as it continues to collect official reports and informal information from its virtual groups of national clinicians, epidemiologists, and virologists working at outbreak sites and brought together from around the world," Heymann wrote. "When pieced together, these emerging data will permit regular refinement of the risk assessment, and real-time guidance to countries for patient management and outbreak control, including the best case definition for use in surveillance around outbreak sites and elsewhere."

I believe the information in the article above is critically important because it tells me one thing: this new coronavirus can easily spread from asymptomatic people who have it to infect others and that's quite disturbing and has huge implications for global health authorities rushing to contain a virus which increasingly appears to be next to impossible to contain.
In other words, this new virus has all the makings on the next global pandemic, so it's best not to dismiss it and track it closely because if it does spread like wildfire the repercussions on the global economy and financial markets will be dire.
Markets are already pricing in some slowdown due to this new coronavirus. Crude oil prices are plunging this week as are Chinese and emerging market shares: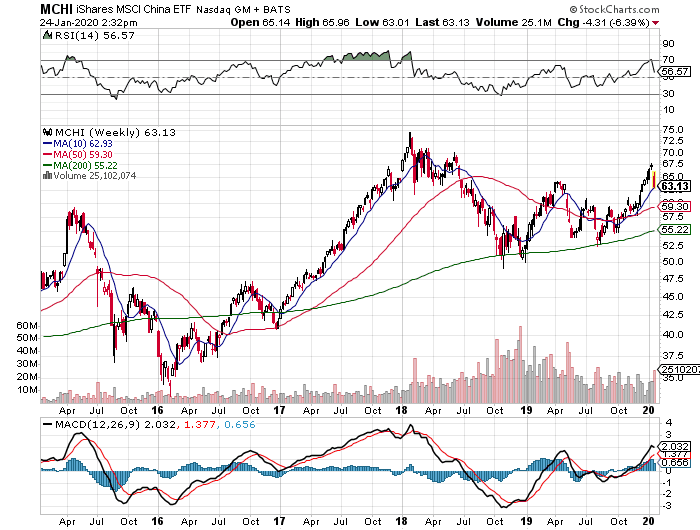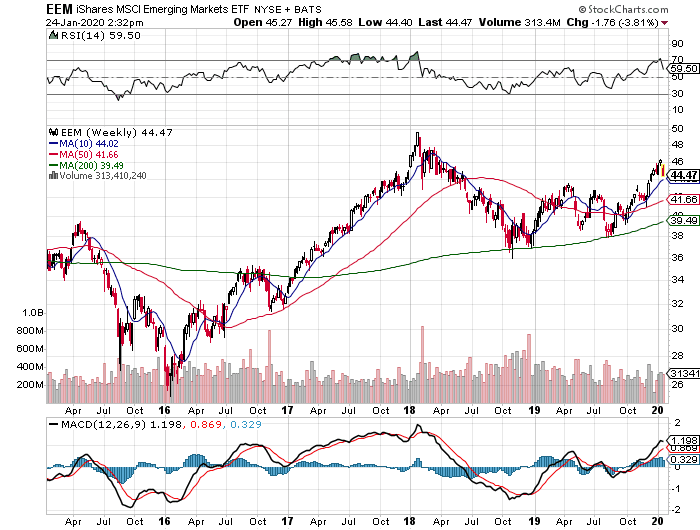 On Friday, the US stock markets were all down as fears are growing this new virus will spread and cause a global economic slowdown.
Add to this that US stocks are already incredibly overbought by every weekly and monthly technical measure (except for 1999-2000), and you have the recipe for a near term pullback which can easily turn into a major selloff if news of this new virus goes from bad to worse.
What about the Fed pumping billions into markets? Well, that typically works well juicing up asset prices when there isn't a global pandemic looming in the background. If that happens, the Fed and all central banks are going to need a much bigger boat: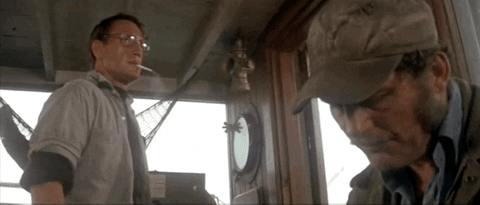 I'm not in the hysteria camp and do hope this new coronavirus will be contained relatively quickly, but I think it's best to be very careful and recognize it has the potential to be a significant game changer, especially if it spreads and new cases balloon all over the world.
And even if the coronavirus turns out to be contained, like Iran, there's something else I've been alluding to lately, what's really spooking markets is the prospect of a US slowdown.
On that note, check out this chart of the day, courtesy of Zero Hedge (and Bloomberg):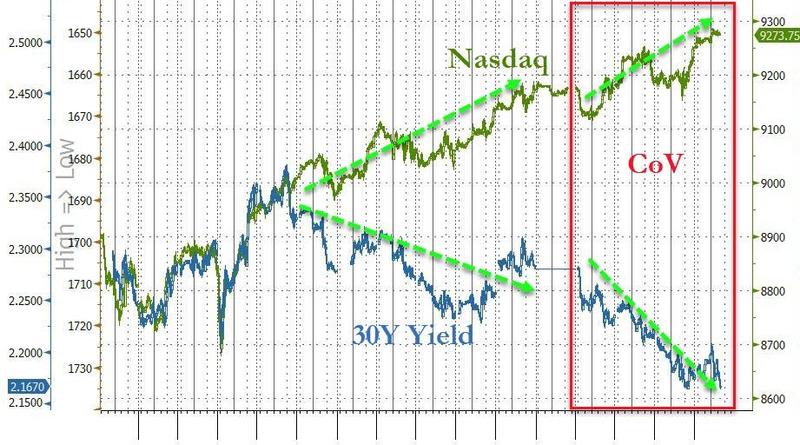 Sure, as long bond yields keep dropping, one can argue that valuation models support much higher multiples and it makes sense for investors to jump on growth stocks.
But if the bond market is pricing in something more ominous, like a global economic slowdown, then you should start worrying about that chart above because asset prices will plunge.
In fact, a quick look at long bond prices which move inversely with bond yields shows you that the secular bond market rally is far from over: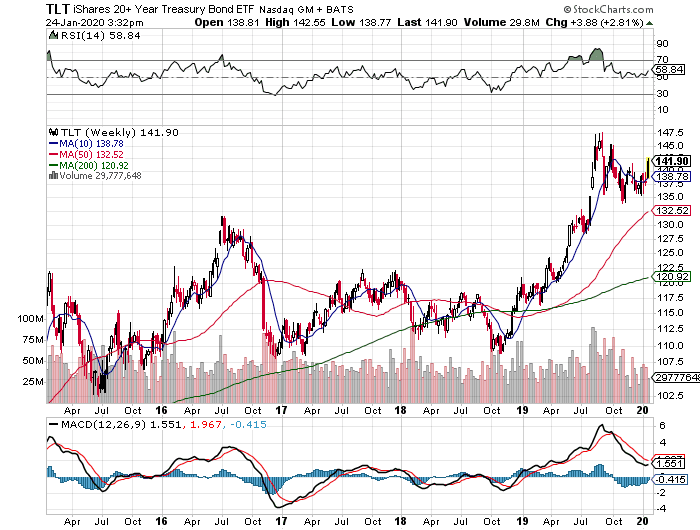 Admittedly, this latest pop in long bond prices (drop in yields) could be due to the coronavirus which is exacerbating these moves but if next week the US ISM and payroll figures confirm a US slowdown is underway, watch out below, it can get ugly, especially if new coronavirus cases explode all over the world (incubation period is 3-6 days).
Let's see, I hope this new coronavirus is contained but I remain on high alert and think there are real risks that containing it will be exceedingly difficult, if not impossible, for the reasons I cited above (asymptomatic people carry it and could easily transmit it).
Below, an outbreak of a pneumonia-like illness that started in the city of Wuhan has put health authorities on high alert in China and around the world. The new coronavirus—named 2019-nCoV—is thought to have originated in the food market of the central China metropolis and has since infected hundreds of people. Watch the clip below to gain an understanding of it.
Second, Ray Dalio, founder of Bridgewater Associates, joins "Squawk Box" at the World Economic Forum in Davos to discuss the markets and why he's betting gold prices could surge to record highs.
Third, Paul Tudor Jones, chairman of JUST Capital and chief investment officer of Tudor Investment Corporation, joins "Squawk Box" to discuss the markets, interest rates, the world economy and more.
Fourth, Bob Prince, co-chief investment officer at Bridgewater Associates, discusses the end of the boom-bust cycle, finding opportunity in market stability, and the firm's investment strategy. He speaks at the World Economic Forum's annual meeting in Davos, Switzerland on "Bloomberg Surveillance."
Fifth, Scott Minerd, Guggenheim Partners co-founder and Guggenheim Global chief investment officer, discusses his concerns about rallying asset prices. He talks with Bloomberg's Tom Keene and Jonathan Ferro at the World Economic Forum's annual meeting in Davos, Switzerland on "Bloomberg Surveillance."
Lastly, Christian Mumenthaler, chief executive officer at Swiss Re, discusses climate change and concerns related to the coronavirus in China. He speaks at the World Economic Forum's annual meeting in Davos, Switzerland on "Bloomberg Surveillance."
____
Equities Contributor: Leo Kolivakis
Source: Equities News