With the market driving higher into record levels, the demand for new opportunities has contributed to the robust performance of the small and microcap market. Among the investment community, there's a palpable thirst for innovation and new industries to propel growth, and in order to achieve that, it is critical that the small and microcap market be nurtured to encourage new technologies that will help generate sustainable economic activity.
Many of these exciting emerging growth and under-covered value companies will be on full display at the Third annual Marcum MicroCap Conference, which will be held at the Grand Hyatt Hotel in New York on May 29, 2014. The conference is expected to draw 130 quality microcap companies with market caps of $500 million or under, as well as 2,000 attending investment bankers, institutional investors, sell-side analysts, senior management teams, and high net worth individuals.
The 2014 event is considerably bigger than the inaugural conference two years ago. Recognizing that there was a real deficiency of avenues to access capital for these burgeoning companies and a lack of opportunities to even meet legitimate prospective investors, Marcum LLP set out to create that platform to facilitate more discovery in the financial space. This renewed interest has helped to increase the flow of much-needed capital to many emerging growth companies and under-discovered businesses.
Equities.com had the opportunity to speak with David Bukzin, Partner-in-Charge of Marcum LLP's national SEC Services Practice as well as the Firm's New York City office and NY Assurance Services, to discuss this year's event.
EQ: The Marcum MicroCap Conference has grown by leaps and bounds since the first one in 2012. Can you talk about this year's event and how it compares to what you envisioned when the firm decided to start this?
Bukzin: When we first started it, we had no idea what to expect. We thought there was something missing in the sub-$500 million public company space and there wasn't really a platform for them to tell their story.
So we held the first event at the Roosevelt Hotel, and were hoping for 40 companies with 300 to 400 attendees. We ended up having to push it to 60 public companies and 800 attendees. So we realized we had hit on something big, and made the decision to devote the resources to grow it.
We had no idea that it was going to get as big as it has been with regards to the demand, but we're happy to provide a much-needed platform for companies that are under-followed and under-appreciated and allow them to tell their stories. (Click here for the full list of presenting companies)
EQ: How has the landscape for these companies of this size changed over the last several years?
Bukzin: When we first started this, these companies could not raise money for the most part. There was a lack of liquidity, and a lot of the capital that could be raised usually came with toxic, dilutive effects on the company, which really made it challenging for the next round of financing and for long-term growth.
But things have really changed over the last few years. Market caps have gone up and companies can now actually go and raise meaningful amounts of capital with better structure. Also, since many of these companies have seen their market caps grow, they can actually use their stock and do M&A transactions again.
So while the last couple of months have seen some challenges with the market being not as kind to the under-$1 billion market cap companies and the slight slowdown in IPOs, the last couple of years really have been phenomenal for this segment.
EQ: The outperformance of the small-cap sector has helped to attract a lot of attention in the financial community. Where do you see the interest level at right now in regards to the small and microcap space?
Bukzin: I think there's definitely a lot of interest. Small caps are the first to take the hit when anything happens in the broader markets and the last to recover. Right now, we're in a window where a lot of the larger companies are coming closer to being fully valued. So investors are looking for those areas where they can find undervalued opportunities, and nothing provides that better than the small-cap markets.
As a matter of fact, with the reverse mergers and the smaller IPOs that have been happening over the last couple of years, and other go-public transactions, a lot of the new products come out of this microcap world. There's a lot of opportunities being created.
EQ: And the conference really is a great platform for discovery, both for companies in search of capital, and investors in search of opportunities. What are some ways the conference, and Marcum as a whole, encourages those kinds of introductions?
Bukzin: We spent a lot of time on infrastructure and building this conference to be a meeting place for investors and companies. As the conference has grown and the demand has really increased, we've been much more selective on the companies that we allow to present at the conference. On the flip side, we've built our investor outreach program to continually get more and better quality investors, research analysts, and other individual high net worth individuals who may want to meet with these companies.
One company for example, has 25 requests for quality meetings at the conference. Mind you, there's maybe 11 or 12 available meeting slots because they're in half hour blocks, and this company received 25 requests.
We've also made it easier to manage and maximize for attendees. Whether it's through our website, where you can easily see the various aspects of the companies, or through our smartphone app that allows you to build a calendar of all the companies you want to see.
EQ: In addition to the wall-to-wall presentations and one-on-one meetings, one of the best things about the conference is the panels and topics being discussed. What are some highlights for this year?
Bukzin: When we've done the panels in the past, I realized that the panels that were being conducted were a combination of panels focused on topics of interest to CEOs, CFOs and management teams of publicly traded companies, and then to the investment community.
So this year, something we did differently was to bifurcate that. We created a workshop that features a set of expert panels directed specifically toward CEOs, CFOs, and public company management teams. We've broken them into three specific topics that are most important to them: (Click here for the full list)
Raising Capital in the Current Environment: This panel discusses what's going on in the capital markets, what should a management team know, and most strategic issues surrounding your capital raise.
Building Shareholder Awareness and Liquidity: This is equally important for a management team because they need to know how and what it takes to build a good shareholder base, and how do you manage market expectations in a way where you build loyalty, educate, and expand that shareholder base?
SEC Compliance and Other Issues: Management teams need to know what regulators are looking at and what accounting issues get management teams in hot water.
Then we have a set of seven panels focused to investors:
Activism Trends in 2014
Current Status of JOBS Act and Crowdfunding
The Boom in Microcap Financing – IPOS, Follow-ons, PIPEs, RDs, & CMPOs
International Investing: Where is the Next Hot Market?
Evaluating Pre Approval & Pre Revenue Life Sciences Companies
Finding Valuable Information in Companies' Communications to Investors
Valuing Companies in the Microcap Sector
EQ: This year's keynote is Rudy Giuliani, former mayor of New York City. Can you tell us the decision behind having him speak this year?
Bukzin: This year we decided to have an unofficial theme of honoring New York City. We have Rudy Giuliani speaking, and have a bunch of ex-Yankees and Mets to come and shake hands and sign autographs. We also have our first charity benefit for the Big Brothers Big Sisters of New York City, which is going to be our honoree.
So in thinking about that, what better icon with something interesting to say than former mayor of New York Rudy Giuliani? The interesting thing about Rudy is that he has a presentation that he does of local economic events and how they affect your company.
With the impact of international events on the markets, and how they impact these presenting companies, I thought he was the perfect presenter. Plus, he is very high profile, and while not everybody may love Rudy Giuliani, he's always been known for his integrity, reputation, and a hard-nosed approach to accomplishing what he needs to accomplish.
EQ: You've also lined up an impressive list of sponsors, both in terms of numbers and quality. How have they helped to contribute in your efforts?
Bukzin: Well, this isn't a conference that's put on by one investment banking firm or one law firm or whatever. We really want to make this a community event because microcaps and emerging growth public companies has its own community. Whether it's the bankers, investor relations firms, or people like Equities.com, the community has to work together. So we really try to bring the whole community together.
You can see we've got broad sponsorship from the banking community, the IR firms, the legal community, as well as other service providers for public companies. I think it's just phenomenal. As a matter of fact, for the second year in a row, we had to cut off sponsorships because we didn't have any more room at the Grand Hyatt.
EQ: The growth and acceptance of the conference has been very exciting, and this year's event is sure to continue that. Do you have any closing thoughts for our readers?
Bukzin: We've taken this small event that was initially held for 400 people at the Roosevelt Hotel, and we now have an RSVP of almost 2000 for this year's event. This is an area of focus for us, so we want to continue to provide a platform like we're doing but also build on the Marcum MicroCap Conference and continue to make it a better event for people to be at. There's a whole host of things—whether it's moving the cocktail party to the Grand Hyatt, increasing our registration, improving our investor outreach, or other things we've done to make this conference better. So I would say that looking ahead to the 2015 event, we can guarantee one thing: it'll be bigger and it'll be even better.
For event details and registration information, visit http://marcumllp.com/MicroCap/event-details.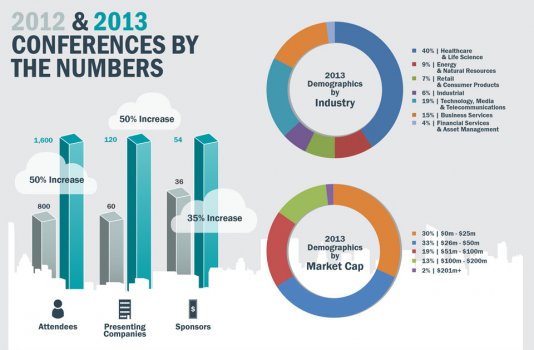 DISCLOSURE: The views and opinions expressed in this article are those of the authors, and do not represent the views of equities.com. Readers should not consider statements made by the author as formal recommendations and should consult their financial advisor before making any investment decisions. To read our full disclosure, please go to: http://www.equities.com/disclaimer