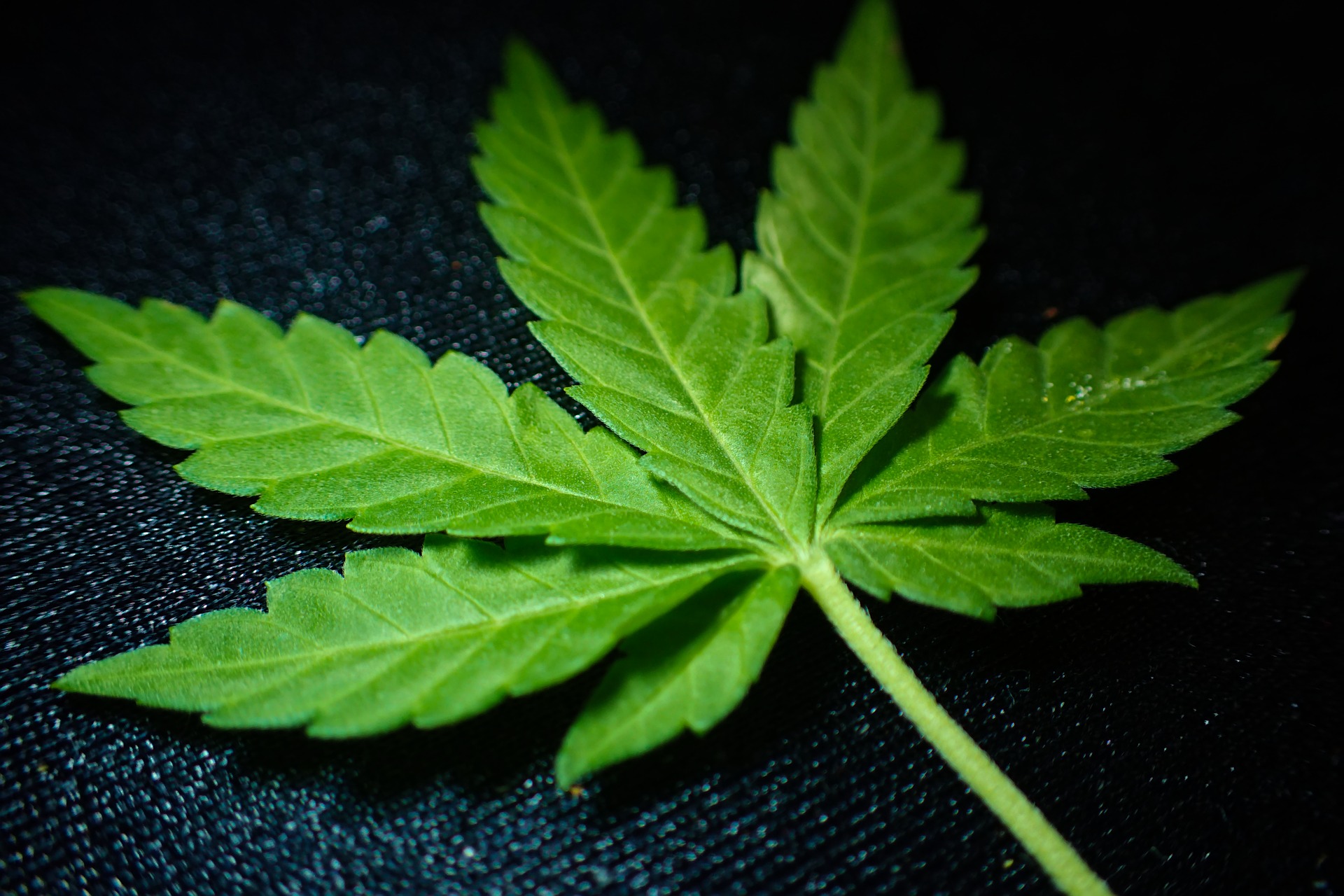 Pixabay/David Cardinez
For much of the past century marijuana has been a "Schedule 1 drug." It was put alongside dangerous drugs like heroin.
The business of growing, processing, and selling marijuana was conducted in the shadows, illegally.
But as you probably know, the laws are changing.
Now a dozen US states have completely opened up the market for marijuana. Even if you live where marijuana is still illegal, you've likely heard a lot about "pot stocks."
Internet marketers have promoted the heck out of this exciting new industry. You've probably seen ads promising to make you a "pot stock millionaire"…
My longtime readers are asking why I never talk about marijuana stocks. At a glance, they seem like a disruption investor's dream…
After all, it's a multi-billion-dollar market opening up after 100 years in the shadows. It's forecast to grow at breakneck speed. And big companies are plowing huge sums of money in.
This should spell big opportunity for investors, right?
WRONG.
I Won't Put a Penny into Marijuana Stocks
Before I tell you why, look at the crazy gains marijuana stocks have produced.
Canadian marijuana grower Tilray [TLRY] shot up 400% in less than three months last year: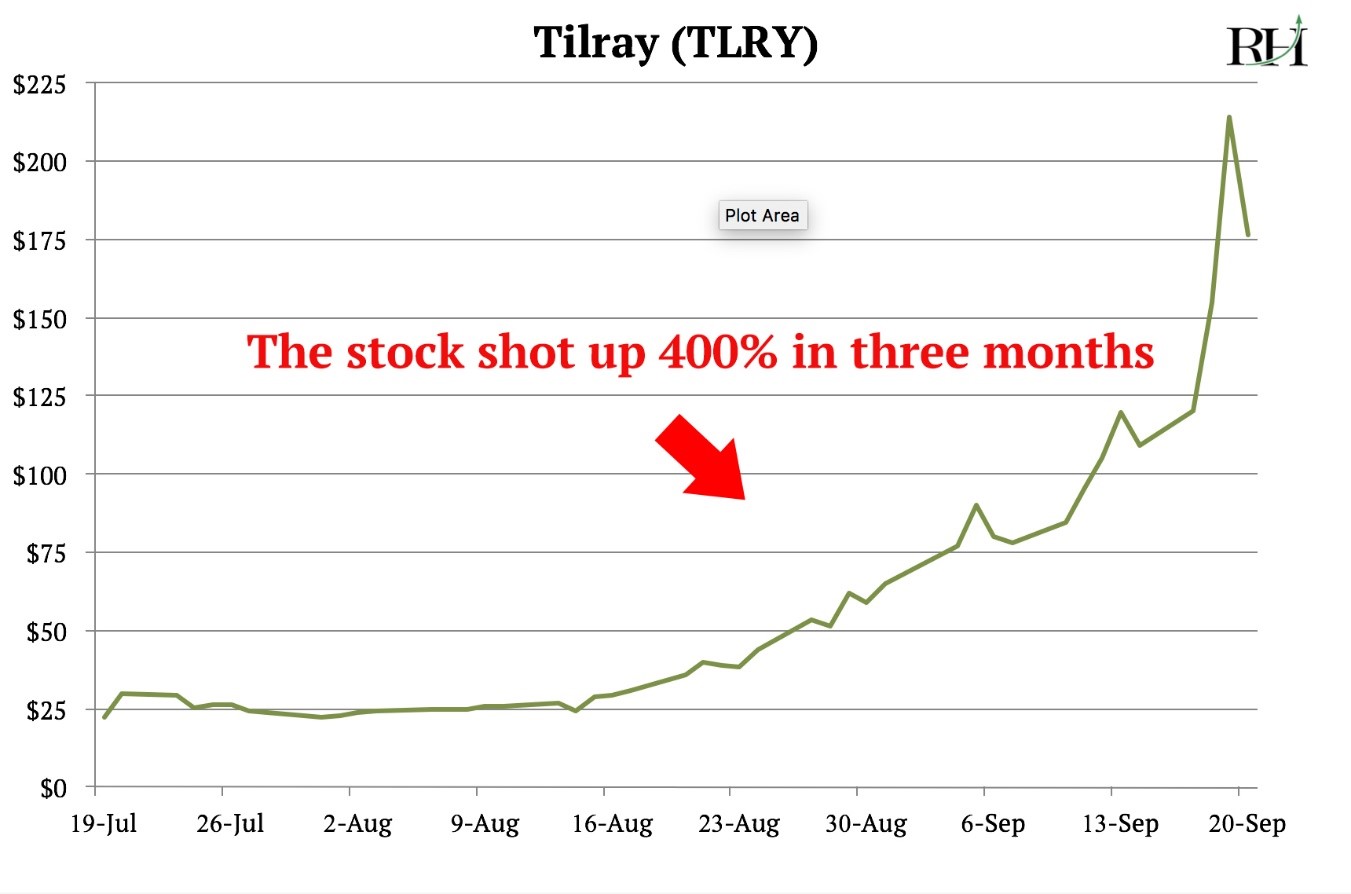 Source: RiskHedge
It briefly hit a $20 billion valuation—roughly the same as American Airlines [AAL].
But get this, Tilray only brought in $200 million in revenue in 2018. American Airlines raked in $45 billion!
Dozens of other tiny marijuana stocks, with barely any sales, soared 10X, 20X, even 30X in just a few months.
The Pot Stock Boom Is Mostly Empty Hype
To understand why, you must look past the stock performance and into the actual business of selling marijuana.
The fact is, most marijuana companies stand little chance of ever making significant profits. Sure, it's new and exciting.
But marijuana is a tough business. And it's going to get much, much tougher as the market matures.
You see, now that it's becoming legal, there's nothing special about marijuana. Like corn or wheat, it's a crop.
Selling marijuana was lucrative because it was illegal.
To grow it and sell it, you risked getting locked in jail… or getting beat up by rival drug dealers.
Most people won't break the law. For decades, only people who were okay operating as criminals went into the marijuana business.
Today, there are over 9,000 marijuana "growers" across the US. The number of growers now exceeds the number of breweries in America!
And although only 11 states have legalized marijuana so far, more than 5,000 marijuana stores have opened up shop.
Care to guess how many Walmart [WMT] stores are in the US?
About 4,750.
Do you see 5,000 specialty broccoli stores? Or 5,000 carrot stores? No, vegetables sit on grocery shelves and sell for $0.99.
Farmers and grocers are lucky to squeeze out a penny or two of profit.
This price compression is marijuana's future.
Many Pot Fans Will Take Issue with This Statement
Marijuana is a commodity. It's all roughly the same, no matter where or how it's grown.
Pot enthusiasts will argue this point. They'll insist there are dozens of different strains that all make you feel a different way when you consume it. They'll point out that while the THC in weed makes you feel high, CBD does not.
They'll emphasize that CBD seems to have important medicinal properties and could one day be a key ingredient in many new drugs. They'll say marijuana has dozens of uses other than getting you high.
I'm sure all this is true. But it's mostly irrelevant for investors.
Half a dozen different kinds of apples sit on the shelf of every grocery store. Granny Smith, Red Delicious, Fuji, Gala, McIntosh. You can turn apples into apple sauce, apple cider, apple juice, apple pie.
The apple is a versatile fruit. Yet, selling apples is far from lucrative.
Competition Already Cut Pot Prices in Half
Oregon was one of the first states to legalize marijuana back in 2015.
At first, there were only a handful of growers, so they could charge exorbitant prices.
But according to a state government report, marijuana prices have been cut in half over the past three years.
What happened?
In short, new companies flooded the market. The same report estimated there is enough pot in the state to last for six-and-a-half years!
Few things can devastate an industry like rapid price compression. Many pot stocks are already falling apart.
Tilray and Canopy Growth Corporation [CGC] are the two biggest public marijuana producers.
Revenues for both companies doubled last year. Yet as marijuana prices tumbled, both companies posted record stock price declines!
After much hype, investors have sprinted to the exits.
Tilray has plunged 90% in the past year…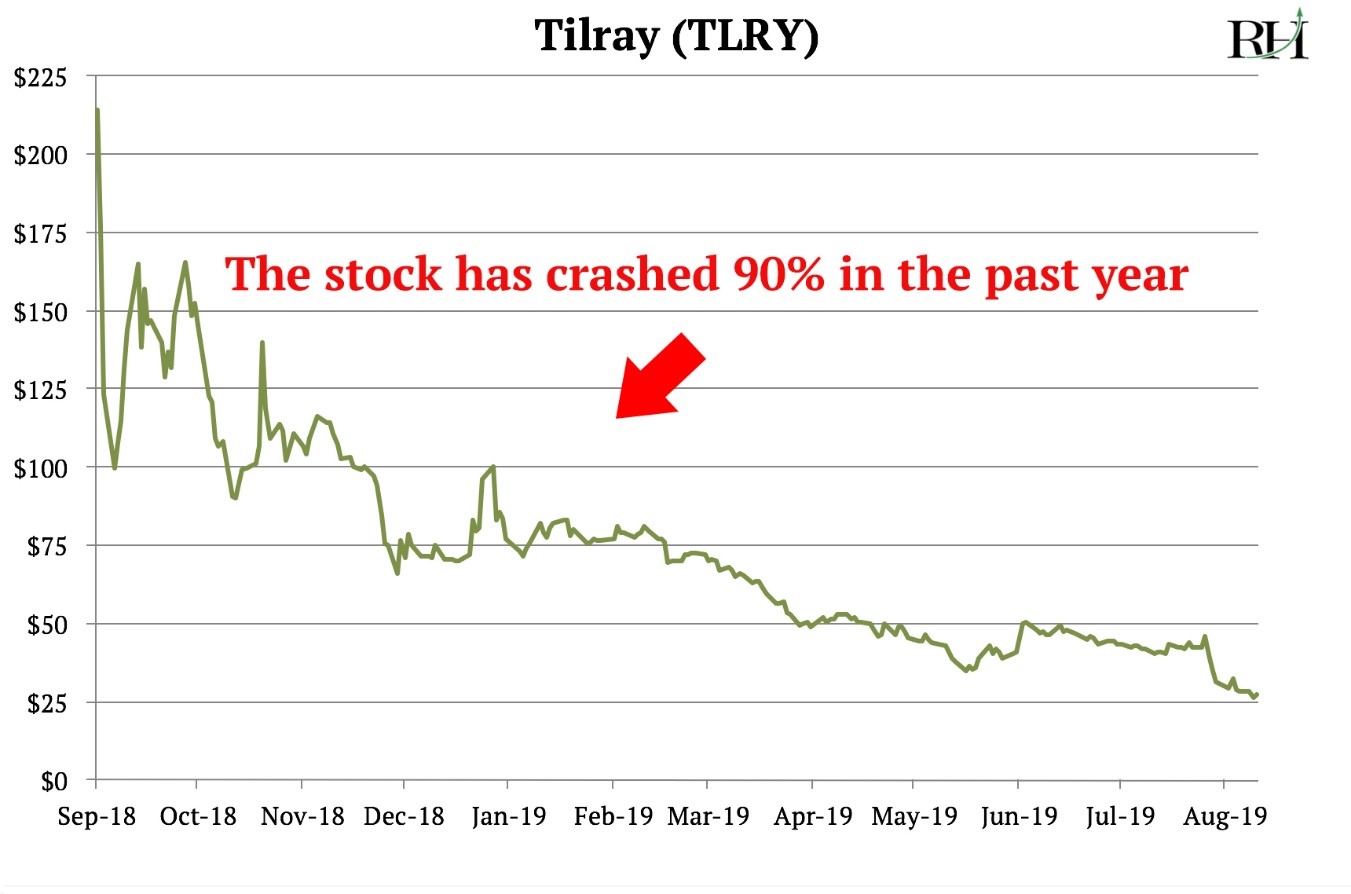 Source: RiskHedge
Meanwhile, Canopy Growth has cratered 50% since April, as you can see here: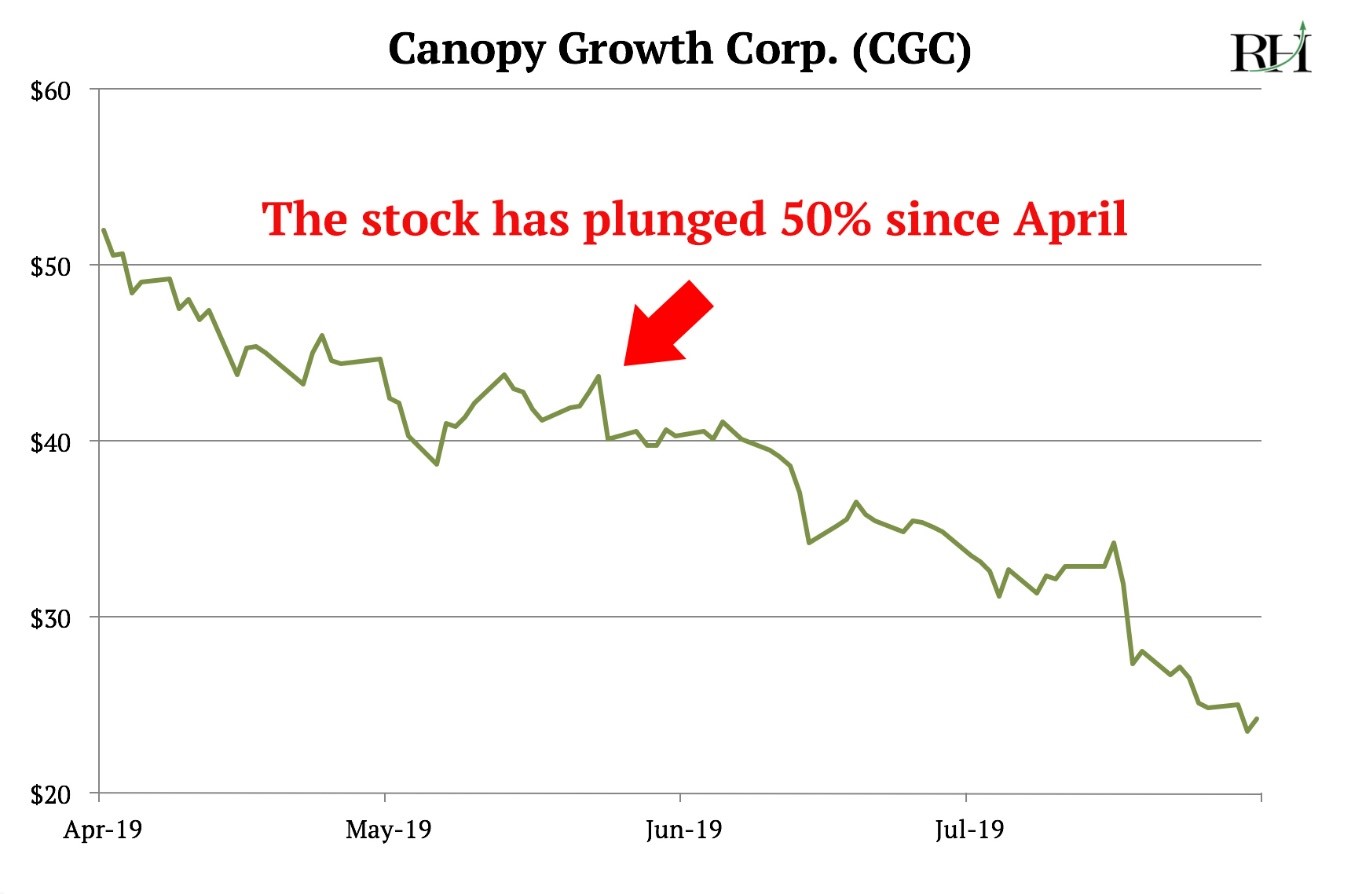 Source: RiskHedge
The Pot Industry Is Dead in the Water
To be clear, parts of the marijuana business will boom over the next couple of years.
Cannabis shops will continue popping up all over the place. I'm sure big American companies will continue to invest billions in the sector. And I'm sure a handful of pot stocks will defy the odds and go on to achieve big gains.
But make no mistake: The whole marijuana industry is staring down the barrel of price compression.
Pot stocks are no place for investors to put their money.
The Great Disruptors: 3 Breakthrough Stocks Set to Double Your Money"
Get my latest report where I reveal my three favorite stocks that will hand you 100% gains as they disrupt whole industries. Get your free copy here.
___
Equities Contributor: Stephen McBride
Source: Equities News