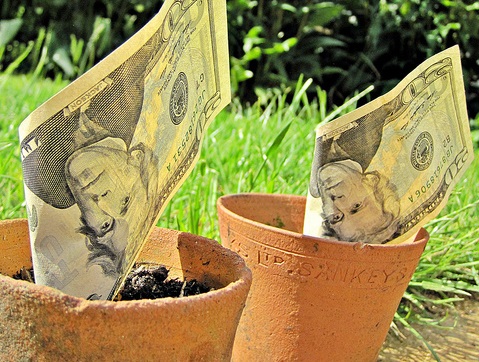 When considering the different routes of long-term financial planning for major life events such as retirement or college savings plans, one of the most proven and reliable strategies is taking advantage of compounding interest though investments such as money market accounts, bonds, and dividend stocks.
At its most basic level, compound interest is the ability to grow your initial investment by earning interest on previous interest, therefore allowing your money to grow at an exponential rate over time. By reinvesting the interest back into the principal, an investor enhances the return over time. The larger the principal grows, the higher the return it generates on interest.
In addition, using retirement accounts like a 401k or IRA provides additional tax benefits to maximize your investments. Besides the advantage of compounding interest over time, there is an added advantage in the tax rate as well as the timing of the taxes. Depending on which tax bracket you fall into, there can be a large difference in the amount of money generated if you can defer tax payments to a later date and apply that capital to your investments.
Keys to Maximizing Compound Interest Investment
1. Start Now: Start saving for your retirement as soon as you can. The longer that you are generating compound interest on your money, the more you are going to have by the time you reach retirement. Hesitating to start saving can have huge effects on the return that you could generate over time. Waiting even one year to start saving can make a big difference on the long-term returns generated in your account.
2. Persistence: You can't save money and spend money at the same time. In general, the income an individual brings in doesn't necessarily equate to wealth. It's the ability to save that income that creates wealth over time. Though compound interest investments can be tedious in that it takes years to see substantial yields, patience through time is the main factor in allowing your money to grow.
3. Knowledge: Understanding the concept of compound interest as well as the math behind it allows you to better understand what you are doing with your money and why. Being a knowledgeable investor not only helps in the decision making process, but in understanding why time is important and patience is key to gain the rewards you are looking for.
4. Making Regular Investments: When working with compound interest, even modest savings have the potential to return great wealth over a substantial period of time. If you have the discipline to make regular investments into your retirement account over time, the interest earnings can substantially grow with each year and each investment.
The Downside of Compound Interest:
When deciding what accounts and targeted returns fit best with your long-term retirement plan, there are a couple options that have been proven to be riskier than others. Though in a general sense, investing in assets that utilize compound interest is seemingly a more conservative approach, there are higher-risk options. The higher rates of returns can be more dangerous as the investment is typically paying a higher yield due to its riskier nature. With higher return rate investments, there is a wipe-out risk, and unless the investor is diligent, there is a possibility of destroying the account and losing a major portion—and in some cases, even all of your retirement savings.

DISCLOSURE: The views and opinions expressed in this article are those of the authors, and do not represent the views of equities.com. Readers should not consider statements made by the author as formal recommendations and should consult their financial advisor before making any investment decisions. To read our full disclosure, please go to: http://www.equities.com/disclaimer