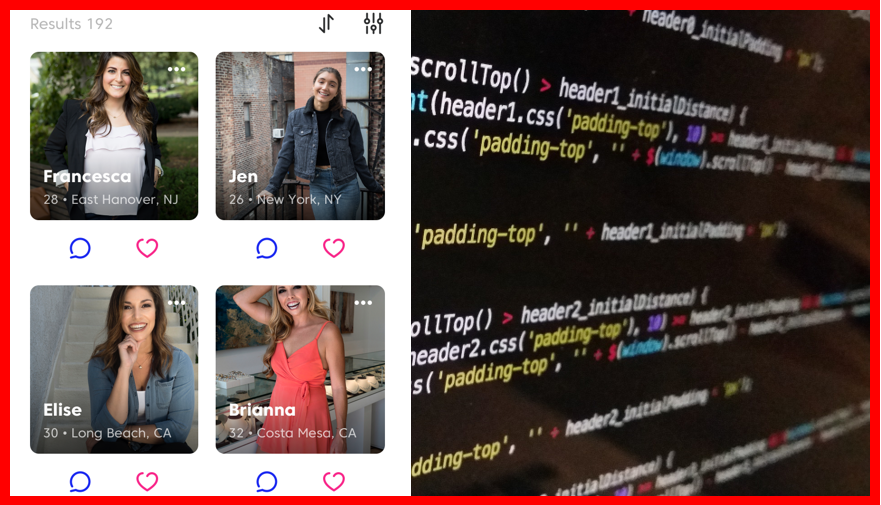 Last month, I wrote that everything we do is being tracked both online and offline. Companies have huge amounts of personal data on people. Some information we choose to share but even more that we don't know is being bought and sold.
Beyond accessing data from social media, emails, mobile apps and location, companies use and sell our data to advertisers, data aggregators and others without our consent.
"There's a larger ethical problem here that goes beyond these specific situations. The more we're exposed to surveillance, the more comfortable we become with it. Every new device we purchase adds to the growing network of cameras and other tracking devices, slowly altering our worldview and rewiring our understanding of privacy. – The New York Times, October 2019.
If you've ever used online dating or know someone who has, the latest news in the continuing debate about ethics, security and privacy is The U.S. Federal Trade Commission's (FTC) suit against Match Group, Inc. [MTCH], the owner of Match.com, Tinder, OKCupid, PlentyOfFish, and other dating sites, alleging that the company used fake love interest advertisements to trick hundreds of thousands of consumers into purchasing paid subscriptions on Match.com.
With advertising, premium accounts, and other paid features, Match Group's (which is owned by IAC) total revenue was $498 million U.S. dollars in Q2 which includes online dating platforms Match.com, Tinder, OkCupid, Tinder, PlentyofFish and others. The most popular dating app in the U.S. is Tinder with 8.54 million users.
In 2019, online dating revenue is projected to be $1.98 billion with an annual growth rate (CAGR 2019-2023) of 6.0 percent and a market value of $2.471 billion by 2023. Most of the revenue is generated in the U.S. at $912 million in 2019. — Statista, 2019.
Major Players in the Dating Scene
While there are roughly 8,000 dating sites, the most popular in the U.S. are, Match Group's Tinder, OkCupid, PlentyofFish, OurTime and Meetit. Similarly, Spark Networks' JDate, Christian Mingle, and Elite Singles and Zoosk are high on the recent rating's list. These sites along with EHarmony, Badoo and Bumble are popular with people 44- years old+.
Younger adults prefer Tinder, PlentyofFish, OkCupid, Bumble, Grindr and The League. In order of ranking, the most popular sites are, Zoosk, Elite Singles, Silver Singles, eHarmony and OurTime. Match.com received an honorable mention. – Consumer Rankings— October 2019.
Facebook Joins the Dating Game
The growth of dating apps is projected to be $12 billion by the end of 2020. But, some 44 percent of users ages 18- 29 and 12 percent of users ages 65+ have deleted Facebook's app. While 64 percent of younger people adjusted their settings because of privacy concerns after the Cambridge Analytica scandal, 42 percent have taken a break reports a Pew Research Center study.
As expected, when Facebook announced its new Dating app there were a lot of questions about how and what data is being used. In its defense, the company stated that "the features Facebook and Instagram users already employ the platforms as makeshift dating services, so the idea of making this a little easier isn't all that odd.
The problem is that Facebook Dating is made by Facebook, a business whose main objective is to collect personal information and monetize it. It's a seemingly useful service that also acts as a Trojan horse for the company's existing interests." – New York Intelligencer, September 2019.
Facebook executives say its Dating app is not the same as Facebook's main app but the dating appears to link to its other services, like Instagram. With ad targeting, Facebook knows your interests, behaviors, friends, groups, photos and more. Many believe Facebook is a strong adversary in the online data world because of all the data it's amassed.
Since the announcement of Libra (Facebook's cryptocurrency) Executive Director of Open Privacy, Sara Jamie Lewis tweeted:
Can't wait for a cryptocurrency with the ethics of Uber, the censorship resistance of PayPal, and the centralization of Visa, all tied together under the proven privacy of Facebook.
Others have concerns, too. Steve Dean, founder of Dateworking and host of the Modern Connection Podcast, compares the "user experience to Tinder and its profile setup to Hinge, "giving it an overall vibe that's 'disingenuous and very uncreative.'… It currently feels as though Facebook has done nothing whatsoever with its matching algorithms, leaving users with a lineup of truly terrible matches."
But, despite his criticisms, Dean admits that Facebook has a unique vantage point when it comes to data… having access to certain highly-desirable datasets has the potential to create transformative change in the industry." – The Zoe Report, September 2019.
Why I Signed-Up for Zoosk
Since I write and do research on technology, I decided I needed first-hand experience with a dating site. I purchase a three-month subscription for $59.95, uploaded photos and wrote a personal summary.
When I hit search on my mobile phone I scrolled up through some 100 profiles of men. None fit my age, location, interests and other characteristics. Then, I did an "Advanced Filters" search which includes, age, distance, religion, relationship, children, education, ethnicity, smoking, and body type. I chose a five-mile radius from where I live in New York City and stopped scrolling at 25 potential matches because none fit my specifications.
If you consider the total male population in my area within five-miles, the number of people is 60,453. If you remove females, the number is reduced to 44.50 percent or 33,551.415. For a single divorcee seeking an eligible bachelor, the number would be reduced again to exclude married, separated, and other preferences.
The result? Many photos of men ages 50+ looked like were under 40. Since you can't choose professions, the listings were unrelated to anything I listed as possible common interests. After saving and naming my filter, the next time I logged in, my filter reset to its Zoosk's default setting. Which means, wasting time reselecting the same filters each time I use the site.
Another feature, "Carousel" offers swiping through 122 men. For me, it took roughly a minute since once again, no one fit my preferences. From main profilers wearing sports jerseys (which is fine if you're playing in a game), to sunglasses (are you hiding something?) and large fish catches (maybe it's a clever way to refer to PlentyofFish?) there was no one for me.
Named one of the top dating sites, I figured they'd do a better job of matching since I deliberately selected more general characteristics. That was enough research for me.
Where's AI and NLP?
"The AI in dating apps aims to reconcile a user's idealized version of a potential partner with the reality of the types of profiles they like. The trajectory of this revolutionizes the way data will continue to be used in AI mechanisms to help humanity achieve results on multiple platforms, even in dating." — Dataconomy, July 2019.
Each dating site incorporates its own natural language processing (NLP) algorithm by aggregating, scaling and providing insights about compatible matches using facial recognition, users' preferences and rejections, questionnaires, a rating mechanism of trait importance, desirability, location, images and even zodiac signs.
But, most dating sites don't require background checks; which leads to criminal activity, scammers, imposters, fraudulent advertising, extortion scams, and the list goes on.
Jeffrey Tinsley, CEO of MyLife, a service that offers dating site subscribers background checks of potential dates, says, "Online dating can be a minefield of 'catfishes,' who are hiding by fake personas and can often have ill- intentions. When online, peer-to-peer, services don't explicitly tout a background and online reputation check on their platform, consumers should do their own due diligence and use additional platforms that provide these checks to ensure safer interactions." – The Motley Fool, October 2019.
Protect Your Privacy with Due Diligence
Many people meet online, date and are in relationships. However, the industry has so far largely avoided deep public scrutiny, particularly compared to the recent spotlight that has been aimed at other tech companies. There is a growing conversation about the ways the matching algorithms in dating sites control who sees whom, however, which may be discouraging even more diverse pairings. – NBC News Think, October 2019.
Much of the research proves that users' privacy and security are still problematic. For example, many apps ask if you want to sign-up using your Facebook account. If you do, the dating site you choose will have access to your personal Facebook details.
Then, there's "spy apps" which have been used by parents to track their children's whereabouts for years. Malware like Zscaler™ ThreatLabZ is the embedded research team at Zscaler. Its global team includes security experts, researchers, and network engineers responsible for analyzing and eliminating threats across the Zscaler security cloud and investigating the global threat landscape.
The company identified an Android app on Google Play called, "Soulmate" that was created to help people find love. But, discovered the app had additional capabilities like snooping on incoming and outgoing calls, intercepting SMS messages, stealing contacts, tracing current and last-known location, and more. Google removed the app. – Zscaler, October 2019.
Romance scammers create fake profiles, with made-up names, stock photos and steal people's personal information. Typically, they have jobs working overseas, serve in the military or are on oil rigs or ships. They lure unsuspecting victims by sending lengthy messages, initiating daily contact and sweet-talking their victims into sending or receiving money with promises of love and more.
Blockchain's Entry into Online Dating
Blockchain has moved beyond whether the technology works to identifying business models that can be disrupted. With its self-sovereign (digital) identity (SII), individuals and companies can control how personal data is being held and used. Since it's decentralized, no intermediaries or third-parties can access and sell your data. Using cryptography, the technology verifies and confirms all transactions and records them into a public ledger.
In the case of online dating, blockchain can prove that a person is a real, humanly-verified with a digital ID, ensure that a person is single, their location is identifiable, and help travelers' by-pass potential dates when they're far from home. For example, if you travel from New York to Los Angeles and are looking for potential matches, you'll be shown people that are too far away from where you live.
How Is Online Dating on the Blockchain Different?
While there are many dating apps on the blockchain, most have similar privacy and security issues since more than 50 percent of people lie on their profiles. This may explain why nearly 1 in 5 U.S. dating app users say they've had negative experiences.
The global team at Loly, a new dating app on the blockchain is working to resolve the issues of safety, security and certainty. CEO Adryenn Ashley explains: These problems are a huge priority for women. None of the current apps deliver on these needs. And dating is even more complicated for both men and women in the era of #MeToo.
"Loly solves the problem of mainstream dating apps by verifying background information, matching by specific attributes that women want, and creates the potential for long-term relationships beyond just geolocation and gender," Adryenn says.
Blockchain Moves Beyond Speculation to New Use Cases
In Deloitte's 2019 Global Blockchain Survey organizations seem less concerned about whether the technology will work and have begun to focus on what business models it may disrupt. Deloitte Consulting LLP principal Linda Pawczuk, Deloitte consulting leader for blockchain and cryptocurrency suggests that executives ask questions including:
How are blockchain-enabled processes changing the way my sector does business?
How can blockchain reshape my industry? What are the long-term objectives and strategies?
Does blockchain create the potential for new market ecosystems, what role should I play?
How do I leverage the inherently open nature of blockchain?
What opportunities does blockchain generate for cocreating new markets?
What are my biggest blockchain blind spots?
As blockchain adoption moves steadily forward on its journey from the possible to the practical, most respondents say they plan to maintain or even increase their blockchain investments over the next year. But they are expected to do that only if accompanied by the kind of pragmatic understanding that answers these and similar questions.
From SXSW2019 to today, I've participated in numerous global, national and local events. It's exciting to be a part of movement with global industry leaders, company founders, lawyers, investors, blockchain and crypto enthusiasts that welcome the debate of ideas.
Whether you work in finance, energy, fitness, healthcare, supply chain, marketing, technology, operations, publishing and many other industry sectors, get involved. It's important to get beyond the excuses of it's too complex or it doesn't affect my business.
Often, I'm asked, why do I need to do up-to-the-minute Google searches? It's a cliché, but technology moves so fast and what may have been relevant last month may have changed.
To remain relevant, stay abreast or ahead of business and industry trends by attending events, asking questions, reading and doing research. You'd be surprised to learn that even if you don't work in blockchain or other technology sectors, people will engage with you if you show you're interested. That's how I began.
___
Wendy Glavin is founder and CEO of Wendy Glavin Agency.
___
Equities Contributor: Wendy Glavin
Source: Equities News