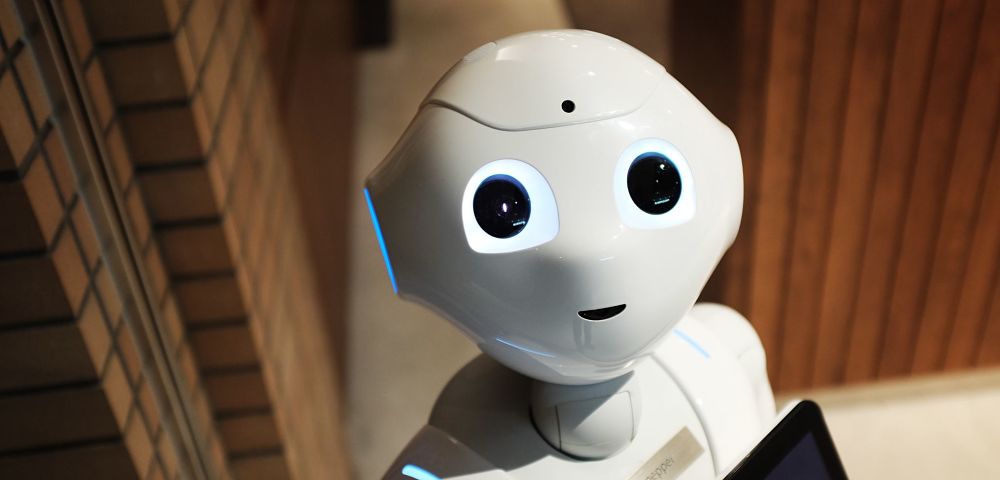 At the Strategic Investment Conference 2018, Karen Harris from Bain & Company gave a thought-provoking keynote titled, "Labor 2030: The Collision of Demographics, Automation, and Inequality."
She sees a big economic shift that began in the 1980s. Driven by demographics and automation, the world is gradually moving from a supply-constrained to a demand-constrained economy.
Harris said the combination of a demographically shrinking workforce and increasingly cost-effective automation will aggravate inequality, curb demand, and put a cap on economic growth.
This will have massive social and financial implications in the next decade.
Low-Wage Workers Will Be Hit Most
The impact of automation will be unequal.
High-wage workers will reap most of the gains and low-wage workers will bear most of the cost—at least in the short run. This is socially unstable. But in the end, it's not even helpful to the businesses that automate.
Someone has to buy the goods robots produce. As the middle and lower classes suffer, spending will decline. The result will be "demand-constrained growth." This isn't necessarily a contraction, but it will likely limit GDP growth.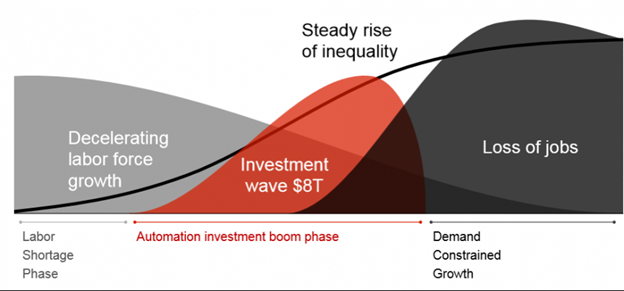 Source: Mauldin Economics
Harris thinks that technology's impact on demographics and life spans won't help us. She doesn't foresee life spans increasing fast enough to reverse or cushion the ominous trends.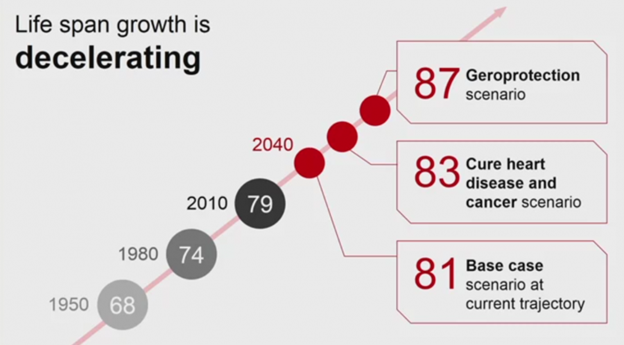 Source: Mauldin Economics
This Is Just the Beginning

Harris thinks rising inequality has only just begun.
It will get much worse and not just in the US. Many won't initially notice because rising productivity will mask some of the job losses. But eventually, job losses will overwhelm productivity.
She called this the "wild coyote" moment. It's hard to pinpoint, but probably coming in the next decade.
Now is no time to follow market momentum, Harris said. It is a massive boom similar to the dot-com and housing bubbles combined. And the reversal will be tough.
Another profound implication will be declining consumer spending.
The growth of spending by Baby Boomers will begin to decline in the 2020s. Now add in the growing inequality with up to 25% of the workforce displaced by automation, and the middle-class markets seem to disappear.
Investors and businesses should be asking, "Who will be my customers a decade from now?"

Get Live Updates from the Strategic Investment Conference 2018

Learn from 25 top financial experts, best-selling authors, and investment professionals as they discuss their best investment ideas and predictions for the economy, financial markets, and geopolitical relations. Tune in to the SIC 2018 live blog now!