As we approach D-Day for Marijuana legalization, companies are chasing listings on larger exchanges like the NYSE and Nasdaq knowing it means at least a quarter of a billion valuation no matter what they do operationally. Investors are rationalizing the industry multiples for the sector, and have been breaking the industry down into Medical Cannabis, and Recreational Cannabis. Many insiders believe these members of the lucky sperm club who end up on a major exchange will reach Unicorn status once we have a federal mandate for all states.
According to what I am seeing, in price action in many stocks like India Globalization Capital, Inc. IGC, shows the power of the cannabis industry multiple, and explains why a company like IGC would change color like a lizard over the years to capture the highest multiple they could find from telecom in the 90s to commodities in this millennium. Now the CEO lands on Cannabis, and investors chase shares like a Cabbage Patch Doll, silly but predictable, and shares in this issue have shown it can be dangerous to trade from the short side. In fact, trading from any side has been a roller coaster, but the lesson here is on display, and good reading for those new to the volatility of microcap stocks.
The best approach to investing in any new sector that germinates in microcap and OTCBB is to talk to the company, read the filings, and pursue every unturned rock.
The days of relying on other analysts are gone, and much of the information is promotional. You are better off doing your own deep dive. A simple google search on any of the players here tells a fantastic story. Below is a chart since Thanksgiving – beware these shares have already achieved and lost a very high valuation, and the beauty of trading these smaller stocks is that there is a "Bull Market" every day in microcap, you just need to keep your eyes open, and in the age of google search be prepared to do your own homework. The axiom – buyer beware – applies succinctly to any stock with a Marijuana Metric.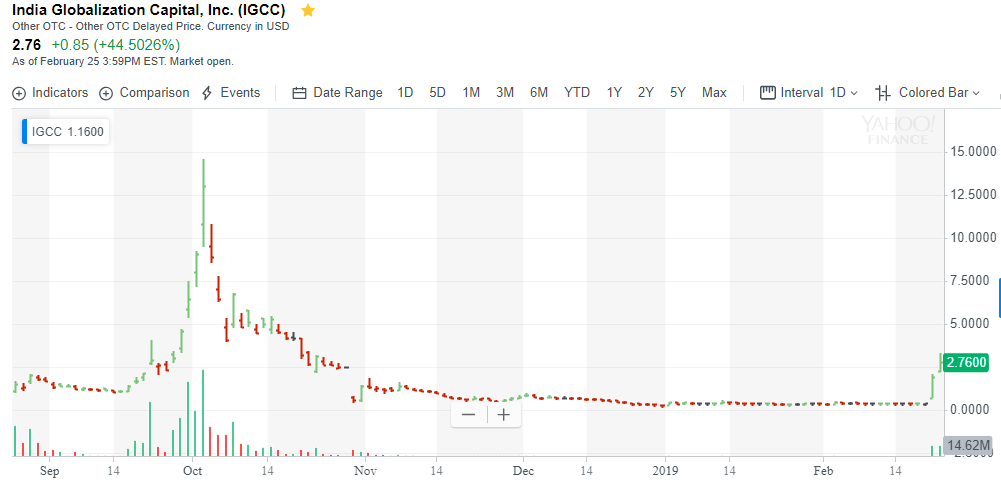 Learn more about the company here: India Globalization Capital, Inc. (IGCC)
Steve Kanaval $steve-kanaval

Portfolio Manager/Writer/ Market Analyst
You can email comments/ideas to [email protected]
Steve began his career in the Trading Pits in Chicago making markets at the Chicago Mercantile Exchange (NYSE:CME) the Chicago Board of Trade and the CBOE in the early 80's. He ran the Morgan Stanley Derivative Prop Trading for the firm specializing in Index Arbitrage. He continued his career as a Trader/Portfolio Manager for multiple Hedge Funds during the Internet Boom of the 90's managing large portfolios. Steve is known as an expert in MicroCap Technology Stocks and the emerging Digital Currency markets as a Portfolio Manager for his Family Office. Steve has managed portfolio's in volatile asset classes for 3 decades as a commodity trader, hedge fund manager and digital currency trader and miner. Steve is one of the few managers who publishes his views on the asset classes in a public forum and has published articles simplifying these complex and volatile assets for readers. His work is published on multiple sites including Bloomberg, Equities.com, Hacked.com, CCN and CapitalWatch as a paid contributor. His work includes research, journalism and archived video on important market volatility related to stocks, digital currency and other volatile misunderstood asset classes. He offers a humorous, unique insight and the related back stories and drivers for readers interested in volatility and emerging market assets.