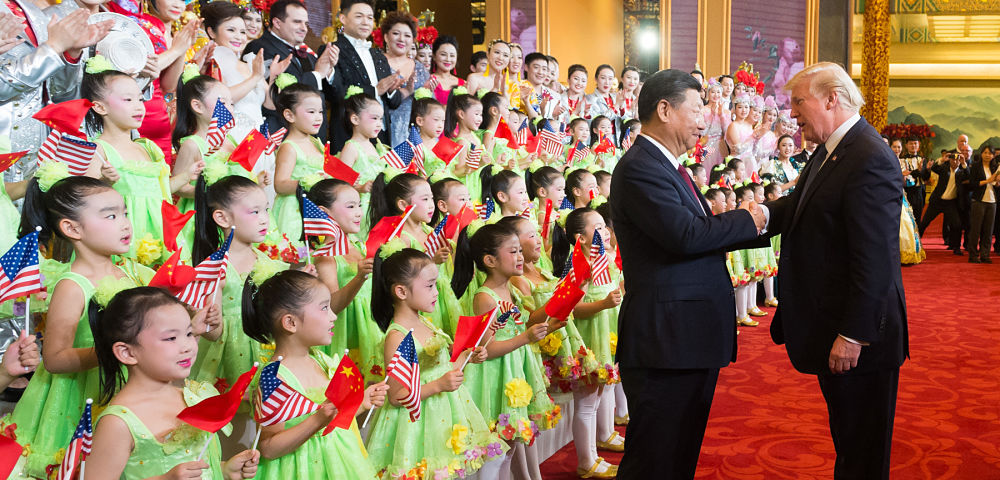 The Trump administration, frustrated by a persistent trade deficit that exceeds $400 billion, has kicked off a trade war with the goal of reducing this imbalance over time while also protecting domestic industries, technologies and jobs, notes John Eade, analyst and director of research and market strategist with Argus Research, a leading independent Wall Street research firm.
The immediate reaction in the financial markets suggests investors are critical of the tactics. Domestic and global stocks have pulled back from highs, and bond yields have declined as investors presume the U.S. economy will slow due to the tariffs.
Investors should not think that tariffs are something new. The U.S. economy already is propped up by numerous tariffs that have been in place for years, such as an 8.5% surcharge on men's leather shoes, a 20% surcharge on imported running shoes and a 25% surcharge on light pick-up trucks, among countless others.
This latest round of tariffs involves numerous trading partners, including China, Canada, Mexico and the European Union. The list of products started at 18 – such as solar panels and washing machines – and is now up to 10,000. The value of the products started at $3.6 billion and is now at $362 billion.
This is how trade wars go – higher and higher and deeper and deeper. To give some context, the total amount of goods exported and imported in a year from the U.S. is approximately $2.25 trillion. The total U.S. GDP is $17.4 trillion.
Consumers, companies and investors can count on several outcomes from a trade war. Let's start by taking a look at the impact from the tariffs that the U.S. is imposing on imported goods in order to protect domestic industries and jobs. Cases in point are steel and aluminum. Domestic steel and aluminum companies will be an improved competitive position because the imported steel and aluminum prices will be higher.
Farther up the value chain, the outcomes to industries may be less positive, though. Domestic companies that use imported steel or aluminum in their products now face higher costs. They have two options: pass the costs to consumers or suffer lower margins.
The exporters face trouble right away: the retaliatory tariffs – on goods such as soybeans – immediately place their products at a pricing disadvantage. Exporters thus face lower sales – or if they lower prices in order to compensate for the tariffs, lower margins.
Of course, given the fact that numerous tariffs have been in place for years, U.S. corporations have experience managing these challenges. They have buttons to push and levers to pull in order to offset costs. Over the long run, if the tariffs and trade policies better protect corporate intellectual property, then domestic companies in industries such as information technology and pharmaceutical & biotech may benefit.
We think it is worth pointing out that the U.S. economy is among the strongest and most diversified in the world. Further, U.S. consumers have benefitted for years from innovative imports such as automobiles and low-priced products such as apparel and televisions. With the economy humming along at an unemployment rate of 4%, we think this is an odd time to fiddle with an economic principle as bedrock as free trade.
Winners and Losers
Let's start with the losers. These are the industries that are targeted by retaliatory tariffs or are facing higher input costs. (Following each stock below, we include Argus Research's current buy, sell or hold rating.)
Retaliatory sectors include soybeans, cotton, crude oil, midsize cars, medical instruments and perfume.
* Archer-Daniels-Midland ADM — HOLD
* Deere DE — BUY
* International Flavors & Fragrances IFF — HOLD
* Ford Motor F — HOLD
Companies facing higher input costs include autos, electrical equipment, HVAC, aerospace.
* United Technologies UTX — BUY
* Johnson Controls JCI — HOLD
* Emerson Electric EMR — BUY
* Ingersoll Rand IR — BUY
The winners are industries for which the Trump administration has imposed protectionist tariffs: steel, aluminum, tobacco, routers and modems, cement, cigarettes, solar cells.
* Nucor NUE — BUY
* Alcoa AA — BUY
* Altria MO — HOLD
* First Solar FSLR — HOLD
Other winners may be industries or sectors of the market that don't have high export components to their businesses. These include retailers, regional banks and small-caps. Companies we like include:
* PNC Bank PNC — BUY
* Home Depot HD — BUY
* Abercrombie & Fitch ANF — BUY
* Aqua America WTR — BUY
* Bio-Techne TECH — BUY
* Charles River Laboratories CRL — BUY
We anticipate a mixed impact on the information technology sector. The technology supply chain is highly interconnected across borders. The iPhone, for instance, uses semiconductors made by U.S. companies and manufactured here and abroad, assembled in Taiwan, and using a casing made by an American company that often is manufactured abroad.
Given these interconnections, tariffs and counter-tariffs would likely slow the flow of goods across borders, reduce the pace of innovation and degrade the technology economy by introducing artificial barriers. Tariffs would also add to the cost to build and the price of high-demand consumer goods (mobile devices) and network and computing elements (such as switches and servers).
One of the technologies that the U.S. is trying to protect and China is trying to dominate via its "Made in China 2025" is 5G wireless. The reason 5G is so vital is it goes beyond mobile devices and will be the connectivity mode for machine to machine (M2M), smart factories and cities, connected healthcare, IoT, and right up through connected robotics and AI.
Qualcomm QCOM, which has been an IP leader in all mobile iterations so far, also has strong IP position in 5G. The fact that CFIUS and the DOJ stepped in to block the Broadcom AVGO purchase of Qualcomm says a lot about how important this technology is perceived to be.
Other plays on 5G include Apple AAPL and Cisco CSCO, as the internet protocol core and 5G will be similar. Qualcomm, Broadcom, Apple and Cisco are rated BUY.
Also in the IT sector, Microsoft MSFT has a Chinese cloud technology subsidiary and Alphabet GOOGL has some research centers in China. One of the ostensible reasons for imposing the tariffs was to end forced technology transfers from American companies. Microsoft and Alphabet are rated BUY.
How long will this trade war last? What will be the end result? History attributes the start of the Great Depression in part to the Smoot Hawley Tariff, which raised prices on over 20,000 imported goods in January 1930.
While the U.S. economy and market appear stronger than they did some eight decades ago, we think it is worth noting that the current expansion is longer-than-average and stocks are no longer trading at steep discounts on valuation. In other words, the tariffs, along with rate hikes and inflation pressures, ultimately could conspire to end the current U.S. economic expansion.
This article was originally published by MoneyShow.com: Founded in 1981, MoneyShow is a privately held financial media company headquartered in Sarasota, Florida. As a global network of investing and trading education, MoneyShow presents an extensive agenda of live and online events that attract over 75,000 investors, traders and financial advisors around the world.