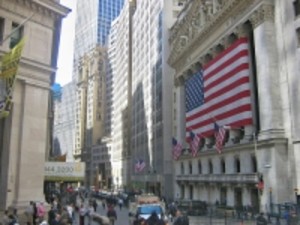 Just so we are clear. The market has a 25% to 50% pullback coming in 2015, 2016 and into 2017. The highs are in for the next 2 years.
I noticed the flood of content last week, with many opinions, and I think it is important to be clear on what direction the market is headed. You really cannot pick stocks (in any sector) unless you have a clear picture in your head about market direction.
Now stock picking is its own story, even during this 50% decline. Each and every day you will have individual stocks that rise 50% in a day — it happens every day — and will happen this way for the next 100 years.
Other important facts. The current market we watch on CNBC or Bloomberg is traded by professional traders and a small number of investors. Shareholder count is as low as it has ever been in my career and high-frequency trading (HFT) is an important part of liquidity and is not going away. HFT will participate in the upside and the downside and they will create the most commission and make a requisite percentage of the money during all stock moves.
Mega-cap stocks will be news items, but the retail public will make money in Small Cap and Emerging Sectors like cannabis stocks, not in FANG.
The current bull market started in February 2009 and has a logical reversal after its 7 year run. Not a correction, a reversal, where the bull market gives back 50% of its move during this two- to three-year reversal. The action we have seen since the lows put in this week are a head fake. We will not make new highs, we will continue lower from here, and we will move further away the highs put in May 2015. The highs are already in most major indices, the rally we are seeing is a head fake and markets are going lower.
This is not bad news; it is just a different mentality for those of you who have not traded stocks in this bear market. Most market watchers are momentum stock traders and observers. Now you need to be stock pickers as we decline, and this is OK. This a natural evolution that one takes as you observe markets decade after decade.
Enjoy all markets may they be bullish or bearish, but understand where we sit in this moment in time.
DISCLOSURE: The views and opinions expressed in this article are those of the authors, and do not represent the views of equities.com. Readers should not consider statements made by the author as formal recommendations and should consult their financial advisor before making any investment decisions. To read our full disclosure, please go to: http://www.equities.com/disclaimer