​The Growing Addressable Market for Epidiolex
Stephen L Kanaval Follow |

A recent study published in The American Journal of Psychiatry gave a big vote of confidence in cannabidiol (CBD). In a double-blind randomized placebo-controlled trial, CBD was used to treat the cravings and anxiety of recovering heroin users.


The trial recruited 42 men and women recovering from opioid use disorder. Half were randomly given two doses of CBD pills and the rest were given placebo. To test their anxiety and cravings, researchers made the recruited volunteers watch short videos that either depicted neutral imagery or drug paraphernalia imagery like syringes and baggies of powder. The group of volunteers taking CBD were found to have less cravings in interviews and in objective measurements.

"A successful non-opioid medication would add significantly to the existing addiction medication toolbox to help reduce the growing death toll, enormous health care costs, and treatment limitations imposed by stringent government regulations amid this persistent opioid epidemic," said lead author Yasmin Hurd, PhD, a professor of Neuroscience, Psychiatry, and Pharmacology and Systems Therapeutics at the Icahn School of Medicine at Mount Sinai.

This trial is astounding on a cultural level because it depicts CBD or cannabis, which was once widely notoriously labeled as a gateway drug, to be a potential healing pathway for people to stop using drugs. Furthermore, it also demonstrates how the government's intervention and blockade against the medical communities' testing of cannabis' therapeutic properties, in parallel to the government's earlier support for the opioid industry, has seriously jeopardized the health of our nation.

"The study definitely demonstrates that cannabidiol can have a significant effect on certain aspects of opioid use disorder," Ziva Cooper, PhD, the research director of the Cannabis Research Initiative at UCLA, unaffiliated with this study, told the blog Gizmodo. "And what's really important is that this is a replication of earlier work, on a much smaller group, done by the researchers."
Epidiolex could potentially reach an additional 1.7 million
Of course, while this study is important, it is still an exploratory study. Yet, one important detail in the study that has not received much attention was that the CBD used in the study was actually GW Pharmaceutical's FDA-approved Epidiolex.
This purified and synthetic form of CBD has been well covered across the industry and broke through as the first cannabis derivative to receive FDA approval for seizure patients based on studies in over 2,000 patients with Dravet Syndrome and Lennox-Gastaut Syndrome. Those trials were so impressive that Epidiolex was given schedule V drug status, which is its least restrictive qualification enabling patients to face zero barriers in refills beyond a doctor's orders. To compare, similar CBD chemical formulations Marinol, used to treat chemotherapy-induced vomiting, and Syndros, the liquid form of Marinol, are categorized as Schedule III and Schedule II drugs, respectively.
The excitement of Epidiolex's scheduling was muted by the addressable market of patients suffering from these rare syndromes, which in total was estimated at 30,000. However, the recent opioid use disorder results might open up a much larger market for the drug.
Furthermore, this bit of news was happening while GW Pharma announced positive Phase 3 results for the drug's treatment in reducing seizures for tuberous sclerosis complex or TSC. TSC can cause seizures in 90% of the 50,000 people who suffer from the disorder and more than half of those have been resistant to current epilepsy drugs on the market. The company reported that a 25-milligram dose of Epidiolex reduced frequency of seizures by 48.6% compared to 26.5% in the placebo. A supplemental application is in the works right now, and approval for TSC treatment could arrive by Q4 2019.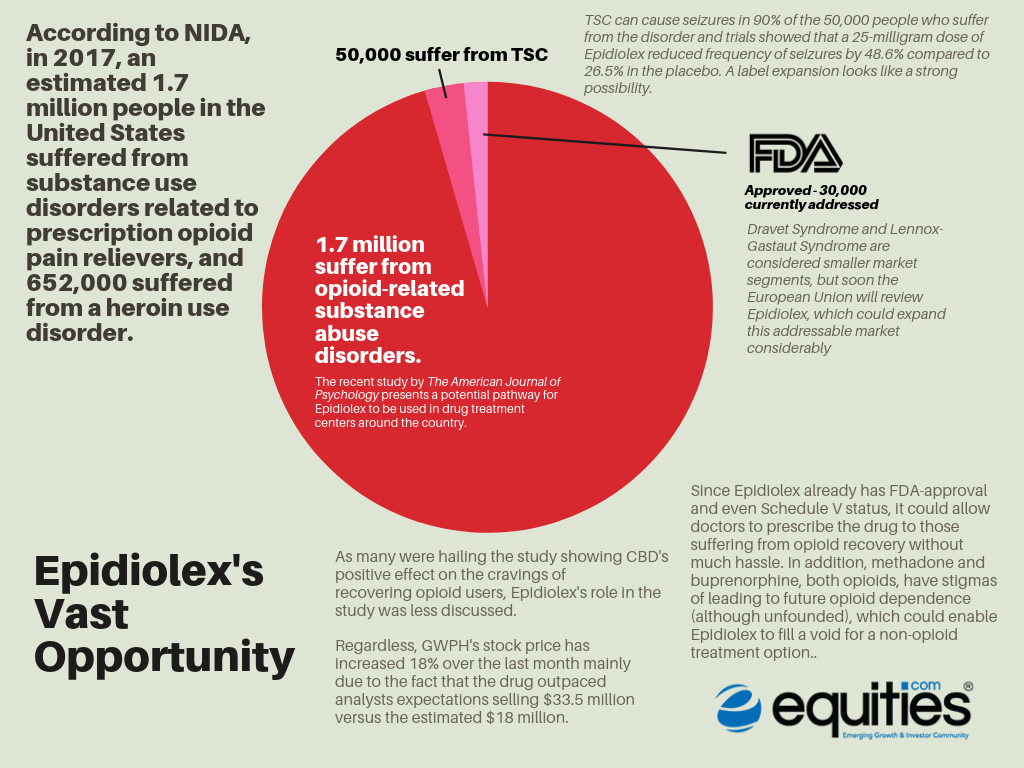 DISCLOSURE: The views and opinions expressed in this article are those of the authors, and do not necessarily represent the views of equities.com. Readers should not consider statements made by the author as formal recommendations and should consult their financial advisor before making any investment decisions. To read our full disclosure, please go to: http://www.equities.com/disclaimer.
You May Also Like
| Symbol | Last Price | Change | % Change |
| --- | --- | --- | --- |
| AAPL | | | |
| AMZN | | | |
| HD | | | |
| JPM | | | |
| IBM | | | |
| BA | | | |
| WMT | | | |
| DIS | | | |
| GOOG | | | |
| XOM | | | |
| BRK.A | | | |
| FB | | | |
| JNJ | | | |
| WFC | | | |
| T | | | |
| NFLX | | | |
| TSLA | | | |
| V | | | |
| UNH | | | |
| PG | | | |