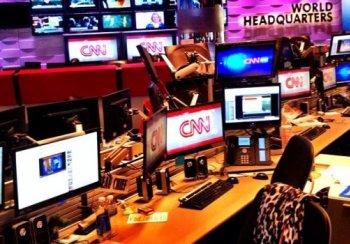 These days, it really does feel like cable news is entirely garbage. Every time I turn on CNN, MSNBC or Fox News I wonder if I am gaining anything of value, if I'm learning anything about current events, or simply wasting minutes of my life staring at imbeciles yelling at each other.
But if you are one of the millions of people who still regularly learn about the world through cable news, hopefully this guide can help you find exactly what you're looking for, and more importantly…what to avoid.
Fox News
Fox News is the brainchild of Rupert Murdoch, an Australian media mogul in charge of News Corp. It is often hailed as the counterbalance to the left wing bias of the American media. The president of the network is Roger Ailes, a former media consultant to Richard Nixon, Ronald Reagan, and George W. Bush. Fox News offers a conservative slant on everyday news and has been accused by President Obama of being a wing of the Republican Party. They have had their share of controversies, but they still remain the highest rated cable news network in the nation…somehow. The primetime anchors on the network are Bill O'Reilly, Megyn Kelly, and Sean Hannity.
MSNBC
A subsidiary of NBC Universal, MSNBC serves as the polar opposite to Fox News. MSNBC offers a liberal slant on everyday news. But unlike Fox News, they don't deny it. MSNBC's slogan is "lean forward", a reference to the fact they consider themselves a progressive news station. Fox News' slogan is "fair & balanced," which could easily be argued to be a flat out lie. But when MSNBC says they lean forward, they really mean it. In the last week running up to the 2012 election, MSNBC ran zero negative storieson Obama, and zero stories that portrayed Romney in a positive light. MSNBC's primetime anchors are Rachel Maddow, Chris Matthews, and Lawrence O'Donnell.
CNN
CNN is a division of Time Warner Cable created by media mogul Ted Turner in 1980. It was the first channel to provide 24-hour news coverage. Being in my 20's, I have no idea how good the channel was when it started, but it's just terrible now, and unlike its many competitors, it's not due to bias. Quite the contrary, CNN is a middle-of-the-road news network, but their coverage of news items is pathetic. They fixate on one news item and talk about it for hours. The most notorious recent example is their coverage of the Malaysia Flight that went missing in March 2014. Every day for a month, the only thing CNN talked about was this damn plane. Their putrid news coverage regularly draws the ire of satirist Jon Stewart.
Yet, while CNN does cover up-to-date news very poorly, they admittedly do have some excellent programs. Fareed Zakaria GPS is perhaps my favorite news program on any network. Since Larry King left, this is CNN's primary bright spot, and Anderson Cooper isn't bad either. Yet, that's only two hours of a 24-hour news network…not a great record by any standard.
HLN
HLN operates as a sister network of CNN and was actually originally named CNN2, but was shortly changed to HLN after its inception. Originally, the network aired 30 minutes of headline news over and over throughout the day so that anyone could tune in at any time of the day and get the headlines. However, HLN has moved away from that model to a less intellectual one that features show about what's trending on social media. As you might expect, that means the network has become more focused on gossip. The network is also home to the perennial earache of Nancy Grace and Dr. Drew Pinsky.
Al Jazeera America
The news station launched less than two years ago in August 2013. It is a spinoff of the legendary Middle Eastern news network that is still headquartered in Qatar. Al Jazeera actually provides very good news coverage, and as far as I can see, it strives to be unbiased. Their flagship show, America Tonight, is perhaps their best and most informative show. In my opinion, this is probably the highest quality news show you are going to find on any cable news station.
All in all, I would recommend staying away from cable news altogether if possible. You can get much better information about current events from the New York Times, Washington Post, Wall Street Journal, or LA Times. But the next time you're stuck at an airport or biding time at a relative's house, hopefully this guide proves helpful.
DISCLOSURE: The views and opinions expressed in this article are those of the authors, and do not represent the views of equities.com. Readers should not consider statements made by the author as formal recommendations and should consult their financial advisor before making any investment decisions. To read our full disclosure, please go to: http://www.equities.com/disclaimer