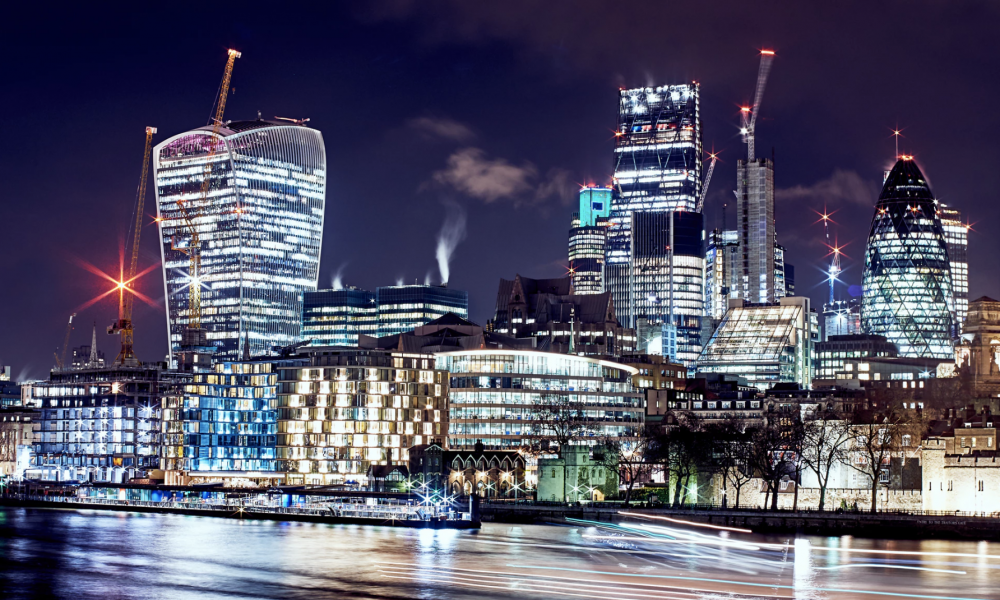 By Chris Skinner for IRIS.xyz
As I walk around The City, I'm often finding new buildings, new developments and major erections rising around the Square Mile. On that latter note, I don't mean Boris Johnston, but major new office blocks.
Obviously, with Brexit, a lot of people would think that this would not be the case because Dublin, Frankfurt and Paris, would be taking over the financial business from London. The City of London does not believe that this is the case, and are full-on building a vision over the next few decades of a car-free, densely packed financial center that is at the heart of global commerce. In fact, it's more at the heart of commerce than it was yesterday and is today.
Floor space will increase by 50 percent in the next decade, from 1.25 million square meters to 1.8 million in 2026. This is to accommodate 50 percent more people from 2,000 people per hour to 3,000 using Bishopsgate. By 2026, 20,000 more people will pass through Liverpool Street daily and 5,000 more through Fenchurch Street stations.
By 2044, traffic will be reduced by 50 percent and freight vehicles by 30 percent. 10 kilometers of new pedestrianized streets will be open as a result. Here's a summary of the key challenges The City faces and why they're doing this:
The City is expected to accommodate a significant increase in pedestrian numbers over the coming decade which, when combined with more development and changing modes of transport, will greatly affect:
Daily life and demands of the City's streets and spaces
Existing and new movement patterns
Environmental quality
Actual and perceived security of these busier spaces
Ability of the area to accommodate the impact of the development
In summary, the City faces a number of challenges over the coming years that will be affected by;
Increased pedestrian movement and working population
Declining environmental quality and lack of open space
Changes in development construction, servicing demands and working practice over the coming years
Increased pedestrian movement and working population
More people
The working population is set to increase by around 60-80,000 people over the coming decade, with the arrival of Crossrail at Liverpool Street station bringing more workers in to the City. The strategy will seek to support this increased working population with safer and more accessible footways and open spaces, with better and more logical crossing points and connections.
Increasingly busy streets
Pedestrian footfall is the lifeblood of the City of London, historically offering engagement and interactions supporting the financial and insurance industries. With an increasing pedestrian population, a better balance needs to be found between vehicle and pedestrian space in order to ensure safer footways and crossings points. Such measures will support London's "Vision Zero" policy which aims to achieve a highway network with no fatalities or serious injuries involving road traffic. Outside the busy working week, the vision should consider measures to maximize the City's potential to be a destination at weekends.
Ever developing skyline
The development floorplate is predicted to increase by around 50%, meaning a greater density of increasingly taller buildings within the City Cluster. More viewing terraces and rooftop gardens will provide an increased number of attractions and architectural destinations and place greater demands on the adjacent ground-floor spaces in terms of retail attractions. Such developments will also require more secure protection of crowded places as well as required microclimatic mitigation measures to protect pedestrian comfort and safety in relation to wind and shading. It is not certain that without radical changes to the use of the area's streets and spaces that the City Cluster can continue to accommodate the impact of the future development.
Declining environmental quality and lack of open space
More precious urban spaces
Urban open spaces form a vital release valve and counterpoint to the busy streets and reinforce the sense of collective community and place within the Cluster. Such spaces will become more pressurized and more precious as a means of open space relief, escapism and enjoyment. Heritage spaces in the form of historic churchyards will continue to co-exist with contemporary architecture and should be enhanced.
Environmental quality
Many of the streets within the Cluster present higher than acceptable air pollutant and contaminant levels which result in poor environmental conditions for pedestrians and cyclists. A significant benefit of adopting the City Cluster Vision would be to achieve air quality improvements, with the perception and quality of spaces increasing through such measures as vehicle restrictions and urban greening initiatives in line with the City's Transport Strategy and Air Quality Strategy.
Maintaining /Protecting a World Class Destination
The City Cluster is a global destination for business and increasingly for visitors exploring its ever evolving skyline and spaces. It must ensure that the growing expectations from incoming tenants and workers are met, especially where demographics are rapidly changing, in terms of the quality and variety of spaces as well as enhancing the leisure and cultural offer available on site.
Changes in development construction, servicing demands and working practice over the coming years
Flexible streetscape management to enable construction
A flexible approach to the management of streets, including any pedestrian priority streets, should be considered for those streets affected by construction traffic for ongoing and proposed construction sites. Potential temporary opening of such streets where required to manage the impact of construction traffic may need to be considered subject to further project specific requirements.
Flexible working, change in hours and use of spaces
The nature of business and where it takes place is beginning to change with the introduction of new types of building design and meeting spaces, allied with new technologies which allow for different modes and times of working. A new flexibility in external spaces, such as providing the infrastructure to support these new ways of working, to reflect and respond to such changes will ensure the public realm remains attractive and appealing to business activities.
Impact of servicing and delivery vehicles
Critical to the success and efficiency of any urban area, the impact of an increased number of delivery and servicing vehicles on the streets of the Cluster provides an ongoing challenge to the capacity, safety and sense of place. Measures such as consolidation (including 'virtual consolidation' of preferred suppliers, bunching orders, and nominated carriers), controlled delivery times and more sustainable modes of transport in the years to come may significantly alter the balance away from congested streets. Any alterations and changes to current delivery practices that would impact existing business deliveries will require careful consideration and further consultations on a case-by-case basis. The implementation of the Transport Strategy and City Cluster Vision will work in tandem to address how these practices might change.
There's a lot more detail in this vision document if you want to know more: City Cluster Vision: an exceptional urban environment for a thriving world-class destination
___
Equities Contributor: IRIS.xyz
Source: Equities News