In 2017, The Economist ran a story about how data has surpassed oil as the world's most valuable resource.
Makes sense, right?
The 20th century's most powerful companies got rich selling oil. John D. Rockefeller's Standard Oil was the first ever $1 billion company.
Many of today's super-firms have gotten rich collecting and selling personal data. Amazon AMZN, Google GOOG, and Facebook FB all earn a BIG chunk of their profits from leveraging and selling users' data.
These are the third, fourth, and sixth biggest publicly traded companies on earth.
This year Google will earn over $100 billion from selling online ads. It has mastered the business of collecting data and using it to figure out who you are and what you're likely to buy.
But here's the catch.
In the Data Business, Trust Is Everything
If you want to see how a loss of trust can ruin a company, look no further than Facebook.
Since going public in 2012, Facebook stock has shot up 400%. For years, it was a Wall Street darling.
In April, the love affair ended with a thud.
Facebook admitted that the personal data of 87 million users had been sold to political consulting firm Cambridge Analytica. The worst part is that it's been done without users' explicit permission.
This data breach potentially helped Donald Trump win the presidency.
Facebook stock plunged 17% on the day of the news. It marked the biggest single-day wipeout of shareholder value in US stock market history.
Things only got worse from there.
In the past four months, Facebook stock has plunged 35%—erasing $221 billion in wealth. Take a look at this chart of Facebook stock. It is ugly.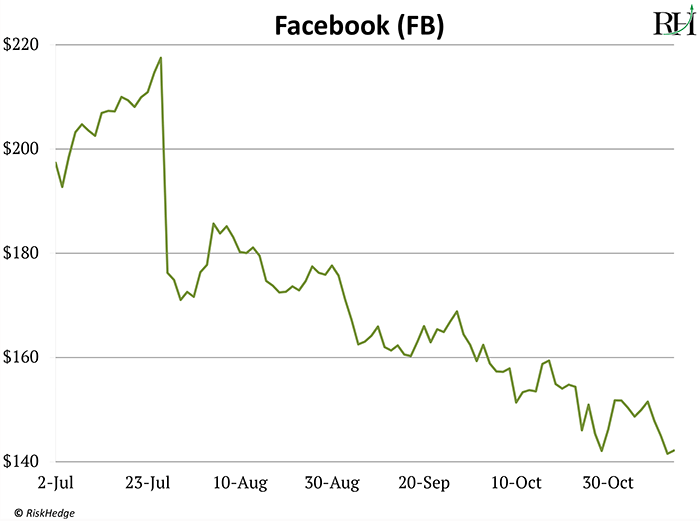 The company's reputation is in shambles. A recent study by Fortune found Facebook is the least trustworthy of all major tech companies when it comes to safeguarding data.
Now Everything Facebook Does Is Met with Skepticism
For example, have you heard about its new video-calling device—The Portal?
You probably have not, because the major media have practically ignored it.
A Wall Street Journal review summed it up best: "I couldn't bring myself to set up Facebook's camera screen in my family's home. Can you blame me when you look at the last 16 months?"
Facebook's data breach has been a total disaster.
98% of its revenue comes from selling online ads. Facebook can only do it effectively if people continue to give their personal data. When nobody trusts Facebook, the company is dead in the water.
Facebook's user growth numbers in the past two quarters have also been terrible. For the past two years, it has added an average of 46 million new users every quarter. Today it's half that.
How Much Would Mark Zuckerberg Have Paid to Avoid This Catastrophe?
Facebook has hired the equivalent of a small city to shore up its cybersecurity. In just six months, its cybersecurity headcount has doubled to 20,000 workers!
But it's too little too late. Once you lose the trust of your customers, almost nothing will get it back.
As such, no cost is too high when it comes to protecting your customers' data.
This Is Why I Love the Booming Cybersecurity Business
Smart companies are spending billions to upgrade their digital defenses. Cybersecurity spending will hit $114 billion this year, according to top IT research firm Gartner. Demand for cyber services is set to explode by 70% in the next five years.
The best thing about cybersecurity is that there's always demand for it. Hackers are constantly finding new ways to exploit vulnerable systems. So companies must pour out big money to get ahead of them.
Every company—big, small, domestic, global—needs reliable cybersecurity today. You can't run a business without it.
For this reason, growth in cybersecurity is one of the top disruptive trends that will define the next decade.
It is not surprising that the largest cybersecurity ETF (HACK) has beaten the S&P 500 close to 5x in the past year. See here: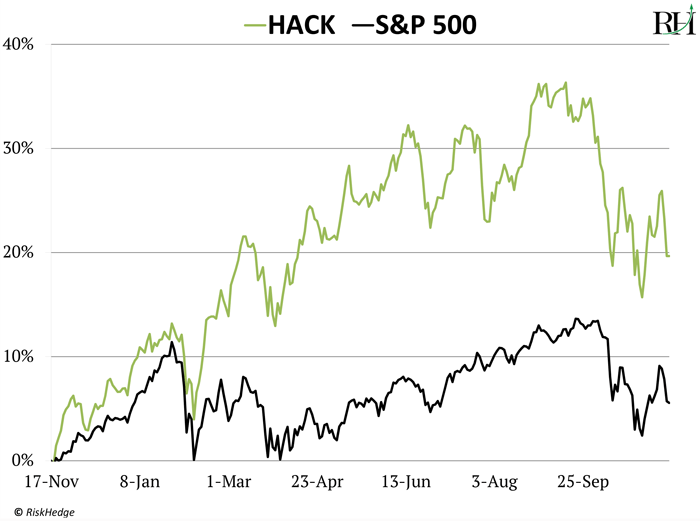 How Do We Make Money from It?
My favorite stock in cybersecurity is Fortinet FTNT—here's why.
My contacts in the cybersecurity industry tell me many companies suffer from one key problem. They use many different cybersecurity products, which leave holes in their defenses that hackers can exploit.
A report from Cisco CSCO found that 46% of firms use more than 11 different cybersecurity products.
Fortinet's Security Fabric platform solves this.
It combines dozens of cyber solutions into a single product. You get network, email, web, cloud, mobile security, and much more… all in one.
Gartner just named Fortinet as a cybersecurity market leader for the ninth time in a row. The company's revenue has exploded 135% in the past four years. And its stock is up 140% in the past two years.
Have You Missed Out on Amazon, Google, and Netflix-level Profits of 500%+? Here's Your Second Chance
If you're looking for stocks coiled for big gains, grab my recent special report The Great Disruptors: 3 Breakthrough Stocks Set to Double Your Money.
In it, you'll find in-depth research and exact stock tickers along with our buy prices and target prices, so you can invest confidently today.
These stocks will hand you 100% gains as they disrupt whole industries. Claim your free copy here.