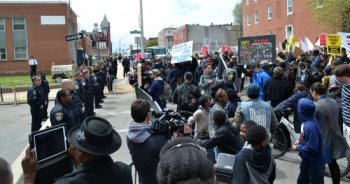 Freddie Gray's death last month brought race and poverty back into the headlines of news outlets across the world. Numerous studies have examined the fingerprints of racism in our social strata. In the past, these have been factors that we could choose to ignore, or of which some of us might have been entirely ignorant. But this is becoming increasingly difficult, as many studies are illuminating the issue for more and more people. One recent study indicates that Baltimore is the worst spot in America to grow up as a black male. Studies have shown that more than 30% of black men in their 20s are currently in prison or on parole.
These events don't occur in a vacuum, nor are they the result of an inherent tendency toward criminal behavior within this population, as many news outlets seem to want us to believe. On the contrary, they are the result of myriad factors, especially poverty. But the buck doesn't stop there, as this poverty results from decades of policy aimed to deprive African Americans of social rights and economic mobility. This has been argued powerfully elsewhere, so I will leave it to the reader to look up the concrete evidence of systemic racism in housing and other important social sectors.
---
---
Racial Issues Hit Struggling Cities in the Pocketbook
I want to talk about cost. In a city like Baltimore, where city budgets can scarcely keep up with social programming, the city cannot afford to pay out $5.7 million dollars in settlements for citizen abuse by police officers. At present, roughly 10% of African-American males under age 35 are in prison, or 10,000 black male prisoners for every 100,000 black males living in the US. At the height of Apartheid in South Africa, there were an average of 851 black male prisoners for every 100,000 in the general population. It should go without saying that a rate of imprisonment more than 10% that of the South African Apartheid movement is highly undesirable from a social perspective. But the economic factors that result from this reality are weighing down the American and world economies.
The black experience in America is diverse and multi-faceted. But a great percentage of African Americans, specifically those who live in inner cities, experience the brunt of statistics like these every day. But not only are blacks incarcerated at high rates, the social programming offered them is very slim when they are not in prison. Historically, home loans weren't provided to "Negroes and other undesirables" (to quote federal housing code from 1934). With the other hand, Federal subsidization of housing served to concentrate black populations into tiny geographic areas.
Then the schools that represented these individuals suffered, because American schools are paid for using district tax dollars. As property values and employment plummeted in black neighborhoods, so did the taxes they paid to the city. Schools serving these areas summarily lost funding, and new generations of low-education, unemployable African Americans grew up in increasingly poor and hostile conditions.
A Social Evil that's Becoming an Economic Disaster
I am here to suggest that these conditions cannot continue. It should be enough to point out the social evils that contribute to the state of these realities, but the matter may be forced simply because it is so expensive. Politicians and lawmakers are gradually learning that an educated population creates a healthy economy. Homeownership makes a strong tax base that cannot be exploited. These opportunities make people employable, and keep them out of prison. Employable people don't need as much in the way of social handouts. When all of these things are in place, citizens can focus on retirement, using Betterment and other services, and health standards.
But today, Americans are stuck with the bill of paying for all of this. And we simply can't afford it any longer.
DISCLOSURE: The views and opinions expressed in this article are those of the authors, and do not represent the views of equities.com. Readers should not consider statements made by the author as formal recommendations and should consult their financial advisor before making any investment decisions. To read our full disclosure, please go to: http://www.equities.com/disclaimer