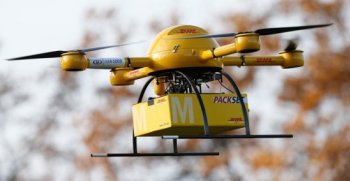 Poachers killed 1,215 rhinos in South Africa in 2015, which is up from 333 in just 2010. The poachers have gone unchecked because of the immensity of the grassland ranges. However, the Polytechnic University of Catalonia in Spain is working to design a drone that would allow park rangers to oversee a grazing crash of rhinos and report any signs of poachers.
This is just one of many areas where scientists, businesses, and corporations are turning to drones as a solution. Amazon.com, Inc. (AMZN) has already built package delivery drones. The same is true with DHL and the Canadian Royal Mail Company. Drones can improve aspects of business like safety, customer-service satisfaction, and maintenance efficiency. All these elements were on display at the First Annual Drone World Expo in San Jose, California.
The exhibit hall floor featured 75 exhibiting companies, and the event attracted 2,120 commercial drone professionals. Justin Miller, Co-founder of AirNest, said, "It was unbelievable how many people came through our booth these past two days. We were pleasantly surprised how many cinematographers were here, and many were very interested in our product. We are based in Pennsylvania so it's great to be in the heart of Silicon Valley and meet with so many key players."
Alex Moss, Communications and Account Manager of PrecisionHawk, said, "The best part about Drone World Expo is that everyone in the industry is represented here, giving us an opportunity to do business with both the attendees and the other exhibiting companies." In addition, to the ability to mingle with many key players and entrepreneurs in the sector, the expo had a Live Flying Demonstration Area where companies were given the floor to showcase their newest drones.
However, the greatest success of the event may have been the panel moderated by Max Motschwiller from Meritech Capital on acquiring funding. Several of the most prominent drone investors from Silicon Valley presented including Jonathan Downey from Commercial Drone Fund, Gareth Keane from Qualcomm (QCOM) Ventures, Len Ferrington from Summit Partners and VirajTipnis from SkyFund.
With that type of clout in the room, and the overall enthusiasm over the potential for huge growth in the drone industry, it should come as no surprise The First Annual Drone World Expo was by all means a huge success. At the expo and all throughout 2015, drones have dominated the news cycle and conversations around the watercooler. However, we've only just begun to see the way drones and drone technology will be entrenched in nearly every facet of our lives.
DISCLOSURE: The views and opinions expressed in this article are those of the authors, and do not represent the views of equities.com. Readers should not consider statements made by the author as formal recommendations and should consult their financial advisor before making any investment decisions. To read our full disclosure, please go to: http://www.equities.com/disclaimer