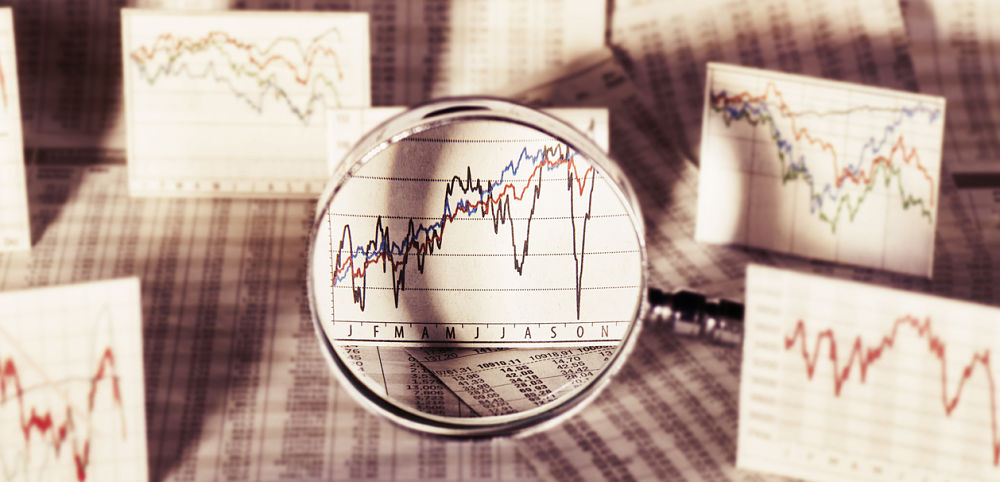 As stocks continue to notch new all-time highs, it makes sense to take a step back and remember what exactly has helped propelled equity markets higher.
In one word … profits.
We have been advising our subscribers to be bullish on the U.S. stock market (and buy the dips) since last November. Our thesis has been that economic growth is accelerating, and that this acceleration would increase corporate profits. This is what has occurred.
Which brings us to a recent story on MarketWatch.
"Third-quarter earnings season kicked off this week, with investors hoping for signs that the record-highs in major indexes are justified by the level of activity in corporate America," the author of the article writes. "The good news is there may be more wiggle room on this score than investors realize."
Sure, there may be some "wiggle room." But not much. The reason why has everything to do with the U.S. economic cycle.
Here's why.
Corporate profit growth tracks the broader U.S. economy. U.S. GDP slowed from 1Q 2015 to 2Q 2016. Year-over-year GDP growth fell from 3.8% to 1.2% over that period. At the same time, earnings growth contracted for five straight quarters starting in the second quarter of 2015. No surprise there.
Here's the key point.
As the U.S. economy rebounded off its 2016 lows, S&P 500 earnings snapped back too. Year-over-year earnings growth peaked in Q1 2017 at 14.5%.
So, while this profit growth has been bullish for U.S. equity investors throughout 2017, it also makes for an increasingly tough set-up for earnings heading into 2018. In other words, the earnings "comps" – the numbers against which year-over-year growth is measured – get very difficult in the coming quarters.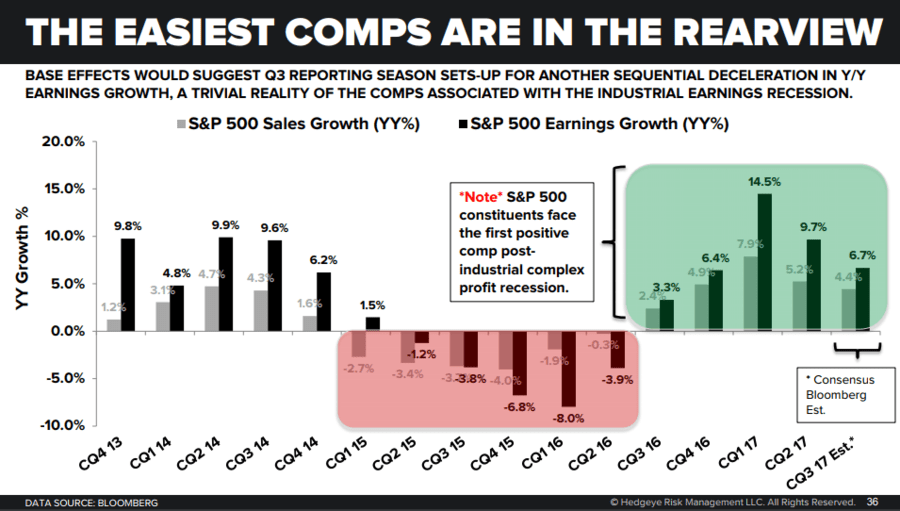 SO WHAT DOES THIS MEAN FOR INVESTORS?
Remember, the rate of change is what matters for prudent asset allocation. While the most consequential macro factors – economic growth and inflation – will continue to be supportive of equity prices through early 2018, slowing earnings growth suggests investors should be dialing back their bullishness into early 2018. (See our proprietary Asset Allocation above for more on that, particularly how it's changed over the last 3 to 6 months.)
Hedgeye CEO Keith McCullough put the key takeaway simply on a recent institutional conference call:
"I would not want to be as long as we've been, or as aggressively bullish as we've been on all stock market pullbacks, ahead of Q1 reporting season in 2018."
More to be revealed.
By Robert Milburn of Hedgeye Risk Management
This is an excerpt from this week's Market Edges, a weekly newsletter from Hedgeye which contextualizes key market and economic data within big picture macro trends. Click here to get a free month.
DISCLOSURE: The views and opinions expressed in this article are those of the authors, and do not represent the views of equities.com. Readers should not consider statements made by the author as formal recommendations and should consult their financial advisor before making any investment decisions. To read our full disclosure, please go to: http://www.equities.com/disclaimer
DISCLOSURE: The views and opinions expressed in this article are those of the authors, and do not represent the views of equities.com. Readers should not consider statements made by the author as formal recommendations and should consult their financial advisor before making any investment decisions. To read our full disclosure, please go to: http://www.equities.com/disclaimer