As everyone knows, the Elves are died-in-the-wool Oklahoma State fans, even though their favorite color is blue. This week, they are all wearing black as OSU lost their first game of the season to an impressive Iowa State team. I told them that they did not have time for football and to get their head in the game. They looked quizzically at me when I said that, but it is often difficult to know when an Elf is not looking quizzically...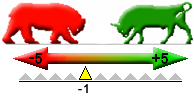 In spite of the Elf sighing, moaning and droid-type chanting, I was able to get this week's investor sentiment and oversold/overbought oscillator analysis from them: "The Bull-to-Bear ratio is 2-to-1 in favor of the Bears. The red line (Short Sell) has bottomed and trending higher toward the oversold area, but it is a long way from being oversold. The S&P 500 (green shaded area) is now trending lower. Although this could be an indication of a broader move lower in the market, it is not recommended to assume short positions have less risk on the table. If the black line gets close to crossing the red line, consider this a warning about a possible significant sell-off into a sharp bearish correction."
On a serious note: We offer our heartfelt condolences to the families and friends of the two OSU basketball coaches who lost their lives in a plane crash last week.
Each week, I go through an exercise where I consider whether or if I should rebalance my portfolios. Below is my investment bias for the upcoming week:
---
---
At the end of this year I will post a 12-month forecast of the market. I do this once or twice a year just to provide food-for-thought. I ran the forecasts for the next couple of years today, just to see how things were shaping up. I am not going to show you the forecast... not until late December, but I will tell you this... There is a very strong suggestion that the DJIA could easily move up above the 14,000 level, but the volatility could be far worse than we have seen this year, with more than 1,000 point moves over multiple two-month periods. Timing when to get into these swings and more importantly, when to get out, will be critical to growing and protecting assets.
During my weekly Market Commentary this week, I will take you through several charts that are showing a very solid move to the upside over the next 90 days, albeit with an elevated level of risk. This coming week could be very interesting from a trading perspective.
DISCLOSURE: The views and opinions expressed in this article are those of the authors, and do not represent the views of equities.com. Readers should not consider statements made by the author as formal recommendations and should consult their financial advisor before making any investment decisions. To read our full disclosure, please go to: http://www.equities.com/disclaimer