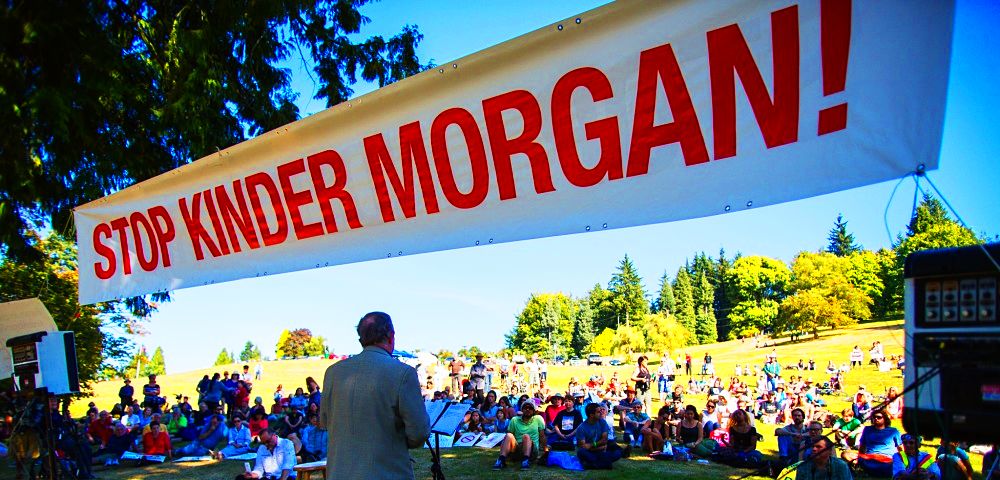 Image via Mark Klotz/Wikimedia
A last minute plan by Prime Minister Trudeau to 'negotiate' an end to the Trans Mountain/Kinder Morgan Pipeline issue failed when Alberta and British Columbia Premiers stuck to their intransigent positions on the proposed pipeline from Alberta to the West Coast. With BC opposing the pipeline, this has caused an all out trade war primarily between BC and Alberta and Saskatchewan.
This supposed solution to the oil transportation bottleneck is a much disputed view and is in conversations right across the country after BC Premier Horgan denied approval for the bitumen pipeline through British Columbia.
The Kinder Morgan (KMI) Pipeline is not a new issue. In 1951, under an act of Parliament, the Trans Mountain Pipeline was authorized and built. It has been in operation for 67 years. They now want to add another pipeline under the existing one. It should be 'grandfathered' as some say, but why risk it? While the rail system has reached its capacity, US consumption of our oil products are down and oil and gas are being sold at discounts.
BC is a green province. We started the 'tree hugging' movement in the 1960's, hate farmed salmon, forced the Vancouver Aquarium to stop displaying whales in pools and the leader of the National Green Party of Canada, Elizabeth May is an MP from Vancouver Island. Mayor Robertson wants Vancouver to be the "Greenest City in the World." The principal election last year saw unlikely allies, the left wing New Democratic Party and the Green Party form a coalition, of sorts, to run the government so there's no denying the way the politics are defining the current situation. We have a deep connection to our environment.
British Columbia is a diverse culture that we all embrace. It is diverse because of its people, climate, wealth and beauty that draws newcomers from all over the world. BC is not in a stand-off with Alberta just for spite. There is a real concern that an Exxon Valdez type spill could be an environmental disaster of epic proportions. The Federal and Alberta governments have claimed resources would be in place to protect the habitat in the event of an oil spill either on land or sea but BC leaders disagree it's comprehensive enough.
While the battle rages, Federal Environment and Climate Change Minister Catherine McKenna wrote an open letter to B.C.'s environment minister proposing the creation of a joint scientific panel to study oil spills and response measures. B.C.'s Minister of Environment and Climate Change Strategy George Heyman said he only heard about McKenna's offer when he saw the federal government's "press statement." The fact that the province read the letter in the media speaks volumes.
This is not just a Canadian problem. Despite Presidential and Canadian government approvals a new Enbridge pipeline going through Minnesota is facing hurdles. Besides the usual permit and regulations delays they face aboriginal leaders who are against it as well as environmental protestors.
In an effort to make BC approve the pipeline, the Alberta government placed a ban on British Columbia wines, a move that fell flat on it's face when BC threatened legal action. Alberta is now threatening limits, or a total embargo, on fuel products coming to BC. When you consider a move like that affecting air, road and sea travel that would be significant.
In a similar move, BC's Attorney General, David Eby, is seeking to impose legislation to prevent toxic substances from entering British Columbia. BC's top court, the B.C. Court of Appeal will look at the question of whether it matters how the toxic matter reaches B.C., i.e. rail, pipeline and whether the legislation can actually be introduced. Under the 'Constitutional Question Act' all of the country's Attorney Generals must agree for the legislation to pass, unlikely with Alberta leading the attack.
BC Premier Horgan has said he would continue to push the federal government to plug the gaps he sees in the federal Oceans Protections Plan touted by Trudeau as a measure to address the threat of a spill.
Horgan's efforts to stop this pipeline construction will be fought via the 'Rule of Law' – however long that takes. There still exists tremendous gaps in the Ocean Protection Plan and with an expected four times increase in ocean traffic with the Kinder Morgan expansion, BC can't afford to have gaps in a plan that protects the oceans. The Federal government is responsible for protecting the oceans but the Province of BC is responsible for its coastline.
As BC Minister Heyman said, "we have a responsibility and the right to protect BC. We need effective spill reductions and accountability from providers including better risk response times as well as geographic response plans."
At a time when the environment is center stage people need to make choices for the future. There's no denying the Trans Mountain Pipeline would be a boon for all of Canada with new jobs, opportunities and oil taxes but how can you put a price on safety and the environment?