It's official… it's the beginning of the end for Netflix [NFLX].
As you may have heard, the online video company made a troubling announcement…
This quarter, for the first time ever, it lost American subscribers. Hundreds of thousands of them.
The stock plunged more than 11% on the news.
I've been "sounding the alarm" on Netflix's troubled business since last July when its stock was trading above $400.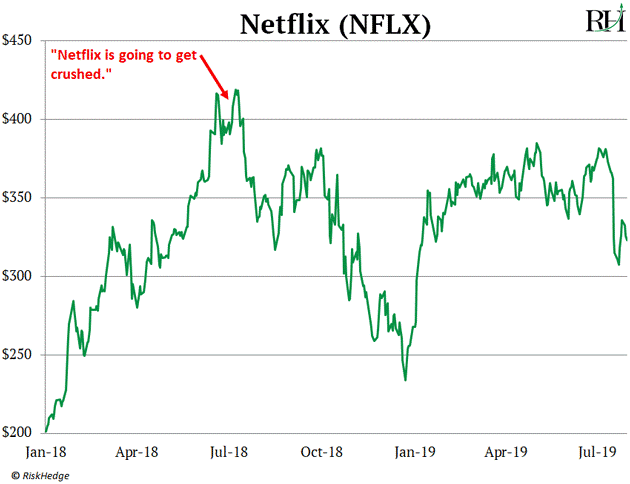 It has fallen to $328 as I write this.
If you own Netflix stock or you're tempted to go "bargain buying" here, please don't.
There's nothing but pain ahead for Netflix. Its stock is likely headed to $225 and dropping below $100 is a real possibility.
Netflix Is a Stock Market "Hall of Famer"
Since 2009, its business has grown, and grown, and grown. It has added roughly 140 million paying subscribers, and now it has more American subscribers than the top three cable companies… combined!
This relentless growth pushed Netflix stock to 8,500%+ gains since 2009.
But as I've been warning, Netflix's string of growth is over. These latest results confirm it.
Not only did it lose American subscribers last quarter. It added only 2.7 million subscribers worldwide… less than half the number it added in the same quarter last year.
In his investor letter, CEO Reed Hastings explained the results: "Q2's content slate drove less growth in paid ads than we anticipated."
Hastings Just Admitted Netflix Is in Big Trouble
Reading between the lines, he's saying: "We didn't make enough good shows and movies… so we didn't get enough new subscribers to sign up."
That should terrify Netflix investors. As I've explained, Netflix achieved its incredible success by being the "first mover" in streaming. It disrupted how people watch TV.
For years, Netflix had no real competitors. This allowed it to practically monopolize all the best shows and movies. Although content producers like Disney and NBC Universal had a big cable presence, they had no streaming services.
So, there was no downside to licensing their content out to Netflix to make a little extra money. That's exactly what they did.
That world is gone forever. You see, Netflix's most popular shows aren't "homemade." According to The Wall Street Journal, the most watched show on Netflix is The Office.
Netflix does not own The Office. NBC Universal owns The Office.
NBC Universal is launching its own streaming service and pulling The Office off Netflix for good by the end of next year.
Another wildly popular show on Netflix is Friends. Friends is owned by Warner Media, which is now owned by AT&T.
Friends will be pulled off Netflix for good in 2020.
Losing Friends and The Office will hurt. But it's only the tip of the iceberg. According to analytics firm Jumpshot, more than half of Netflix's 50 most popular shows are owned by companies planning to launch their own streaming services.
In other words, Netflix is going to lose more and more of its most popular shows.
This Couldn't Come at a Worse Time
The streaming game has changed forever.
We're going from a world where Netflix enjoyed zero competition, to a world where the biggest, most powerful media companies on earth will directly compete with it.
Disney [DIS], the 14th largest public company in America, launches its Disney+ streaming service this November.
AT&T [T], the 16th largest American public company, launches its streaming service later this year. AT&T owns HBO, the most successful premium TV network.
Comcast [CMCSA], the 26th largest American public company, owns NBC Universal. It launches a streaming service in April 2020.
Disney owns by far the greatest library of movie and TV brands ever assembled. Its latest hit, Avengers Endgame, smashed the all-time box office record, bringing in $2.8 billion.
Avengers Endgame is the latest in a dominant run of Disney hits. In each of the past three years, the top three earning movies were all Disney.
Avengers Endgame broke the box-office record formerly held by Avatar—which Disney also owns after acquiring 20th Century Fox earlier this year. That acquisition gave Disney majority control of Hulu, the second most popular streaming service after Netflix.
In short, Netflix management has been preparing for this. The company is on track to spend $15 billion developing original shows and films this year. That's a 69% jump from the $8.9 billion it spent in 2017.
It's done a pretty good job of producing stuff people want to watch. Its TV series Stranger Things won a couple of Golden Globes. Political drama House of Cards, The Crown, and Orange is the New Black were hits.
This was good enough to attract and keep viewers when there were few other streaming choices. But soon, Netflix will be just one of half a dozen streamers competing for subscriptions.
For a stock that still trades at a ridiculously expensive valuation, that's a big problem…
Netflix Could Crash 70%
Netflix is valued at $139 billion today, roughly the same as sportswear giant Nike (NKE). Yet last year, Nike's profits were more than triple Netflix's.
So how do they have the same value? Netflix stock trades at 140-times earnings, while Nike trades for 35-times earnings.
Investors have been willing to pay up to own Netflix because of its relentless growth. The thinking goes: "Netflix will continue adding millions of subscribers every quarter for years. Revenue will skyrocket and its stock will "grow into its valuation."
For a long time, things played out this way. Netflix has achieved an 85-bagger since 2009, after all.
But things are different now. Now, Netflix is just one of many streamers. Subscriber growth is bound to slow dramatically as Netflix faces real competition in streaming for the first time.
Over the past five years, Netflix stock has traded at an average of 215-times earnings. Today, as I mentioned, it trades for 140-times.
As growth slows, let's say investors are still willing to pay a generous 90-times earnings to own Netflix stock. That isn't cheap by any stretch of the imagination. It's still nearly five times as expensive as the average S&P 500 stock.
Yet, based on my 2019 earnings projections, it would drop Netflix stock down to $225—33% below today's price.
And if investors punish Netflix's slowing growth even worse?
If Netflix's valuation falls to 40x earnings—still twice as expensive as the average stock—it's now a $100 stock. Or 70% below today's price.
Netflix's recent performance shows the market's growing skepticism of it. Over the past year, Netflix lags the S&P by 10%, as you can see here: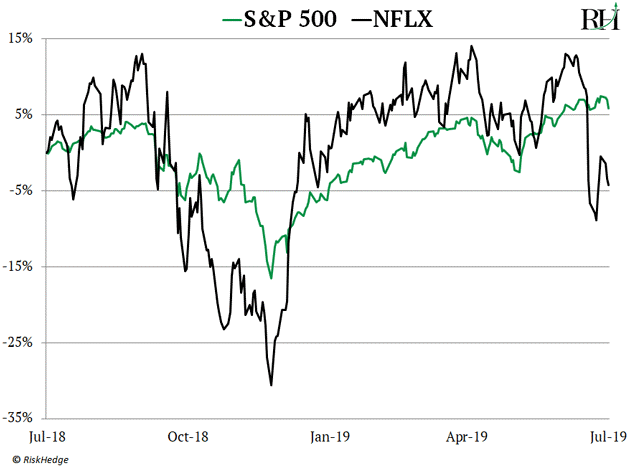 Despite all this, Netflix stock is down only about 22% from its highs.
If you own Netflix, this is a gift from the market gods. They're giving you a chance to get out before things get ugly.
The Great Disruptors: 3 Breakthrough Stocks Set to Double Your Money"
Get my latest report where I reveal my three favorite stocks that will hand you 100% gains as they disrupt whole industries. Get your free copy here.
Equities Contributor: Stephen McBride
Source: Equities News