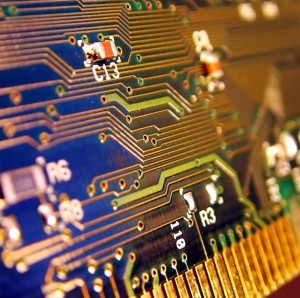 The broader markets reflected the mixed news that the U.S. is now in a period of slower but positive growth. The tech sector mirrored the lukewarm sentiments with chip makers thriving and Research in Motion (RIMM) stumbling over the most recent outages weighing it down. AOL and Netflix also made major announcements for the day.
Shares of RIMM have been hemorrhaging this year as its loss of smart phone market share to the iPhone and Android looks increasingly irreversible. A slew of recent outages didn't inspire a return to investor enthusiasm either. The company's stock tumbled following the apologies of company co-Chief Executive Mike Lazaridis over who has stayed out of the public eye since Monday when an outage failure in RIMM's European data center prompted a domino service loss across the world. Lazaridis said that service has been fully restored but many American costumers complained of lost emails as recently as Thursday morning.
RIMM has said the problem was the result of a hardware glitch but the source of the blunder would seem to be the least of RIMM investors, many of whom seem eager to sell-off shares. Over the past month RIMM's stock has fallen by over 20 percent. Year-to-date, that number is nearly 60 percent.
---
---
While shares of RIMM were declining, semiconductors were on the opposite trajectory with big names like Nvidia Corp. (NVDA), Texas Instruments (TXN), Broadcom Corp. (BRCM) and Micron (MU) all ascending on the basis of technical opportunities in the stocks. Some fear the slower economy will negatively impact chip shares in 2012 but the current levels appear to have factored that in already.
One company that has also lost favor of late Netflix (NFLX) actually managed drum up some enthusiasm today after the movie-renters announced they have boosted their programming catalog to include content from the CW. CW is best know for creating adolescent dramas that can have cultish followings including the television show Gossip Girl. The deal would require Netflix to pay as much as $1 billion to CW over the course of the next decade. While news of the deal seemed to please investors, programming on the CW has a reputation of weak ratings as its young audience heads to Hulu and other sources to stream the shows. Netflix is down over 60 percent for the most recent three month period.
Other struggling stocks like AOL Inc. (AOL) also ascended sharply for the day after the company discussed the possibility of a sale to Yahoo Inc. (YHOO). AOL has been floundering for years and is down around 30 percent for the most recent three month period. If the rumors of an acquisition persist, that number will likely fall sharply.
 Google (GOOG) was also higher for the day as some investors bet optimistically on the company's upcoming earnings report.
DISCLOSURE: The views and opinions expressed in this article are those of the authors, and do not represent the views of equities.com. Readers should not consider statements made by the author as formal recommendations and should consult their financial advisor before making any investment decisions. To read our full disclosure, please go to: http://www.equities.com/disclaimer