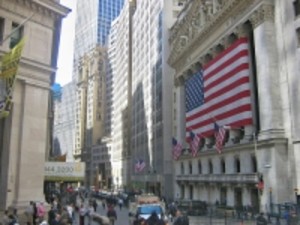 Large sell offs into Fridays historically has led to meltdowns, and a lower opening or a continued slide on Friday can accelerate this correction to a long running bull market. The overnight action in Asia is following the lead of the US markets, and unless we get a strong bounce in the morning right out of the gate, US stocks are in for a very rough ride.
The twin sectors that broke down are alarming, and when leadership stocks like FANG start to break down, you scare the crap out of everyone. The other odd coincidence was that portfolio managers took profits anywhere they could. They used the reversal in Cybersecurity stocks to take profit off the table, and it was almost like they wanted to hide their concern for the market in general and were acting with stealth.
I'm very concerned about the upcoming pullback/correction because it comes on the back of China selling off in a baby-with-the-bathwater type exodus, but the real concern for me is Crude Oil.
In a logical world, lower crude prices mean higher prices for US benchmark indexes, but this didn't happen today. In fact, it was the reason stocks sold off, and historically, the things that make markets unravel is when the asset continuum chain breaks down and dogs start sleeping with cats. I've seen this in my career a few times, and unfortunately, this week's action looks like other massive breakdowns.
Understand that corrections are healthy for markets, and when we identify a pullback as a 10- 15% decline, we must distinguish between a pullback and a correction, where a correction is 25 -30% and a full blown reversal is anything beyond the 30%.
The problem is markets spend 85% of the time preparing to move and 15% of the time moving, which means corrections come fast, hard, and furious and catch professional traders off guard. The ungluing begins because risk managers and compliance start to get involved and then clearing houses and margin calls and lawyers and founders follow suit.
I have seen all of these. I saw this in 1987 on Black Monday from my perch at the Chicago Mercantile Exchange, and again in 1989 when United Airlines caused a mini crash that had everyone running for cover because of what happened two years earlier.
In 1998 Russia defualted on its debt and devalued the Ruble, and it caused Long Term Capital to implode and caused a down draft in every hedge fund on California Street in San Francisco. I recall not be able to find a bid of any kind in internet stocks or portal stocks, and Smith Barney stopped answering the phones and taking orders.
I recall the PM sitting next to me ripping the handset from the bank of direct lines in front of me in sheer frustration and the cord snapping me in the face — prompting me to connect to the reality of the moment.
Fridays are bad days for markets to sell off, and I don't like what I see — so much so that I can't sleep. As that little man pokes me again in the stomach and because I have seen this movie before.
DISCLOSURE: The views and opinions expressed in this article are those of the authors, and do not represent the views of equities.com. Readers should not consider statements made by the author as formal recommendations and should consult their financial advisor before making any investment decisions. To read our full disclosure, please go to: http://www.equities.com/disclaimer