The media landscape is transforming, and it has been for quite some time. In recent years, the line between content companies and technology companies has becoming increasingly blurry, as the two industries continue to converge on one another. Long-established media giants are hungry for innovative methods of delivering their content to consumers, and all the while young, exciting tech startups are chomping at the bit for more content to pump through their platforms.
Recognizing this trend, and looking to position themselves at the forefront of its future, the recent merger of two highly reputable law firms is a clear reflection of the market's direction, and the kind of demand from the industries they serve.
The merger of Mitchell Silberberg & Knupp, a 107-year-old law firm known primarily for their expertise in digital media and entertainment, and Richardson Patel, a boutique firm specializing in startup and small-cap securities law, enables the combined firm the ability to leverage its impressive depth and breadth of expertise to help clients at any stage of a company's life cycle, whether that's at the startup stage or the Fortune 500 level.
Equities.com had the opportunity to speak with Kevin Gaut, Chairman of MSK, as well as Nimish Patel, co-founder of Richardson Patel and now Vice Chairman of MSK, and Doug Gold, CFO and CMO of MSK, to learn more about the reasons behind the merger and what to expect going forward for the firm and the industry.
EQ: The merger between Mitchell Silberberg & Knupp and Richardson Patel is certainly an interesting combination for numerous reasons that we will get to shortly. Before we do, though, how did conversations about the merger begin between your two firms?
Gaut: We were familiar with Richardson Patel's reputation in the corporate securities space, and it really started with us reaching out to them and making the case for what we could do as a combined firm. We felt very fortunate to convince Richardson Patel that we could make a match, because they were a firm that other people would have obviously been happy to acquire. They had an outstanding reputation for helping companies progress through their full life cycle – from startup to exit, either through M&A or IPO. There was a broad range of industry and life cycle stage focus that seemed to be a good fit to the strategic imperatives that MSK was facing, which was getting deeper into corporate, and the world of middle market companies.
RP was very active with startups and emerging growth companies, and MSK has a deep expertise in content protection. We were aware that many of the new startup ventures are active in that area in terms of possessing a content component to them. We thought that it would be a perfect opportunity to combine with a firm that was in this very active space. We felt that it would help us reinvigorate our corporate department, and give us an opportunity to use our content protection skills in a different way.
They also helped us expand our New York presence, so that was an added benefit. We thought it was a very good match, and I think that has been proven to be the case.
EQ: As Kevin alluded to, RP has been approached in the past regarding other potential mergers. What was it about MSK that made you feel like they were the right fit?
Patel: We have been approached many times before, especially in the last year, because there has been a lot of corporate activity and growing interest in the startup space – particularly in places like Silicon Beach and Silicon Valley. But for us, it never made sense to be just a cog of a bigger wheel. We wanted to see synergistic opportunities to expand our service offerings and continue growing with our clients, but even more important to us was culture. When we met with the folks at MSK, we knew right then and there that if I were to ever make Richardson Patel bigger—into a 100-plus attorney firm—it would look very similar to what MSK had already built.
Because of that cultural fit and because of the synergies that we were able to immediately extract, it was the right thing to do, and that's why we decided that after 15 years of being independent, we wanted to be a part of this bigger firm. That's the vision we see going forward – to be able to provide our clients with more in-depth services than we could have provided on our own.
Prior to this, we found ourselves referring a lot of work to other firms because we didn't have certain expertise in areas such as immigration, tax law, and intellectual property matters. Our client base was growing, and they needed us to provide more services for them. Combining with MSK allows us to leverage their remarkable depth and resources to make that happen.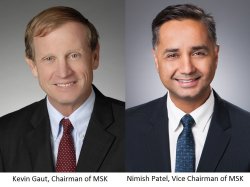 EQ: On the surface, MSK and RP seem to be very contrasting firms, given the areas of practice and their respective histories. However, upon closer inspection, it actually makes a lot of sense. How is MSK better positioned now to take advantage of the current market landscape as a result of the addition of RP?
Patel: What we're seeing, at least in the Silicon Beach area, are companies bringing significant disruption to the way people are consuming content and the way they're becoming part of the shared economy. I think some of the clients that we're representing in their early stages of formation and financing will be the Fortune 500 companies of the future. We want to be able to help these clients through their early-stage financing and then through to the next round of financing, then to the M&A or IPO stage.
So, being able to have MSK help transition these clients into larger companies is where the major synergies are. People don't realize that Amazon.com (AMZN), which is one of the largest retailers in the world, is also an entertainment company now. The market has changed so much and so quickly. With this merger, we're now able to not only recognize it, but to be able to really participate in helping to make that change.
Gold: I think one of the things that we really saw was that we wanted to go where the market was going. On the surface, this merger candidly seems like an odd mixture. But if you really dig in to seeing where the marketplace is going in terms of where the hottest industries are right now—in new media and the on-demand economy—a lot of that stuff is coming out of Silicon Beach. So when you take the depth and breadth of MSK's expertise and long-standing history as content experts, and working in the world of entertainment and media, it was sort of a natural evolution.
You look at a company like Netflix, Inc. (NFLX) and it's not hard to imagine them becoming the next Time Warner, Inc. (TWX), Sony Corp (SNE) or Walt Disney Co. (DIS). That is representative of the opportunity that we're seeing in the marketplace. I think over the next decade, you're going to see a tremendous number of opportunities birthed out of Silicon Beach. When you take the entrepreneurial, early-stage venture focus of RP and put it together with a 107-year-old foundation with its incredible reputation in the world of entertainment, it now starts to look like a brilliant combination of firms at just the right time, and it's exactly what the marketplace is asking for.
Gaut: I would echo what Doug and Nimish said. We've already seen this happening for some time now. For example, we've had companies that we've been representing that are in the content area, like gaming companies and entertainment companies that have wanted a startup presence. They wanted to form a new company, which is perfect for Nimish and his group. On the other hand, we've helped Nimish and his group with startup companies that need our content protection expertise. This has already started to flow both ways. We've seen the synergies start to happen.
Gold: I think a perfect story that accentuates the combination of our two firms can be highlighted in Sony's recent announcement about creating a crowdfunding platform for device and content startups under their Sony Corporation umbrella. There is a perfect symbol of an established powerhouse mainstream company in the world of entertainment playing in this new crazy, startup crowdfunding world. That is what MSK and RP do together. Being under the umbrella of a firm like MSK that has represented Sony for years, I was really excited and encouraged to see a development like that, because it continues to be another indication in the marketplace that this merger is going to make a lot of sense over the next decade and beyond.
EQ: What are some new opportunities that you are able to pursue now that you couldn't have pursued prior to the merger and these synergies?
Gold: Without going into excessive detail, one of the things being talked about externally is in the world of alternative fee arrangements, and the creativity in pricing as to how firms are having to change the way they do business with their clients. That's something that we're seeing a lot of opportunities to pursue because of the creative and entrepreneurial structures that we've used in the past at RP. We're bringing that to the forefront at MSK as we go out into the marketplace and try to be a little bit more competitive from a pricing perspective. More firms are starting to do that because there is a lot of demand for it in the marketplace. So when you look at our history at RP of taking risk with equity and alternative fee structures with our clients, we're seeing a great opportunity to cross sell and just service clients better. From a client perspective, it allows us to do more.
Gaut: For me, it's pretty basic. We needed more capacity of the corporate expertise that Richardson Patel has. We've had a number of clients that wanted to have a startup venture and wanted to have funding mechanisms and the corporate expertise to do that, but and we really wanted more depth and experience to provide it. We really wanted to expand and deepen our capacity in that area.
Patel:For us, it's to be able to bring a broader service offering to our clients, many of whom are early-stage emerging growth companies, both private and public. MSK's history in representing companies like Disney, Warner Brothers, Sony, Activision Blizzard, Inc. (ATVI) and Red Bull gives us the credibility and confidence to show our clients that, as they grow, we have the ability to service them through their entire lifecycle.
EQ: Nimish mentioned that culture had a lot to do with the merger decision because of the similarities between the two firms. What can clients, especially those of RP, expect from the name change and rebranding?
Gold: We'll be able to service our clients better with the added depth and breadth. I think you know the depth of expertise we had in the world of corporate securities, being on the cutting edge of crafting legislation, and being a part of the laws that govern these types of transactions. MSK has been and continues to be thought leaders and on the cutting edge in a variety of areas of the law, like intellectual property, tax, labor & employment, privacy, and complex litigation. So in terms of what our clients can see moving forward, it's just more of the same, but broader in scope. They'll be dealing with lawyers that are remarkably bright and at the top of their field. The tagline that we're using under the MSK logo, "Including the excellence of Richardson Patel," is just as much a reflection of MSK and their excellence. That's why, again, from a culture perspective, it really fit.
EQ: Lastly, as you just mentioned, both MSK and RP are known as thought leaders in their respective fields. We see a lot of your professionals in media being quoted on industry topics. Can we expect even more of that going forward?
Patel: Absolutely, and hopefully exponentially more as we try to figure out the synergies that are coming. With offices in Los Angeles, which is the entertainment capital of the world, and in New York, the financial capital, and in DC, where a lot of the legislation happens, we are really well positioned to not only service our clients but to be thought leaders for the future clients that we bring on board.
For more on the MSK/RP merger, you can check out the firm's FAQ here.
DISCLOSURE: The views and opinions expressed in this article are those of the authors, and do not represent the views of equities.com. Readers should not consider statements made by the author as formal recommendations and should consult their financial advisor before making any investment decisions. To read our full disclosure, please go to: http://www.equities.com/disclaimer